Happy Birthday, Ellen! 5 DIY Gifts We'd Make for America's BFF
The daytime darling and 'Ellen's Design Challenge' star turns 58 today. We're celebrating with a few of her favorite things.
Roger Davies, Architectural Digest
Ellen DeGeneres and wife Portia de Rossi pose in their Los Angeles home among old and new classics, from an 18th century French work table to a yellow-and-black Andy Warhol painting. 
Ellen DeGeneres is all about giving back. The Ellen's Design Challenge star's day gig gives us a chance to get up and have a dance party daily (virtual dance party from your office chair counts.) Plus, she just nabbed the People's Choice Award for "Favorite Humanitarian." (An excerpt from her acceptance speech: "Would I call myself the Mother Teresa of talk shows? The Dali Lama of daytime? No. But I'm sure someone out there has." Comedy GOLD.)
Let's be real, she's basically our TV BFF, so a store-bought gift just won't do. Here are our favorite Ellen-inspired DIYs, just in time for her big day.
Ellen has been following a plant-based diet since her 50th birthday, so we'll be making her a batch of these vegan cupcakes. They're dairy- and egg-free and, oh yeah, totally delicious.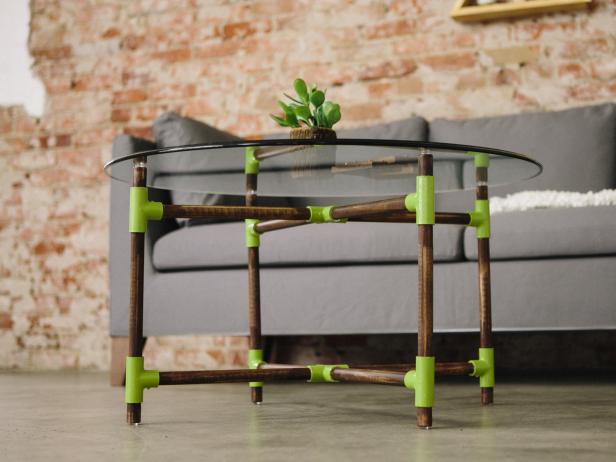 PVC Pipe Coffee Table
Make a midcentury modern-style coffee table using PVC piping and wood dowels.
Ellen and Portia collect a wide variety of modern and traditional pieces, but Ellen loves the modern, minimalist masters. That's why we think this PVC pipe coffee table would fit right in with the couple's Andy Warhol paintings. (It's all about the high-low look.)
Mondrian-Inspired Pet Gate
Have you heard? Ellen and Portia have a new "kid" in their life: That is, a new dog named "Kid" has joined their other two pups, Augie and Wolf, in the DeGeneres household. But a modern house can't be filled with run-of-the-mill dog accessories. Enter this gate inspired by artist Piet Mondrian, the perfect mix of style and safety.
Don't Forget the Dog Bowl
Kid will need food and water bowls in the same modern style, but this DIY totally has Ellen covered.
Or, Maybe Just an Adorable Dog Video?
Spoiler alert: We didn't DIY this. But we know Ellen loves a good, light-hearted pet video, and who are we to deny her? We give you: Dogs in winter gear. You're welcome.
Dogs in Winter Gear
00:30
Cozy up with these adorable pups.