Mina and Karen's Strategy for Conquering the World
Well, maybe not the world, but Good Bones season two premieres Tuesday, May 30, and we've got updates.
The countdown continues! Good Bones' second season kicks off May 30 at 10p|9c on HGTV. And in addition to the HGTV network premiere — and updates throughout the season with exclusive content on HGTV.com — Mina and Karen are hitting social media with, among other things, live tweeting during weekly episode premieres and two Facebook Lives on the day of the season premiere.
First, on the day of the season premiere, Mina and Karen will do a Facebook Live from our sister network's Travel Channel Live Facebook page. They'll be live on the street giving a walking tour at Fountain Square, one of their favorite downtown Indy haunts. You can expect to find that here. Then, immediately prior to the airing of the series premiere, starting at around 9:30 ET, Karen and Mina will take over our HGTV Live Facebook page. Keep in mind that this is Karen and Mina live (!), so just hold on and enjoy the ride. Look for that, on the night of the premiere, here.
Of course, throughout the season, we'll have photo galleries featuring the projects seen in the new episodes, including amazing room transformations and behind-the-scenes pics. And video. Lots of video.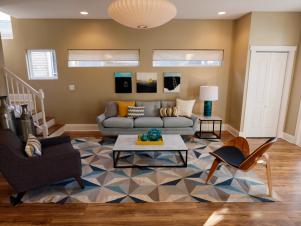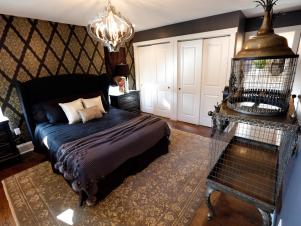 Open Concept Floor Plan in Elegant, Contemporary Home
To give more space to the living room, Karen and Mina, of HGTV's Good Bones, removed the walls that used to enclose the space. Now that the barriers are gone, this home has an open concept first floor with a line of sight from the living room into the dining room and kitchen. Each of these spaces, then received an elegant, contemporary design, creating a contemporary, updated space.
Traditional Details in Masculine Master Bedroom
As seen on Good Bones, Karen E Laine and Mina Starsiak add masculine details, such as the ornamental, metal bird cage and traditional accent wall, to create a sophisticated bachelor pad in this renovation.
Among web-exclusive video goodies you can expect in the coming days and weeks, we'll have behind-the-scenes footage of Mina and Karen providing a tour of their own respective homes. Mind you, each lives in a renovated home in the Indy neighborhood you see featured in the series. And mind you, Mom and daughter live right next door to each other. Interesting dynamic? We think so. (Perhaps a spin-off series titled, say, Everybody Loves Mina?)
Speaking of family ties, we'll have Mina and Karen explaining, with audio-visual aids, their fascinating, complicated and sometimes confusing family tree. Spoiler alert: Don't expect all of the confusion to be eliminated. And there's a video featuring crazy facts about the demo team – or, as Mina refers to them, "Tad and his whole gang of misfit toys".
And we'll have a whole batch of DIY, decorating and home-flipping tips from our two principal characters and resident experts, Karen and Mina.
Finally, Karen and Mina take us on a tour of historic Indy and talk about their overarching mission to save deserving old homes, help revitalize whole neighborhoods a little bit at a time and, ideally, spark a movement that inspires others in the desire to save, salvage and restore. In fact, here's an advance look at that one right now.
More Good Bones
We Don't Flip, We Revitalize
01:32
Karen and Mina share their passion for revitalizing homes in Indianapolis.
Good Bones season two premieres May 30 at 10p|9c.