Flea Market Flip: 8 Shopping Tips HGTV Experts Swear By
The stars of Stonehouse Revival, Good Bones and Vintage Flip spill their best market-ing secrets. Plus: Their all-time-favorite finds. 
It's Flea Market Flip Theme Week on I Heart HGTV! All week, we'll be sharing our best thrifting tips and makeovers. Come back every day for a new take on upcycling.
For this installment of Flea Market Flip Theme Week, we called in some reinforcements in the form of HGTV personalities for their personal mantras of flea market shopping. Here, Jeff Devlin of Stonehouse Revival, Karen E. Laine of Good Bones and Tina Rodriguez of Vintage Flip share their best advice on how to become an expert level flea market picker.
Jeff Devlin from DIY Network's Stonehouse Revival, Karen E Laine from Good Bones and Tina Rodriguez from Vintage Flip. 
1: Resist the Urge to Buy Appliances
While some things can surely be saved, Jeff says it's probably best not to buy that vintage stove if you're not totally sure of how to restore it on your own.
"People love the retro look and sometimes you can find a great looking old stove, but it is past its prime," he said. "You also run the risk of electrical issues from the age of appliances."
"I am an early bird, so the earlier, the better," Jeff says. Arriving at the beginning of the day allows more time to browse, avoiding any rushed, game-time decisions.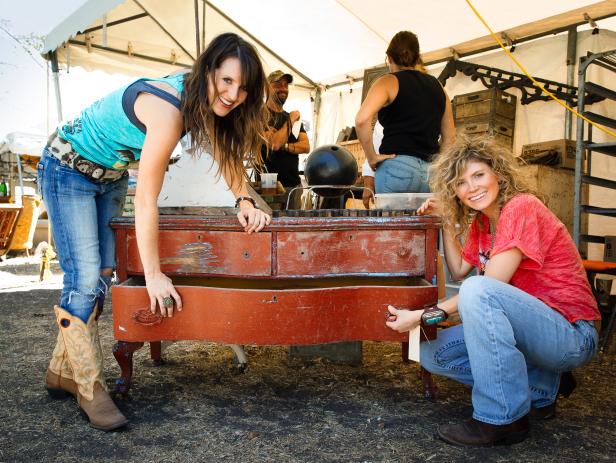 Amie Sikes and Jolie Sikes-Smith With Red Dresser
The early bird catches the worm -- er, a gorgeous antique dresser. 
Rob Howard
The early bird catches the worm -- er, a gorgeous antique dresser. 
"The best things are typically found first thing in the morning, but you can get the best deals at the end of the day when a vendor hasn't sold a piece and wants to make a quick buck," Tina said. It ultimately depends on what your needs are that day.
And if you plan on making flea market'ing your part-time job, do your due diligence by going to the same ones often, regardless of the time of day, to develop a relationship with the regular vendors. "If you are looking for something specific and a vendor knows you, when they see it, they will likely buy it because they know they can sell it [to you]," Karen says.
One of the most common questions from flea market newbies is how best to negotiate with dealers on prices. But it's actually easier than you think: Be nice!
"Remember: Some of these items might have very personal meaning to them," Jeff says. "A big smile and being nice has always come back to me ten fold and can spread to those around you, so be kind and you might get that piece a little cheaper."
Ask if the piece has a story behind it or if it's from the seller's family and have a "quiet ear" when they share their story with you, Jeff said. From there, tell the dealer how much you love the piece, promise to give it a good home and start negotiations with "Would you take…" rather than "How about I give you…" If you're still not comfortable with the price, thank the dealer for their time and let them know you'll think about it.
Above all, don't overthink it or feel embarrassed when you miss the mark. It might actually work in your favor.
"Most flea market vendors have pretty thick skin and are used to being offered low prices for their goods," Karen says. "I've been laughed at good naturedly a number of times. When that happens, I confess ignorance (which is generally true), ask to be educated more about the piece and see where the conversation leads. The more time a vendor spends with you, the more the vendor has invested in the sale."
Flea Market Flip host Lara Spencer also recommends bringing cash, arriving early, staying late and jumping on an item when you know you're interested.
While cash may seem like a no-brainer, it's one of the most frequently forgotten flea market essentials. Karen also recommends, once you're a seriously dedicated shopper, carrying business cards to give to vendors so they can contact you when special pieces come in.
And don't forget reinforcements — like coffee if you're up early. "I also always have water. Shopping is hard work!" Tina says.
6: Only Buy What You Can Transport
Looking for larger items but short on transport space? Maybe rethink that 8-foot dining table if you're rolling up in a sedan that day. Purchasing large items under the condition that you can leave it with the dealer and pick it up later might not work out as planned.
"I have been burned in the past," Jeff said. "One vendor resold the piece I purchased and then said that I had already picked it up — no refund! Once you buy it, take it!"
7: Arrive with an Open Mind
Sure, it's OK to have a list of things in mind, but do try to keep your eyes peeled for gems you didn't know you were looking for. If you're too focused on checking off a must-have list, you might miss opportunities for inspiration.
"I go to flea markets not looking for anything but rather to get inspired!" Jeff said. "As soon as you see something that rings true you start to dream of new ways to reuse or repurpose."
And while attempting to keep an open mind for possible flip opportunities, be sure to focus on things like the shape of a piece, instead of the color.
"Color can usually be changed with stain or paint or even sometimes wallpaper or fabric," Karen says. "Ugly colored pieces are often overlooked even though they are easily changed."
This should be No. 1 when planning a flea market trip — enjoy the atmosphere, the finds and, most of all, the company.
"Hold hands with your spouse, kids, significant others. Tell the stories of the different things you see," Jeff says. "Remember: It doesn't cost anything to browse, so enjoy every minute and make the best of it, regardless of what you take home."
And keep a positive attitude if you're not finding what you're looking for. You never know what's going to be around the corner or at your next flea market!
"Don't get discouraged and don't go in with the expectation you're going to find everything you're looking for," Tina says. "Sometimes you get really lucky and find something special, other times you go home with nothing. Either way make it a fun day out!"
Bonus! The Experts' Favorite Flea Market Finds
Karen E Laine
Found at a flea market, Good Bones host Karen E Laine gifted this mermaid statue to her husband and keeps it on their deck.
An iron mermaid sculpture that I gave my husband for Christmas. She reclines on the back of a custom deck bench near the water feature in my backyard.
I found a small chair. I stripped the paint off of it and still have it in my kitchen. I did all this work when I was much younger and less experienced. Not sure if the chair is life shattering to most but to me it is the world. I love the simplicity, the look, and the story. I got the chair for 3 dollars ( I still remember the circular yellow sticker with the handwritten price on it) and will have it as long as I am around. The best finds don't have to be huge or expensive just meaningful.
I had my eye on a piece of art at a local store for some time. It was really expensive so I could not pull the trigger to purchase it. One day at a flea market, I saw the artist had a booth set up. I was able to get a piece of his art for a quarter of the price.
More Flea Market Shopping Tips
Joanna's Repurposing Tips
Get insights from Joanna on how to repurpose architectural pieces found at flea markets and antique stores.
Rule the flea market, granny cart in tow, with these essentials tips.