Fill Your Walls With 'Fixer Upper'-Inspired Artwork: 11 Easy-to-Copy Looks
Blank walls? No problem. Borrow some of these unconventional wall art and decor tips and ideas from 'Fixer Upper' favorites Chip and Joanna.
No matter how stylish your furnishings and snazzy your floor coverings, if your walls are bare, your decor can feel, well, blah. The good news is that covering your walls doesn't have to break the bank. Fixer Upper duo Joanna and Chip show us that with a little imagination, blank walls can be transformed easily.
Do you have a favorite quote? How about some words or a phrase that means something to you? Make those a part of your home décor. Paint those words on a blank canvas, stencil the words directly on the wall or buy a pre-made work of art with your family's special phrase.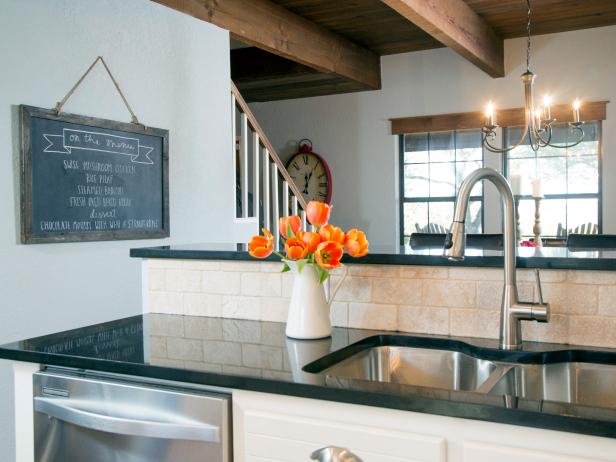 Hosts Chip and Joanna Gaines completely transformed the Jonklaas' kitchen by removing the wall to the dining room and creating a more open flow to the space. A new natural stone backsplash, stainless steel appliances and fixtures were installed. A chalk board with tonight's dinner menu hangs between the kitchen and dining room, as seen on HGTV's Fixer Upper. (after)
Sarah Wilson/ Getty Images
A chalkboard is a fun way to not only fill the walls, but also communicate with the family. Joanna uses as chalkboard in a kitchen to list the menu for the evening. We also love chalkboards in the playroom with reminders or in the family room with a sweet saying, such as "God Bless This Mess."
Modernize Flea Market Maps
Scour a few tag sales, thrift stores or flea markets and you are sure to find old photographs and maps that speak to you. Ever wonder what to do with them, though? Joanna loves using these treasures as wall hangings. Make the display more modern by using inexpensive frames to divide the map or photos up, making a multi-frame collage.
Pastel Blue Dining Room Featuring Chocolate Brown Leather Chairs and Metal Wall Letters
Light blue-gray walls are an airy backdrop to the saturated, rich tones of the dining set up. Tufted chocolate brown leather chairs surround a smooth wood dining table lit by a curled chandelier hanging above. Exposed beams compliment the table finish and hardwood floor peaking out from under the area rug. Black metal letters spell out "Home" on the wall for a comforting and decorative finish.
Sarah Wilson/ Getty Images
Using vintage letters (found at nearly every flea market), decorate a wall with a word or words that hold meaning to your family. Choose to hang the letters spelling out your last name, or try words like "home," "love," "play," or even "eat" for the kitchen. You can also hang the letters of your family monogram for a fun décor twist.
Don't toss a perfectly framed painting (or overlook one at a flea market) just because the actual artwork isn't your taste. The frame itself can often be used as the wall hanging, sans the canvas or painting in the frame.
While mirrors serve an obvious purpose when it comes to fixing your hair or applying makeup, they also shine when it comes to sprucing up a bare wall. Plus, mirrors can be found easily, and with an affordable price tag. Whether vintage or painted a favorite hue, mirrors open up a room by giving the illusion of depth to a flat wall.
Make a Big Impact With Oversized Clocks
There's no time like the present to use an oversized clock as wall decor. Find an old one at a flea market, or choose a new one simply made to look vintage. If the clock isn't actually functioning, set it to a time that's meaningful to your family.
Add Character With Recycled Decor
A rusty and weathered gate or door might not serve its function anymore, but that simply means it now can be art. Save architectural remnants from the recycling pile and hang them as wall décor, or even a headboard over a bed.
Turn your lucky number into a work of art. Vintage advertising numbers and signs, or a blank canvas painted with a bold number, make for simple, yet fun, wall filler.
When one small item isn't enough to make a statement, collect a handful and the impact is far greater. Average-sized mirrors, clocks, paintings or picture frames hung together, as a grouping, make for an easy and attractive way to fill a big space.
Don't ignore an old, shabby window just because the paint is peeling, the frame is cracked or the glass is broken. This is a DIY opportunity to reuse! Incorporate a window frame into your décor by using it as art work. Hang it with or without the glass, and the rougher the paint, the better!