'Fixer Upper' Season Four Kicks Off With a Bang
Fixer Upper's season four debut scores big with its highest rated season premiere yet.
Thank you, HGTV fans, for making Fixer Upper's season opener a resounding success. You — lots and lots of you — tuned in, and we appreciate you.
And if you'll allow us to toot our own horn — and speak in television-ese — for just a minute, here are a few details. Capturing some of the industry's more coveted ratings metrics, Fixer Upper's Tuesday night premiere ranked as the #1 most viewed cable program among women 25 to 54 and #4 overall in that same age group. Hollywood Reporter's Michael O'Connell, who recently called the show "a rare breakout" among cable programming, said it this way on the day after the premiere: "Fixer Upper, cable's reigning reality show, returned Tuesday night in strong form…The 9 p.m. premiere averaged 3.4 million viewers, topping every other non-news telecast on cable for the night."
And not to quibble over numbers in the seven-figure range or anything, but according to Nielsen ratings, the total number of viewers who tuned in to see the premiere exceeded 4.6 million, breaking the record set by last year's premiere by a hefty margin.
All that may sound like stats and jargon to some, but it's something we're pretty proud of.
Joanna expressed her gratitude to viewers and fans in an Instagram post.
And it's worth pointing out that, in the today's fractionated, hyper-accelerated and dynamic ecosystem of TV-watching, Fixer Upper is a standout in another and broader sense. As reported in The Dallas News, TV research analyst Scott Robson noted that: "What's even more amazing in an era when so much program viewing is recorded programming, 96 percent of Fixer Upper's viewership is live."
That's you, dear dedicated viewers, he's talking about. And it's something we think is pretty unique. Feel like you're part of a community? You are.
Finally, a special thank-you, Chip and Joanna, for being heroes to millions — and just so darned fun to watch.
Just in case you missed the premiere — probably destined to be referred to forthwith among show devotees as "the doggy-spa episode" (more on that elsewhere) — we've got a couple of things to keep you occupied until you can catch it in encore airings. To wit: a 60+ image gallery providing a photo tour of the makeover, including some pretty impressive before-and-after pics.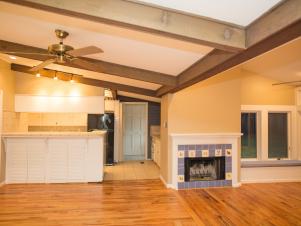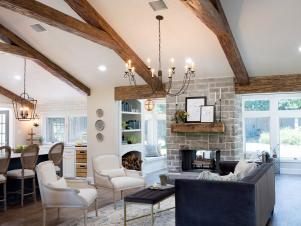 Jennifer Boomer/Getty Images
Open Concept Living Room With Exposed Beam Vaulted Ceilings
Re-pitching the roof line created the opportunity to create a much more dramatic space with vaulted ceilings, exposed beams and lots more natural light. The living space also features new hardwood floors and a oversized chandelier. The open concept space allows a sneak peek at the kitchen and sunroom.
And we've got exclusive videos with Joanna providing insider info on the renovation and the design inspirations for the project featured in the premiere episode. You won't find these anywhere else but right here on HGTV.com.
And for a sampling of what you'll see in upcoming episodes, check out our Season 4 Sneak Peek gallery.