A Must-See Fixer Upper Reno: Rustic Barn Doors, and a Barn to Go With Them
Call it alternative country: In this new 'Fixer Upper' makeover, Chip and Joanna Gaines take on one of their most unusual and distinctive renovation projects yet: a full-blown barn-to-home conversion.
Start with what was once a horse barn, probably used later as a service building for storing farm equipment. Throw in a beautiful 16-acre piece of land in the rolling hills just outside Waco, Texas. Add some adventuresome homebuyers not afraid to try something outside the mainstream. Now add Chip and Joanna Gaines to the mix and things are likely to get interesting.
Here's the background, Cliff Notes version: Todd and Lexia Meek were looking for a place in the country. Todd had grown up on a ranch, and the couple was eager to put down rural roots where they could raise their three kids in the kind of green, bucolic setting Todd had known growing up. But when Chip and Jo showed them a dingy barn with metal garage doors and a makeshift apartment upstairs, let's just say it was not exactly what they had envisioned.
But once Joanna and Chip outlined their vision for the place, integrating modern elements in the country setting, wheels started spinning and the Meeks began to see potential. Fast-forward a few weeks. The end result is an idyllic country home with some novel twists.
Among other things, the couple had on their wish list a large space for entertaining. When Joanna saw the expansive corridor that ran through the middle of the barn, she imagined a unique dining space.
After upgrading the downstairs to accommodate new plumbing, wiring and HVAC, the central space was transformed with shiplap walls, crown molding, new hardwood floors, traditional barn doors and a custom wall-art installation. The jewel in the crown is a farm style banquet table that's 17 feet in length and that was custom designed by furniture craftsman Clint Harp.
The upstairs is no less striking. With the massive dining hall taking up so much of the ground floor, the kitchen is located on the second level. The existing apartment-style kitchen was expanded and opened onto a space that would become a living room and family dining space. The palette in the kitchen is high-contrast and pure Joanna — with bright white cabinets visually offset by black hardware, a black vent hood, brushed stainless appliances and ash gray concrete countertops.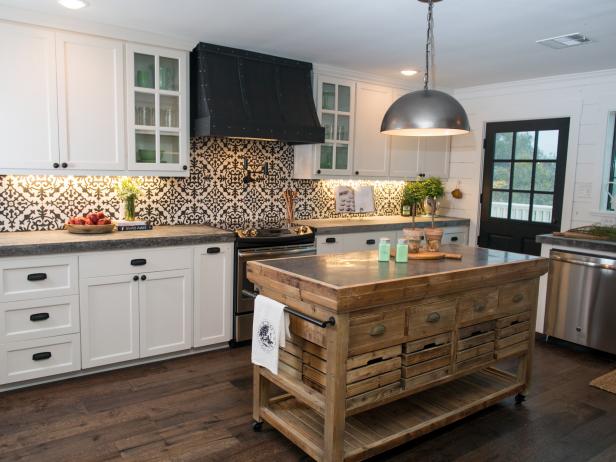 Barn Home in the Country: Custom Vent Hood and Backsplash
As seen on HGTV's Fixer Upper, this home's custom kitchen features a black and white tile back splash that complements the space. The kitchen also features stainless steel appliances and wood details that give the space a perfect blend of contemporary and rustic styles.
The backsplash is a boldly patterned black-and-white tile that creates a Moroccan-style mosaic pattern. Dark hardwood floors and a rustic kitchen island in unpainted wood add a warming counterbalance to the black and white.
Want to see more of this makeover? Check out this 54-image gallery with highlights of this amazing remodel:
And if you liked this Fixer Upper project, you might also be interested in this one from Season 1: