This Craftsman Home Was Ready to Crumble — See What It Looks Like Now!
A daring newlywed couple called on renovation miracle workers Chip and Joanna Gaines to completely transform this home.
Unless you've been hiding under a rock, you know that Fixer Upper's Chip and Joanna Gaines are all about transforming the worst home on the best block. How bad was this house? Well, let's just say Chip nicknamed it "Three Little Pigs" — because a strong huff and puff might just blow it down — while showing the property to newlyweds Ken and Kelly Downs. The good news: The 100-year-old, Craftsman-style home had a price tag of just $35,000, leaving the Downs with a whopping $215,000 renovation budget. This is gonna be good, y'all.
Using a blue and navy palette with plenty of rustic charm, the Fixer Upper team transformed this property from the outside in, starting with the falling-down exterior.
Navy blue cabinetry and a rustic wood vent hood stand out from classic white subway tile.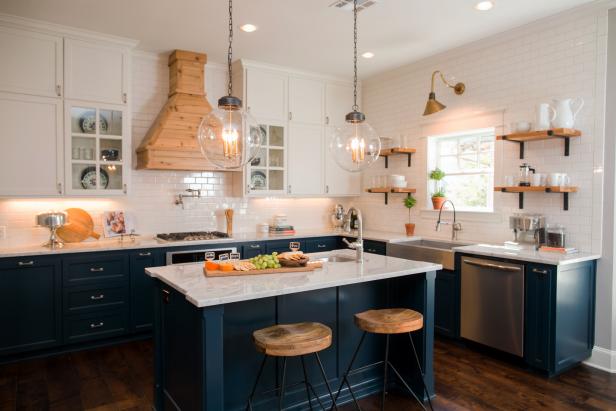 Newly Renovated Kitchen Features FunCcolors, Textures and Metal Finishes
The kitchen in this home has been completely transformed. Walls were removed to open the space, wood flooring was installed and it features a farm sink, new island, stainless steel appliances and a range hood for the stove, as seen on Fixer Upper.
Get Joanna's tips to bring a century-old kitchen into this era, while preserving its historic charm:
Newlywed Kitchen
01:09
Joanna uses a classic design with modern touches for a 100-year-old home.
The couple requested his-and-hers office spaces, decked out with shiplap, of course.
See how Joanna created two personalized spaces for these newlyweds:
Newlywed Entryway and Offices
01:25
Joanna restructured the entryway of an old house to include two offices.
To create a master suite, Chip and Joanna combined two smaller bedrooms into one luxurious larger one.
See how she added timeless design elements to the luxurious space:
Newlywed Master Suite
01:39
Johanna combined classic design with unique elements for a timeless feel.
See more before-and-after photos (plus all the stunning design details) in the gallery below.