Chip and Jo Prove It: Yes, You Can Downsize Without Losing Out On Style
See how Chip and Jo turned a small and dated home into an open space packed with design details. 
So you want to cut down your square footage...without sacrificing style? You're not alone. That's why Ben and Stacie Childers, soon-to-be empty nesters from California, signed up for a Chip and Jo renovation. Why Waco? Apart from the obvious reason (A chance for a Chip and Jo makeover!!), their son is also enrolled at nearby Baylor University, meaning he's close enough to drop by anytime. (Read: Do his laundry.)
The Childers were looking to streamline and simplify their life, so they chose this ADORABLE bungalow. So cute, right?
To make a small space feel spacious, Joanna used a light, bright color scheme. Get more of her tips on making a small space feel huge:
Designing for Empty Nesters
01:21
Joanna talks about using a color palette to design clean and simple spaces.
In the kitchen, a big island with a farmhouse sink and plenty of seating is perfect for eating and food prep.
Open shelving against the wall keeps this space feeling open and airy. See more of Joanna's kitchen design tips:
Empty Nest Kitchen
01:17
Using handmade tile and open shelving, Joanna creates a charming kitchen.
My favorite part of the house is this adorable bedroom that's full of natural light and, of course, shiplap.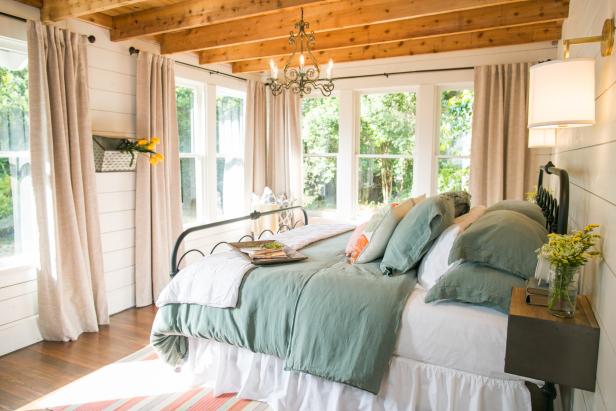 Renovated Bedroom With Exposed Wood Beams
All of the original windows were retained and given new window treatments. The hardwood floors were restored and all of the original shiplap exposed and painted white. Unpainted wood ceiling and exposed wood beams help distinguish the space and provide a warming accent, as seen on HGTV's Fixer Upper.
See how Joanna packed all this style into such a small space:
Downsizing for an Empty Nest
01:50
Joanna managed to save space and keep the character in a small bedroom.
See more of this small but style-packed house with 58 photos of the makeover.