A Fixer Upper Bachelor Pad? Get Chip + Jo's Single-Guy Design Tips
See how the dynamic duo mastered a masculine look for this party of one. (Plus, Jo's tips to get the look!)
Chip and Jo had a different kind of client this week. Single guy and Waco native David Ridley returned to town from a stint in NYC and enlisted the dynamic duo to find him the perfect pad. (Chip dubbed David "Waco's Most Eligible Bachelor," but one thing the reno didn't include? A rose ceremony.)
David's property started as your basic brick rancher, but the Fixer Upper team transformed it with light gray paint, a dark gray roof and reclaimed wood shutters.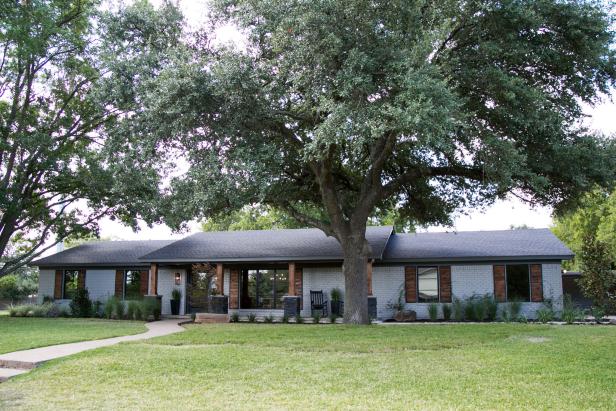 Updated Exterior of the Ridley Home
As seen on Fixer Upper, to revitalize the outdated exterior of the Ridley home, Joanna added wooden shutters and custom made pillars. To further update the home's look, the brick was painted a more modern color and landscaping was added to give the outdoor space a much needed facelift.
Get Joanna's curb appeal tips here:
Bachelor Pad Curb Appeal
01:06
An outdated ranch gets a reimagined porch and fresh landscaping.
This kitchen is all about mixing masculine hues with industrial and rustic accents. Just look: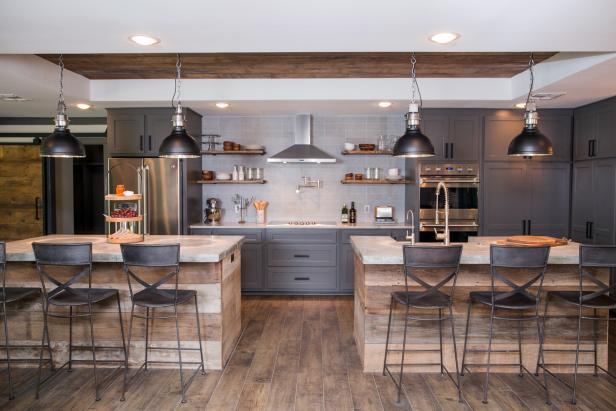 Renovated Kitchen with Custom Features Create Unique Entertaining Space
As seen on HGTV's hit show, Fixer Upper, Chip and Joanna added unique features to this kitchen, such as a custom raised ceiling, twin kitchen islands, stainless steel appliances and custom concrete countertops, to give the family a great space to prepare and enjoy meals and entertain family and friends.
Joanna decked out this space with dark gray walls, reclaimed wood accents and restaurant-style lighting. More of her design philosphy here:
Bachelor Pad Kitchen
01:29
Joanna defined a big kitchen by using two islands and industrial features.
Before the renovation, the dining space was bland and boring. Post-reno, an oiled bronze statement chandelier and a custom Clint Harp dining table define the space.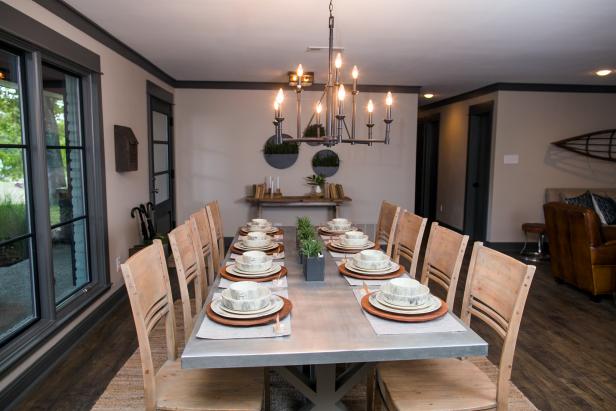 Renovated Open Concept Dining Room
The dining room was once a narrow, closed off space with a tiered flooring separating this room from the rest of the house, so to maximize the home's potential and update its layout, Chip and Joanna removed the walls separating the dining room and living room and removed the tiered flooring. Now, the dining room is an elegant part of an open concept home whose flooring is all on one level. As seen on HGTV's Fixer Upper.
See how Joanna transformed this space:
Bachelor Pad Dining Area
01:10
Jo created a wide open dining room in a bachelor pad rancher.
Chip and Jo nearly doubled the size of David's bedroom into a spacious master suite with hardwood floors and lots of natural light.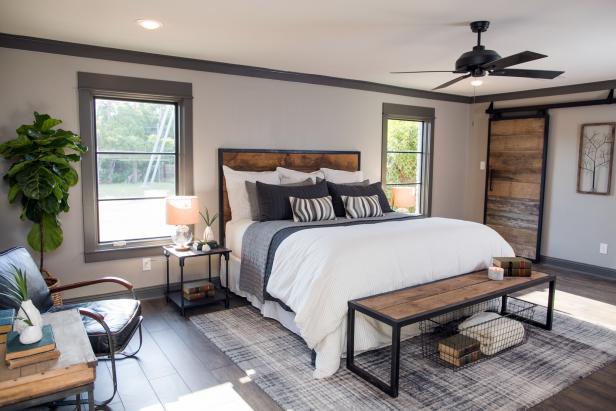 Neutral Master Bedroom with Warm Wood Accents
As seen on HGTV's Fixer Upper, Joanna decked this master bedroom out in neutrals, making the space feel bright and open. Wood accents, such as the custom made headboard and bench, create warmth in the space, making it inviting. A wood barn door conceals a master en suite that has also been remodeled.
Joanna continued the gray palette in the bedroom. Walk through the space to get her tips:
Bachelor Pad Bedroom
01:32
Simple and modern blend with classic ranch style for a masculine bedroom.
Love this space? See 50+ more photos of the renovation right here: