First Look: 'Brother vs. Brother' Goes to Galveston
Is this the year Drew finally beats reigning champ Jonathan with his seaside bungalow transformation?  

The brothers are hitting the beach! (But will the beach hit back?)
The new season of Brother vs. Brother, premiering May 31, brings the brothers to Galveston, Texas, for a new challenge: waterfront homes. Armed with $600,000 each, Jonathan and Drew buy two drab seaside homes in need of some serious TLC and compete to transform them into dream-worthy vacation retreats.

We're sorry, there seems to be an issue playing this video. Please refresh the page or try again in a moment. If you continue to have issues, please contact us here.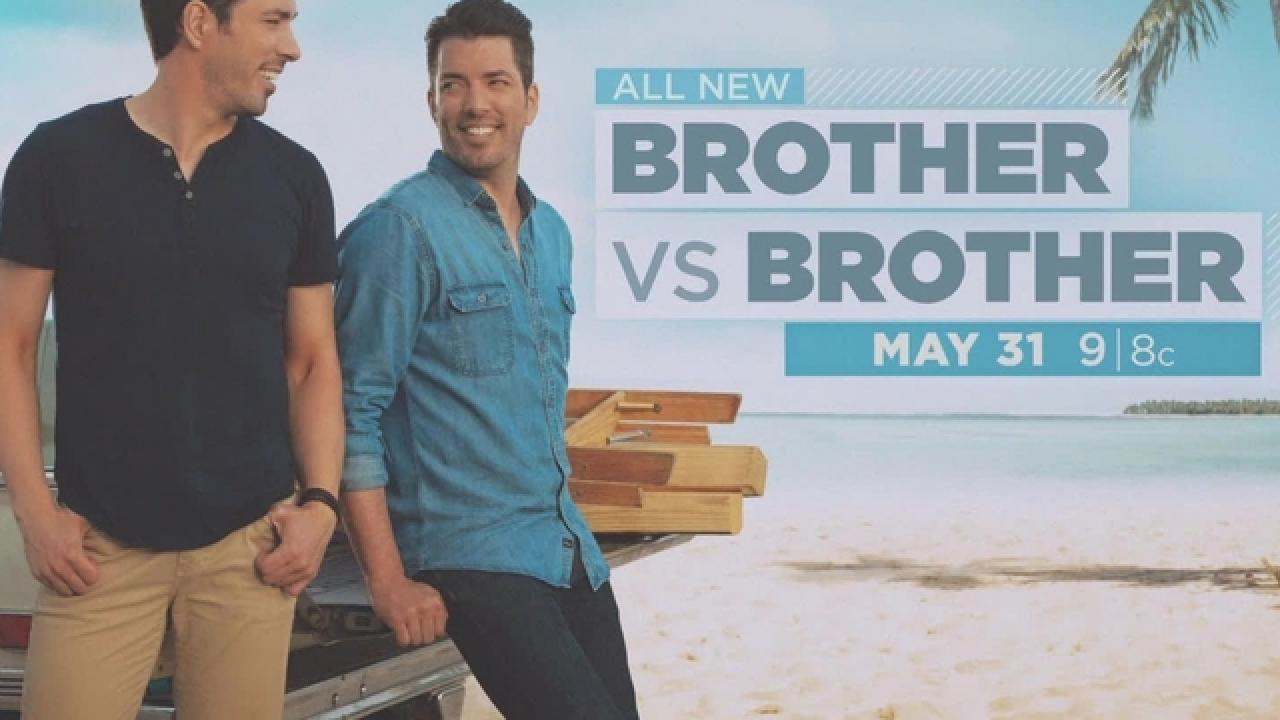 As if transforming two homes in just a few weeks wasn't difficult enough, the brothers are facing new challenges this seaside season as they confront structural and material issues thanks to Galveston's (beautiful) saltwater-laden air and heavy moisture and humidity. Jonathan and Drew also start with very different types of blank slates — Jonathan's house is a single-story 3-bedroom with seriously outdated finishes, and Drew's house is a two-story drowning in wood paneling in need of a complete gut job.

The Scott Brothers play even harder than they work, so it should be no surprise that we'll also see them exploring all the fun and games Galveston has to offer this season. To up the ante of the weekly room challenge, the winner will get to send the loser off on miserable outings like riding a scary amusement park ride on repeat, climbing an 81-foot obstacle ropes course or catching shrimp for dinner — all while the winner parties it up with friends flyboarding, playing with penguins and zip-lining.

Scott Brother No. 1, J.D., will be on hand to keep the twins in line, while a handful of their HGTV and DIY Network cohorts will stop by to deliver verdicts on the winner of each room challenge. David Bromstad (My Lottery Dream Home) and Egypt Sherrod (Flipping Virgins) are up first, followed by Eric and Lindsey Bennett (Desert Flippers), Tiffany Brooks (HGTV Smart Home), Karen E Laine and Mina Starsiak (Good Bones), Ben Sargent (DIY Network's Backyard Goldmine) and Brett Waterman (DIY Network's Restored).

And the best part? As in past seasons, the profits from the sales of the two houses will go back to the local community through the nonprofit Rebuilding Together. (Stay tuned this summer to see the results!)

Will this be the year Drew finally beats Jonathan, the reigning Brother vs. Brother champ?

"I've won the past two years, fair and square," Jonathan said. "Three times is a charm and this is the competition where that is going to happen."

"For me, failure is not an option," Drew said. "This year, I'm going to win or die trying."
Don't miss the Brother vs. Brother season premiere on Wednesday, May 31 at 9|8c on HGTV. Be sure to tell the brothers who you're rooting for with the hashtag #BroVsBro!