'Downton Abbey' in Rear View
We pay tribute and bid reluctant farewell to one extraordinary TV drama, take you to the Yorkshire estate where the series was shot and introduce you to the real-life lord and lady of the manor.
What will we do with our Sunday nights now that we will no longer hear that warm and welcoming opening theme to Downton Abbey that simultaneously soothes and excites us? How ever shall we carry on without weekly helpings of the trials and upheavals of Mr. Bates and Anna, the calming demeanor and sage advice of Lord and Lady Grantham, the mannered precision and flawlessly starched collars of Mr. Carson, the devious (but occasionally empathy-inducing) machinations of Barrow, the complex soap opera that is Lady Mary and — of course — the rapier wit and legendary snark of the Dowager Countess?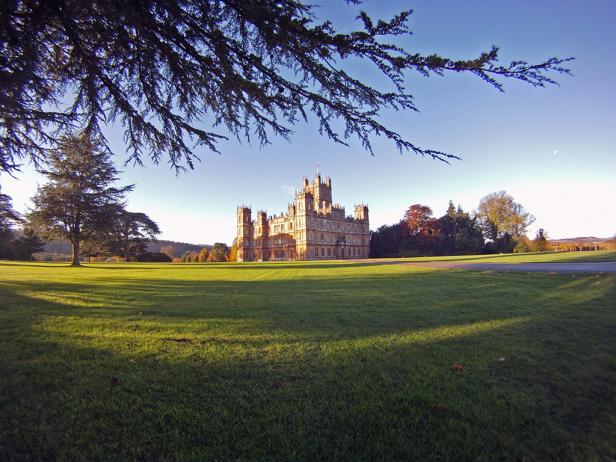 Highclere Castle
Highclere Castle, the English manor that serves as backdrop for the PBS series Downton Abbey, is in reality one of the most magnificent of England's stately homes. It's an actual working estate in the Hampshire countryside and home to modern-day members of the real British aristocracy. The Victorian-era manor is 175 years old, contains around 30,000 square feet of living space and is currently maintained by a staff of 70.
PBS has been treating audiences to excellent scripted dramas for years on series like Masterpiece Theater, Masterpiece Classics and Mystery, but what is it about this one that is so profoundly captivating to so many people? Sharply defined characters, bullseye casting, intelligent dialog and meticulous period authenticity are among the show's keynote attributes that are cited as essentials to its continued success and acclaim. But more than that, this series somehow found its way to that hard-to-define thing that's greater than the sum of its parts, an overarching gestalt, a perfect pitch that enabled it to reach deep into audiences far beyond the network's usual devotees – making it one of the most watched television series in the world and Britain's most popular TV drama ever.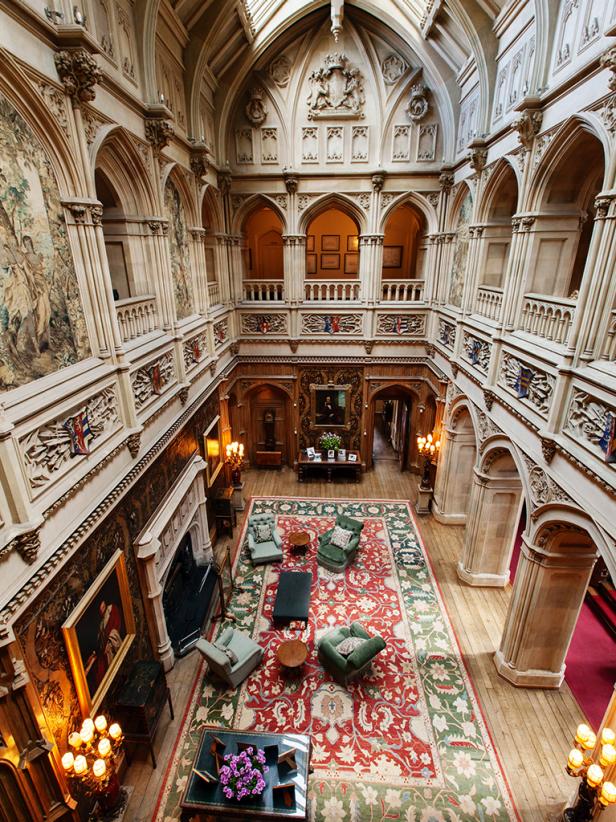 State Room With Stone Arches
The grandeur of Highclere is perhaps most notably exemplified in the magnificent state room seen here. The front entrance opens onto this central room called the Saloon. This room was designed in the gothic style for the 4th Earl of Carnarvon and features a 50-foot vaulted ceiling and magnificent stone arches.
For those who have fallen under its spell, there's an undeniable draw to the heartwarming narrative and interplay of the formidably large company of characters distinctly divided between aristocrats and servants — and to the setting itself and the beautiful aesthetic with which the show is shot and constructed. It's like that great novel that you can't stop reading and hope will just never end. And it keeps welcoming you back while deftly and gently reminding those who would yearn for simpler times that those times may not, in reality, have been so simple.
We at HGTV have no idea what we will do after the finale, but a lot of us are about to be genuinely sad. In fact, some of us are positively in denial. What we can do (and, in fact, is something we specialize in), is show you beautiful pictures and informative video. To that end, and as we bid a melancholy farewell to one outstanding television show, we revisit Highclere Castle, the "real" Downton Abbey – via Castles on Camera, a special HGTV first aired a couple of years ago.
Downton Abbey, we will miss you. In the words of Violet Crawley, Dowager Countess of Grantham (actually, in this case, quoting French poet François Villon), Mais ou sont les neiges d'antan? Translation: "Where are the snows of yesteryear?"
The stately home that millions of Downton Abbey fans have grown to adore is no movie set. It's an actual working estate in England's countryside and home to modern day members of the real British aristocracy. Go inside Highclere Castle to see its lavish rooms and meet the real-life lord and lady of the manor.
Visit Althorp House, the regal estate of England's famed Spencer family and the childhood home of the late Princess Diana.