Check Out This Kid-Friendly and Contemporary Home
A family wanted a house that was not only kid friendly, but better suited for entertaining. Designer Claire Paquin worked with them to create an elegant, contemporary space that included multiple seating areas, a billiards room and a master suite for the parents' own personal retreat.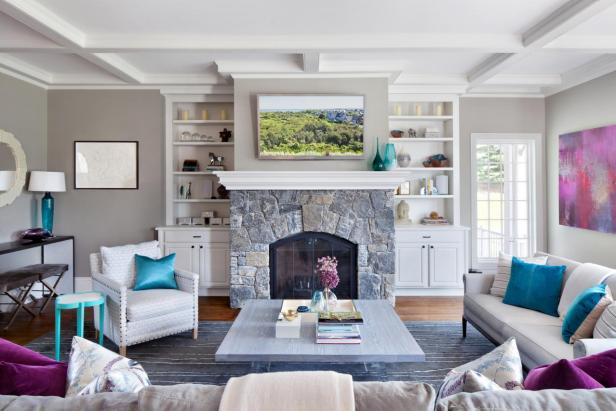 Contemporary Gray Family Room With Stone Fireplace
This family room features pale gray accents –– like the wall color and suede sofa –– paired with pops of bright turquoise and deep purple hues. A charcoal and white patterned area rug leads the way to a rustic stone fireplace, finishing the look of the space.
What were the main items on your clients' wish list?
The main items on our clients' wish list were to redesign the formal living room so that it functioned better for their family; create a master suite oasis where they could retreat and relax; transform their family room into a kid-friendly space; and add functional and decorative window treatments throughout the house.
What were your main objectives for the project?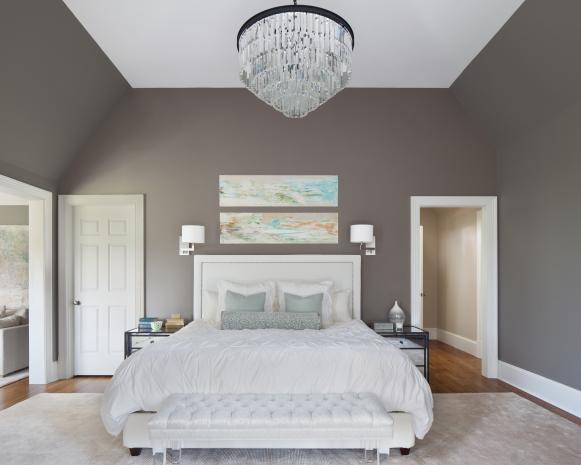 Transitional Gray Bedroom With Glamorous Chandelier
This sophisticated master bedroom features charcoal gray walls paired with pure white design accents, like the bed linens, platform bed and tufted bench. Mirrored nightstands sit on either side of the bed, while a glamorous chandelier hangs above the bed.
The space that was most important to our client was the master suite. Having three boys under the age of three is incredibly hectic, so the clients desired a comfortable space to call their own. Although they wanted a calming feel, they still wanted a room that was not completely neutral. The space is grounded by a rich gray-green wall color that is completed by soft minty greens and taupe. This achieved a balance of color and neutrality while creating a serene space. Attached to the master bedroom is a sitting room that provides the clients with their own space to lounge and relax that is not centered around the children's activities and toys. We chose a deep, comfortable sofa, wing chairs and an upholstered ottoman to enhance the cozy atmosphere.
How did the layout work before the remodel?
The clients had just moved into this house and did not have an existing layout or much furniture to speak of. This allowed us to create layouts we thought would be the most functional for their family based on how they wanted to use each space.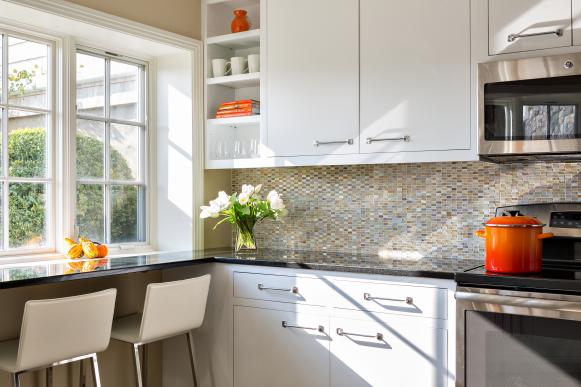 Mosaic Tile Backsplash in Transitional Basement Kitchen
An earthy yet glamorous tile backsplash brings a punch of style to this transitional kitchen. White cabinetry extends to the ceiling to maximize storage. The small kitchen makes maximum use of the basement in this contemporary home.
Two big improvements to this home were the addition of a kitchen in the basement, and converting the formal living room into a billiard room. The clients have a live-in guest in their basement and the lack of a kitchen downstairs was a hindrance. We took advantage of an unused, awkward space and custom-made cabinetry to fit the room to give the guests their own suite. A unique feature of this home is the billiard room. It is right off of the foyer, and with its two-floor vaulted ceiling and wood paneling, it makes a grand statement to anyone walking into this house.
What was the biggest obstacle in the redesign?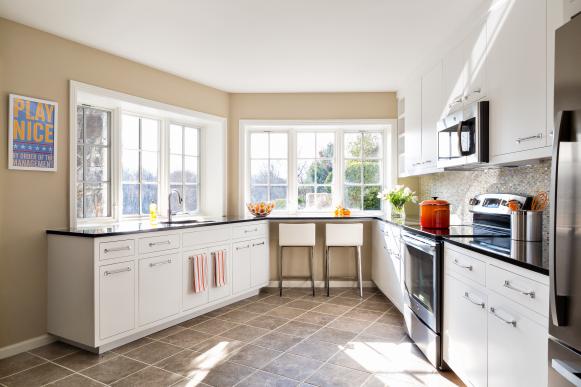 Neutral, Light-Filled Basement Kitchen
Neutral walls, clean lines and white cabinetry characterize this transitional kitchen, which provides maximum function in this basement-level space. Wide windows take advantage of the views and bring in a surprising amount of light. Sleek quartz countertops, modern barstools and a glass tile backsplash give the room contemporary flair.
The biggest obstacle in this project was designing the basement kitchen. The space was a challenging and awkward shape with lots of different angles. The options for layouts were not straightforward. In the end, the trapezoidal-shape dilemma was solved by adding a breakfast bar to adjoin both sides of cabinetry.
What was the inspiration for this home's style?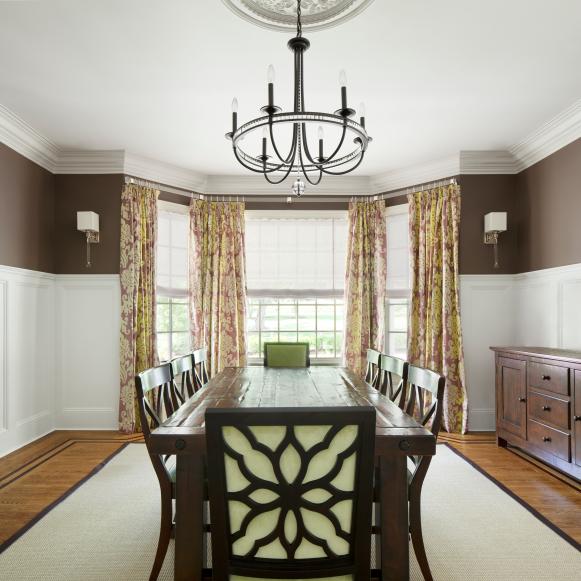 Transitional Brown Dining Room With Bay Window
This transitional dining room features a long rectangular dining table, perfect for entertaining family and friends. Wainscoting adds a classic touch, and a bay window provides ample natural light.
The clients living in this home are a young couple with three kids who wanted their home to reflect that. They wanted the house to be contemporary without feeling too modern or cold, and also to maintain a kid-friendly vibe. The addition of bright pops of color creates a fresh feel throughout the house. The inspiration for the family room and dining room palettes started with the drapery fabrics: a bright turquoise in the family room and a bold, contemporary damask print with purple and chartreuse in the dining room. Since the living room was the most "adult" space, we went with a sophisticated, neutral palette of white and gray with black accents.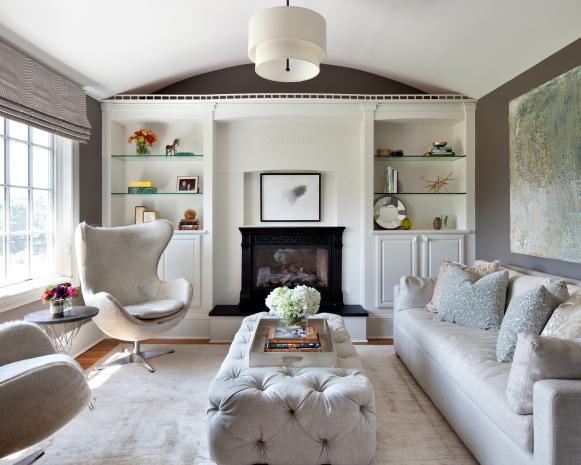 Master Bedroom Sitting Area With White Shelving
This sophisticated sitting room is located just off of the master bedroom, providing a spacious place for relaxation. White shelving lines the taupe colored walls and frames in a black fireplace, while soft, neutral furniture –– including a tufted coffee table and two swivel chairs –– allow for adequate seating options.
The only spaces that had limitations when it came to furniture were the family room and the master bedroom. The family room had an existing Pottery Barn sofa and a Serena & Lily accent chair that the clients did not wish to part with. We were able to use these neutral pieces as a jumping-off point for the rest of the space. The clients love Restoration Hardware and wanted to incorporate a lot of that furniture in the master bedroom without having it feel like a showroom. We furnished the entire sitting room with Restoration Hardware pieces and used a variety of different vendors for the bedroom, giving the overall space a diverse look.
How did you make transitions from room to room?
Each room in this house has a different feel: the family room is funky and fresh; the living room is sophisticated and masculine; the master is calm and serene. Yet the house still has a harmonious feel. The clients were very big into color and wanted each space to have its own unique personality. All the rooms are designed with a neutral base. The accent colors throughout the first floor are complementary colors so they do not fight or clash, instead creating a harmonious design.
What was your favorite space to design?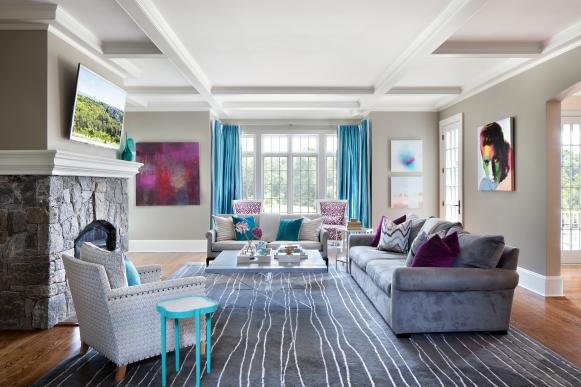 Contemporary Gray Family Room With Aqua Accents
This vibrant family room features a beautiful gray hue seen in the soft wall color, suede sofa and patterned area rug. Pops of bright aqua and deep purple in the satin curtains, throw pillows, wall art and end table add a fun vibe to the space.
Our favorite room was the family room. These clients did not shy away from color, so we were able to create an interesting, unique space right in the center of their home. We kept the large upholstery items neutral, which allowed us to go bold on smaller items like the turquoise drapes and berry-colored patterned chairs.
Was there a specific element that was essential to bringing the design together?
Art was essential in bringing all of these designs together. We handpicked art from a variety of artists to complement each room. The art really helps tie in the color scheme and makes the accent colors pop and all the spaces feel complete.
What is your favorite feature in the home?
The best things about this home are the pastoral views, sprawling property and generously-sized rooms. The clients are pretty great, too!
Tell us about the living room's design.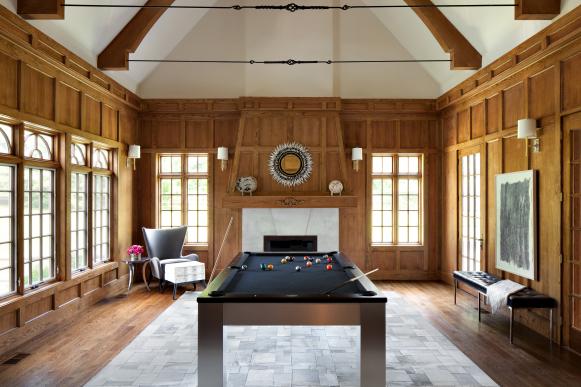 Wood Paneled Game Room With Sleek Pool Table
This spacious game room features all-over wood paneling, a vaulted ceiling and medium grain hardwood floors. A metal pool table is positioned in the center of a rectangle made from gray stone tiles, and a gray wingback armchair provides a place for relaxing in between games.
The living room was definitely a room that the clients wanted to address, as it was not currently functioning well for their family. This home has a large family room, master sitting room and an upstairs hall sitting room, so it was not important to our clients to have another living space filled with seating they would rarely use. Since they entertain a lot, a billiard room was the perfect solution. The space already had floor-to-ceiling wood paneling, so when decorating this room we chose items that would modernize the space but complement the warmth of the paneling. By adding a patchwork hide rug, stainless steel pool table and some abstract art, we were able to achieve a contemporary look while keeping a masculine edge.
What makes this project uniquely yours?
Our design process is very collaborative so our clients will be comfortable with their decisions, ensuring that the overall design is cohesive. We want each space to reflect our client's personality.
If possible, we always try to include a console table with x-benches in the living spaces we design. Not every living room can accommodate a lot of furniture and small benches that tuck out of the way are a great solution. A console and x-benches are also great for a beautiful vignette. As far as fabric goes, we always try to incorporate bright, bold color into every project: chartreuse, aqua, berry, yellow. We keep the large upholstery pieces neutral and bring in pops of color through the accents — pillows, drapes x-benches — so that the clients can update the color scheme down the road without breaking the bank.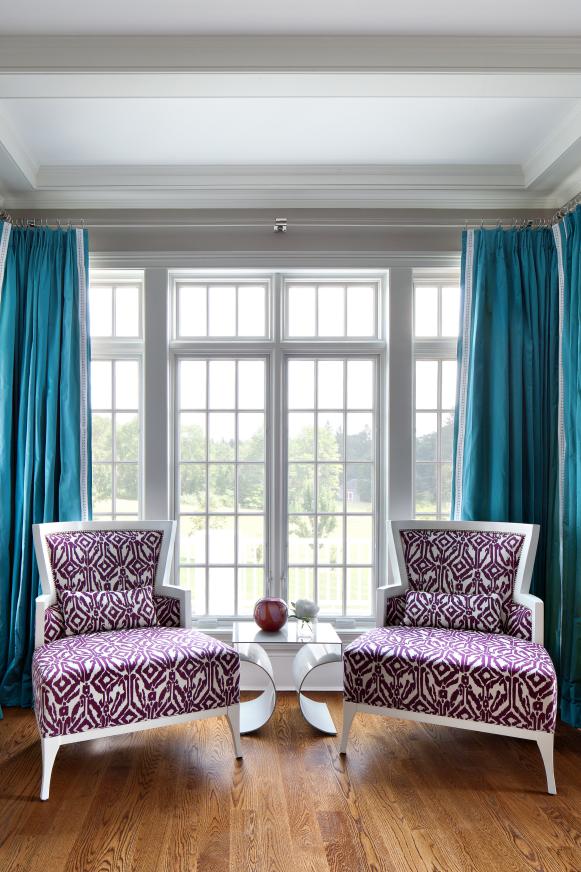 Contemporary Family Room With Turquoise Curtains
This light gray family room earns pops of bright color from turquoise curtains and two purple and white upholstered armchairs. A contemporary end table sits between the chairs, while large windows allow natural light to flood the space.