An Apartment-Dweller Considers Tiny Houses
That space you're purchasing is so very small and the world of pain you're entering so potentially vast.
My husband and I spent six years in the New York City equivalent of a tiny house — a 375-square-foot Hell's Kitchen tenement built in the 1880s, when families much larger than ours squeezed themselves into its one bedroom and counted themselves lucky to be able to do so. We're now in a better place — a much larger city apartment, that is, not the afterlife — but I flash back to those early, crazy years when I had a nightly choice of nearly pushing Joe to the floor or waking with a yelp in the middle of the night when I rolled into the steaming-hot radiator pipe on my side of the bed.
These househunters who dream small because they "want to simplify their lives" or "fancy being able to pick up and move from one wildflower-carpeted field to another" (as opposed to "hope to live somewhere less than an hour and a half away from their places of work"): I have thoughts for them.
How strong is their versatile-furniture-assembly game?
My husband and I — two college-educated adults with not-insubstantial backgrounds in a variety of DIY sub-genres — spent two hours trying to turn two seats into a pull-down cot on a train trip through Europe last year (and were finally forced to beg for help from the conductor). I love the idea of multi-use spaces where sinks become counters on which to prepare meals eaten on dining tables that pop out of cupboards, but it's no accident that the bed in our apartment is just a bed. The idea of having to summon my bed from a secret compartment in the floor each night makes me want to cry. Speaking of beds...
Will they share their personal trainers with me?
Sleeping lofts are the name of the game in the vast majority of tiny houses, which sounds fine when you've just graduated from college and want to spend a few winters hauling your home from ski slope to ski slope. Hauling yourself up a ladder to a sleeping loft each night when you've transitioned to a tiny house as a place to spend your golden years, on the other hand, sounds tiring and maybe a bit dangerous? It's no accident that we moved from a walkup to an elevator building, and we're still in our thirties. Tiny-house retirees, please spill your fitness secrets.
They must never, ever deep-fry food.
This tiny-house kitchen is considerably more spacious than the one I had in Hell's Kitchen — to be honest, it compares pretty favorably to the one I have now — and I hope its owner is fond of things like gazpacho and crudité platters, for the scent of anything one cooks in a space that small (and that close to one's sleeping loft, no less) is going to linger like a villain in an Edgar Allan Poe story. This happened to us quite literally one winter, when our poor cat just never stopped smelling like the minestrone soup we'd slow-cooked.
Do they know where they'll go for Quiet Time?
Like tiny-house retirees, tiny-house families both inspire and terrify me. Is the ability to go to a special place in your head because you can't escape actual proximity to a parent/child/partner who makes you want to jam a pen in your eye a life skill you're confident you can develop? What if you're wrong? The fact that I can shut the bedroom door when Joe dials an experimental jazz marathon up on his stereo is a, if not the, linchpin of our marriage, and I worry about people who share spaces without doors.
They've got to buy the loveliest trash can/hamper/dishes they can find.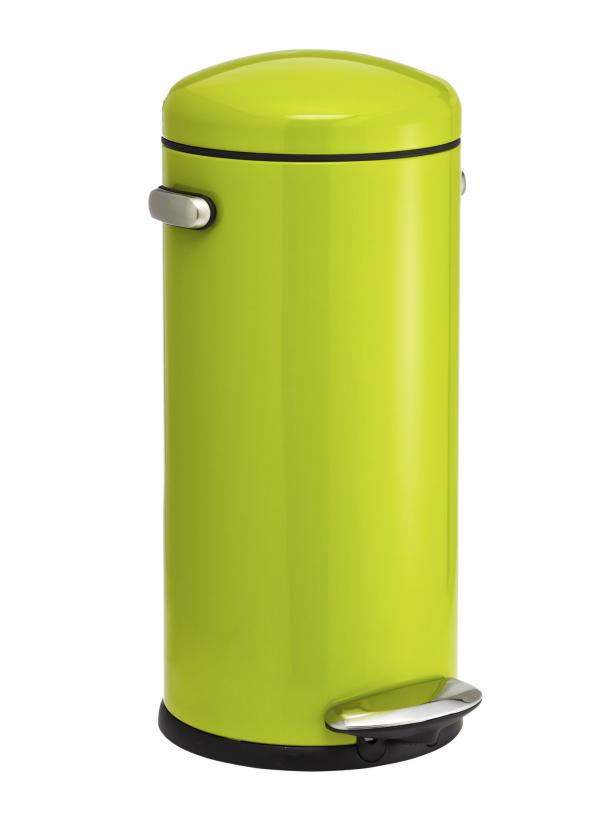 Bright Green Trash Can
A bright green trash can jazzes up a kitchen instantly. Simple Human 8-gallon steel and enamel retro step can in green, $99, containerstore.com
Courtesy of the manufacturer
I'm not even going to tell you how much I spent on the swank Scandinavian trash can that's lived beneath the window in my kitchen for the past six years. I will tell you that it was worth every penny, because it's the first thing you see when you enter the room. Collapsible furniture and hidden tables aside, tiny-house owners live out loud in much the same way — in every room.
Are they prepared for lives that revolve around laundry?
I consider the laundry room on the ground floor of my apartment building a luxury, as many of my friends still have to schlep their clothes to a local laundromat, or pay through the nose for pickup and delivery. I know diminutive, portable washer/dryer units exist, but I also know they have a tendency to turn serviceable clothing into extra-fancy rags. Do tiny-house dwellers scrub their clothing on rocks by the river? Do they festoon their decks with drying-underwear-as-bunting? Do they just park near dry cleaners?
Despite a bit of lingering guilt about the Winter of Soup-Cat and my deep and abiding love of the laundry room, I can identify with the urge to snuggle up in a tiny home: Ours wasn't perfect, but we were happy. There's something to be said for having everything (and everyone) you need at your fingertips, no?