Add These 'Fixer Upper' Finds to Your Flea Market Wish List
It's easy to look at a finished home on Fixer Upper and think, "If only Joanna Gaines could transform my home." Unfortunately, we can't hire Joanna as your personal decorator, but we can offer a few tips for stealing her flea market style (as well as what you can expect to pay for it.) Next time you're at the flea market or thrift store, keep an eye out for these easy-to-come-by decorations.
Old windows are super easy to find and always look beautiful hanging on the wall. You can paint them for extra oomph or leave them as-is for simple, cottage style. Prices on windows really vary, but with so many available, you shouldn't have a problem finding one for a price you're comfortable with. A word of advice: If you do paint them, make sure you buy paint that is made for glass. I once tried acrylic, and it flaked right off. Never again.
Wooden crates are great for combining storage and style. They are easy to find and pretty inexpensive. Old soda crates are a bit pricier, but they add a warm, vintage touch to home decor. And these aren't just for storage: A clever option is to stack two crates on their sides to use as a ready-made side table. Built-in storage for books, albums and movies is just a plus.
You've probably seen the expensive blanket ladders at home goods stores, but to save money and get a more unique look, consider buying a plain wooden ladder at the flea market. Usually inexpensive, it might just need a coat of paint to be the perfect addition to your living room. Another option: I saved my monkey bars from childhood and upcycled them into perfect high heel storage. Nostalgia + utility = my idea of a home decor win!
I usually see the metal variety when thrifting, but both metal and wood could make great planters. Joanna often uses them as centerpieces, which is the perfect addition for a long table as it facilitates easy conversation across the table and lasts much longer than fresh flowers. After seeing this picture, I'm currently kicking myself for not buying the tool box I saw at an antique fair last weekend. Fail.
Galvanized watering cans can be found at most flea markets. It may be rusted with holes in the bottom, but hey, you don't have to use it as a watering can. Try planting spring flowers in it or storing garden tools. This item is plentiful, so definitely haggle until you get a bargain.
Gray Country Foyer With Custom Metal Wall Sign
A custom black metal sign with a positive message greets guests in this entry space. A small black wood bench and floor lamp provide a cozy sitting area before entering the adjacent dining room and kitchen.
Sarah Wilson/ Getty Images, 2013, HGTV/ Scripps Networks, LLC. All Rights Reserved.
This is one item that doesn't come cheap. Despite the fact that they have been reigning supreme on my flea market wish list for years now, church pews aren't actually too difficult to find. They are, however, difficult to find for a decent price. The long pews are more abundant, but unless you have a huge space or have some woodworking skills, it makes more sense to hold out for the shorter alternatives. And if someone happens to have one they aren't using, I wouldn't object to an early Christmas present.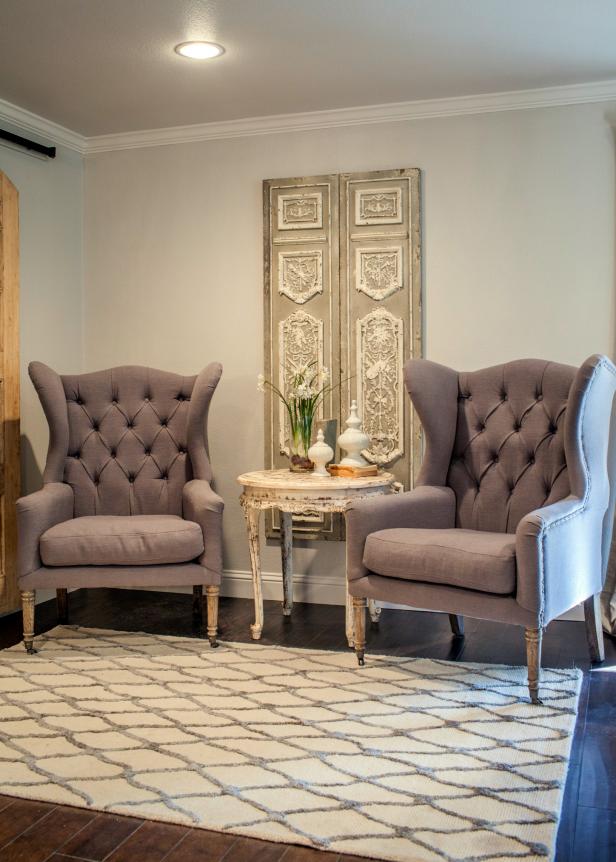 Fixer Upper: Elegant Remodeled Sitting Room
As seen on Fixer Upper, the sitting room has a very elegant look with its high backed chairs.
Even more easily accessible than church pews, traditional armchairs are pretty easy to find, and they are usually priced fairly according to their condition. A great option is to find a nice chair with some damage and reupholster it in the fabric of your choice. That way, you save money on the chair and can use that extra cash to achieve a custom look.
These old fans are such cool accessories, whether they work or not. Working fans may cost you a bit more, but be forewarned — the cool vintage cages don't have the safety features of today's fans, so watch your fingers, please! These retro beauties tend to run high, so be on the lookout for a bargain price.
Old books are so easy to find, which is great as you can never have too many. Put favorite titles on the shelf, and use others as easy decor just as Joanna did here. It doesn't even matter what the book is! If you have any talent with a jigsaw, books sawn into brainy initials are also a growing trend you can buy or DIY.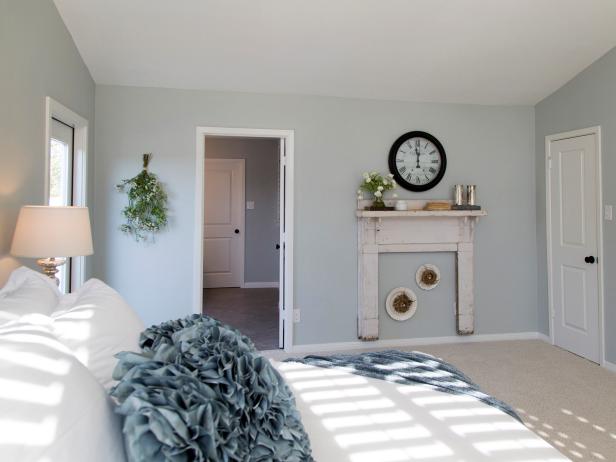 Cottage-Style Bedroom With Upcycled White Fireplace Mantel
A shabby-chic fireplace mantel is repurposed as shelf in this soothing blue and white bedroom. The mantel is lined with flowers and various accessories with a clock hanging above. On the bed, blue ruffled pillows complement the crisp white bedding.
Sarah Wilson/ Getty Images, 2013, HGTV/ Scripps Networks, LLC. All Rights Reserved.
If you've always wanted a cozy fireplace but that's simply not an option, you might consider installing a mantel instead. They look amazing with added shelving or even a corkboard or chalkboard. Joanna's use of hanging baskets is a definite look to steal. Mantels usually start around $50 and continue to go up depending on condition and details, but more details definitely add to the look, so don't be afraid to splurge a little on this one.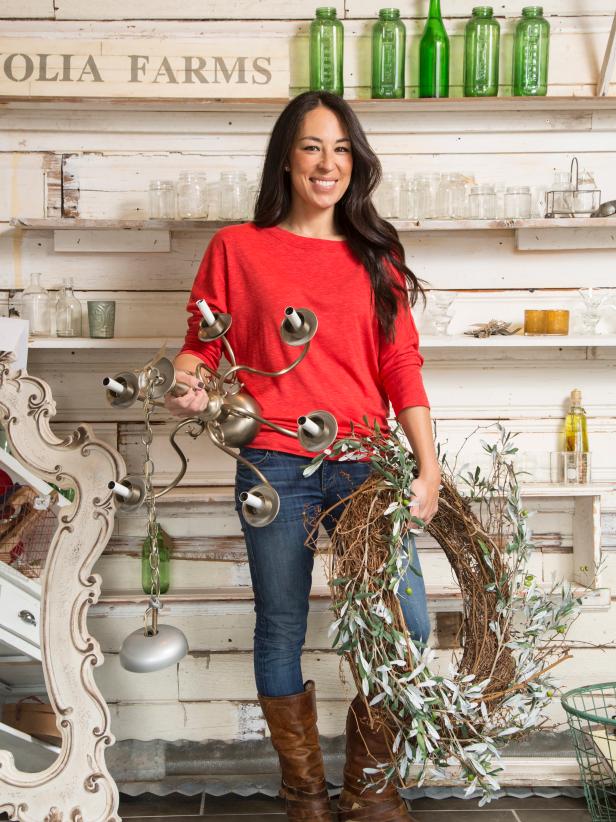 Joanna Gaines With Antique Finds
Where does Joanna Gaines, co-host of HGTV's Fixer Upper, find all the great pieces she uses in her farmhouse and in her shop? "Off-the-beaten-path antique stores and flea markets," she says. "My favorite thing to do is hunt for really cool pieces to sell or repurpose and use in my home."
Generally pretty cheap and readily available, glass jars in all shapes and sizes are at every flea market worldwide just waiting for a nice home. Blue Mason jars? They've got it. Gorgeous glass vases? Yep. Always be on the lookout for interesting shapes and colors, and it won't take long to curate a collection as fantastic as Joanna's.
Okay, so partial windmills aren't exactly plentiful, but interesting pieces of scrap metal are. If you've got a good eye and creative mind, it should be pretty easy to find a unique piece to proudly display on your wall.
Metal baskets are a favorite of Joanna's, and lucky for you, they are plentiful. Vintage locker baskets are a good size for storage (that's how I store all my magazines and cookbooks), and they're fairly cheap too. You could probably find one today for $30, but hold out and you're likely to find one as low as $15. Score!
Keep in mind, this list is based on flea markets and thrift stores in the South, and prices and availability will vary depending on location. But once you're an avid flea market shopper, you'll be the expert on just what to pay for every diamond in the rough!
More: Watch Joanna Get a Deal
Getting a Deal at Round Top
02:28
Need more inspiration? See how Joanna wheels and deals at this huge antique sale in Round Top, Texas.