A Home Town Makeover: French Style, Southern Charm
Home Town's Erin and Ben transform a plain, box of a house into a charming home with a European soul.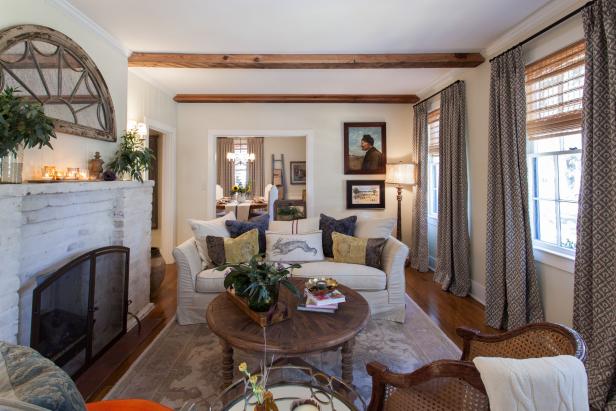 Neutral French Country Living Room with Whitewashed Fireplace Surround
The Carson's new living room
Todd Douglas/ Getty Images
The Carson's new living room
They put their heart and soul into it, and it shows," says new homeowner Linda Carson. "It shows in the soul of the house." That's how one of Ben and Erin's clients described the finished home in this Home Town project. The house started out with little in the way of personality or substance and ended up as one of the most distinctive and transformative makeovers that Ben and Erin have pulled off thus far. The kitchen alone is one that Erin admits is her absolute favorite.
Scott and Linda Carson are newcomers to town, and ones with eclectic and discerning tastes. Attribute that, in part, to the fact that the couple has lived in cities all over the US —as well as locations throughout Europe that would make the most avid globetrotter envious — in Italy, France, Germany and Belgium.
Todd Douglas/ Getty Images
Ben and Erin with new neighbors Scott and Linda Carson
Scott is a retired serviceman who served as an Army chaplain for 30 years. He and Linda have seen the world, but have lived most recently in Huntsville, Alabama. They're eager to settle into quite small-town life. "We're looking to downsize from what we have right now. I just want a comfortable atmosphere, just something that fits our personality," said Linda. " I would love a French country kitchen that would give me the atmosphere of being in Europe again."
I'm taking it as a compliment that they're going to settle down here after they've seen the whole world.
Erin
Following their usual protocol, after getting a feel for the preferences and tastes of their clients, Ben and Erin embark on a search for prospective homes and, based on a combination of objective criteria and pure instinct, narrow the possibilities down to a couple of prime candidates. "The Jones House", built in 1900, comes with three bedrooms, 2160 square feet, a welcoming front porch and some interesting historic details, including pocket doors, transoms and a fireplace with tiger-oak mantel. Erin confesses that it's always been one of her favorite old houses in town. "The Cater House" has a cottagey Cape Cod feel but a notably lackluster exterior and a very small kitchen.
Todd Douglas/ Getty Images
Ben and Erin model the latest in Home Town fashion and accessories.
Once the decision is made, the renovation gets underway and work begins on a significant reworking of the exterior as well as assessing structural support in hopes of removing a wall to expand the existing kitchen. In fact, the bulk of the money and effort in this renovation went into completely re-imagining and reinventing a formerly bland a sad kitchen. The new kitchen, with its warm and homey vibe, is anything but sad.
Todd Douglas/ Getty Images
The Kitchen, After
This kitchen has so much personality, and I think it's really the Carsons' personality.
Erin
Highlights include a custom built bakery table for use as a center island and prep space. Ben fashioned the sturdy table from heavy white oak to withstand heavy kitchen use and to last for generations. Other standout features include a coffered ceiling with reclaimed wood beams made from lumber that's possibly more than three centuries old. Patterned tile backsplash helps complete a look that blends classic and contemporary elements for a warm and European provincial feel.
In addition to new recessed lighting in the kitchen, Erin created a custom pendant basket-light using a basket she found at a salvage shop.
DIY Basket Light
00:49
Erin uses a flea market bargain to build her own basket light.
Exterior embellishments include an arched portico with a rolled copper roof and side trellises. The arch mimics an existing fan-shaped architectural accent above the original door. Other outdoor highlights include new shutters painted in soft gray and window boxes in natural wood finish.
Todd Douglas/ Getty Images
Home Exterior, After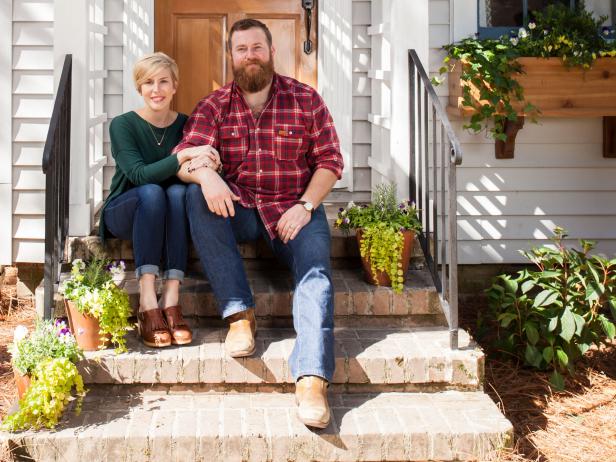 As seen on Home Town, hosts Ben and Erin Napier (C) sit outside the newly renovated Carson residence. After the renovations, the Carson's Laurel, MS house now features a new copper roof entry portico, cedar window boxes, new wood shutters and a fir wood door. The interior features a completely renovated French Country style living room, dining room and kitchen with new distressed cabinet doors, new floor and wall tile, new heart pine reclaimed beams and a custom built Scotsman white oak table built by host Ben Napier. (portrait)
Todd Douglas/ Getty Images