A House That "Sings" for a Nashville Songwriter
Home Town's Erin and Ben Napier help a singer-songwriter update a vintage home, creating a vibrant, bohemian vibe — and something extra-special in the backyard.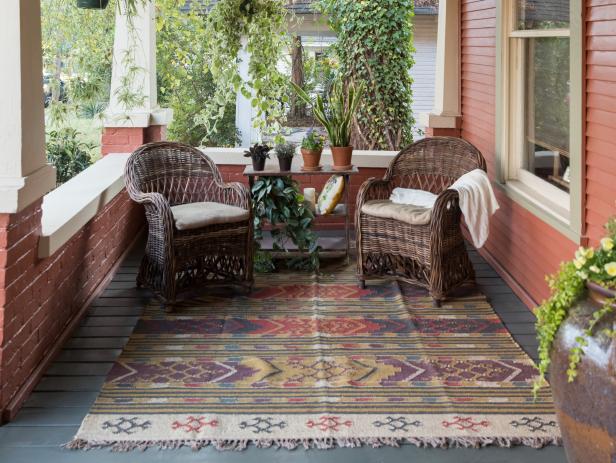 As seen on Home Town, homeowner Amber Hayes' Laurel, MS existing exterior had a great craftsman style but was lost with the plain gray color and lack of landscaping. After the renovations, her Laurel, MS house now features a newly painted exterior, new landscaping, and a completely redone backyard retreat with firepit and pergola. The large front porch now has a new sitting area and table perfect for either relaxing in the morning or entertaining in the evening. (After)
Todd Douglas/ Getty Images
Amber Hayes has been living in Nashville for the past 15 years, pursuing a career in music. A second job brings her to Mississippi frequently, and now she's ready for Erin and Ben to help her find the ideal small-town home. Prior to moving to Nashville, Amber grew up in a tiny town in Oklahoma. "Like 900 people, no stoplight, no stop sign," she says. "I loved being from a small town."
Amber's wish list includes a historic home with a space for entertaining and a spa-like master bath. "My budget all-in is $140,000," she says, "and I feel like I can get exactly what I want and go a long way with that compared to what I could do in Nashville." The home candidates Erin and Ben come up with this time around include two markedly different houses.
I really want a great front porch where I can sit out with my dog and drink my coffee ... a place where I can come and chill after work ... a place where I could write or that's great for entertaining if I wanted to do house concerts.
Amber Hayes, homeowner
The Lenoir House, built in the 1920s, is close to downtown and comes with a large front porch and a beautiful magnolia tree in the front yard. The backyard is a different story — with multiple levels of rotting deck and jungle of underbrush. The Boehm House, built in the 1930s, was formerly owned by one of the town's residents who, himself, did a lot of entertaining. It has a large living room that's ideal for parties and might even accommodate a small performance space. There's also an adjacent sunroom that could work as an inspiring creative space for a songwriter. Drawbacks include a bland exterior and an almost non-existent kitchen.
Once Amber makes her selection, the renovation gets underway with major changes inside and out. On the inside, a wall is are removed to open the kitchen onto an adjacent dining room.
A bathroom gets an amazing makeover with ornately patterned accent tile and a century-old clawfoot tub. The tub was purchased at a flea market in Hattiesburg, Miss., and professionally re-porcelained.
Todd Douglas/ Getty Images
For the living room, Ben handcrafts a custom coffee table using a glass-front cabinet removed during the kitchen demo. The top is made from pine lumber salvaged from removal of the dining room wall.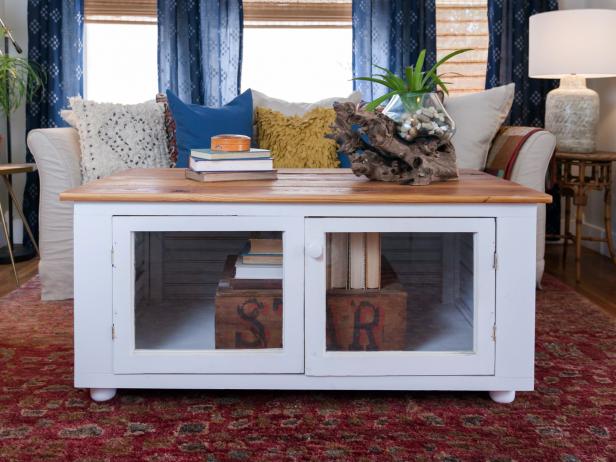 As seen on Home Town, host Ben Napier repurposed an existing kitchen upper cabinet from homeowner Amber Hayes' Laurel, MS kitchen and converted it into a new feature coffee table for her renovated living room. After the renovations, her Laurel, MS living room also features a brighter gray paint color, an updated hand built fireplace mantle built by Host Ben Napier and new furnishings including a commisioned piece of art by beloved local artist, Mandy Buchanan. (Detail)
Todd Douglas/ Getty Images
In the backyard, a deck and pergola is added with outdoor seating, dining space and cypress wood benches custom-built by Ben (with some assembly assistance from Erin). The raised deck can serve double duty as a stage, creating a backyard performance venue where Amber can host house concerts.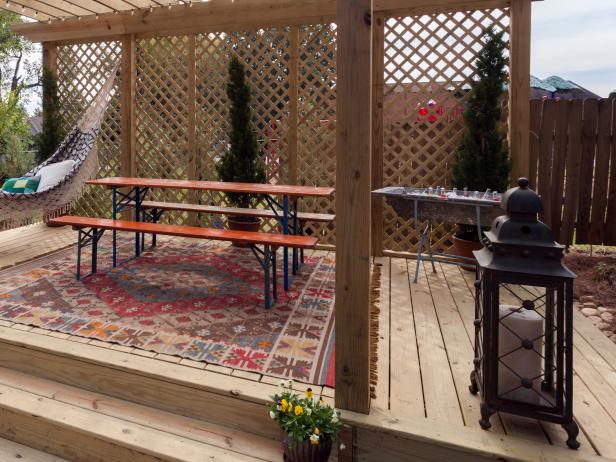 As seen on Home Town, homeowner Amber Hayes' Laurel, MS existing backyard was overgrown and in need of a complete overhaul. Hosts Ben and Erin Napier worked with Four Seasons landscaping to remove old rotten wood decks, all the overgrowth, keep a few of the existing popcorn trees and fix the drainage issues. After the renovations, her Laurel, MS backyard now features a pea gravel walk out to a new wood pergola, custom Scotsmans wood benches built by host Ben Napier and a new firepit ready for entertaining family and friends. (After)
Todd Douglas/ Getty Images
Speaking of which, watch closely in this particular episode to discover yet another of Erin's many hidden talents, one that's heretofore gone unrevealed in this series.
The Home Town episode "Country Singer Moves From the Big City to a Small Town" premieres May 23 at 10p|9c. Be sure to check back here to see the full makeover, additional web-exclusive videos and lots more.