A Growing Family Returns to 'Home Town' Life
Erin and Ben Napier help a returning resident and her family transition back from big-city lights to small-town living.
"They captured everything that I could ever want in a house — the flow, the colors, the space; everything just coming together and making it feel like a home." So said Ben and Erin's latest client, Mia Walker, once she saw the finished product in this Home Town renovation.
Mia, along with daughter Taylor (who's herself about to become a new mother) and young son Bryce, are moving back to Mississippi after having been living in Chicago. They're moving back to the slower pace of small-town living and to be closer to family.
What Mia's looking for in a home is a place with sufficient space for the growing family, space to entertain, a large family-oriented kitchen and a master bedroom that's a private retreat. "Mia's style leans traditional," says Erin "but she also likes things that are simple and streamlined."
The house-hunt, in this case, leads to two homes with decidedly different attributes. The Hamilton House is an unspectacular '40s-era three-bedroom that does, however, offer some advantages. It's in generally good condition, sits on a large lot and has direct access to an old and beautiful city park. The Tant House sits at 2,800 square feet and was built in 1955. It has a more storied history, but in its current state is not as well maintained and generally lacks in curb appeal.
Mia's final decision presents both Erin and Ben with a project they can sink their teeth into. In the end, the result is a house that's informal and comfortable yet visually stylized and colorful.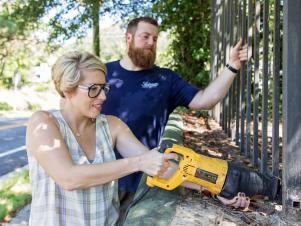 Todd Douglas/ Getty Images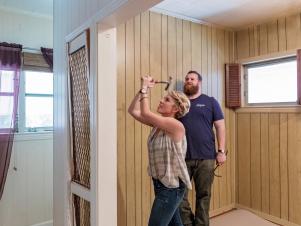 Todd Douglas/ Getty Images
As seen on Home Town, Ben (C) and Erin Napier (L) work on the wrought iron fencing in the front of the Walker residence. They are using a sawzall to remove the center sections of the fence to give the front of the house a more open feeling. Ben and Erin Napier are renovating this house for the Walker family. (demolition)
Erin digs in, helping with everything from initial demo to creating a design for custom wallpaper. Ben, in addition to his usual project oversight and hands-on construction, personally crafts a narrow buffet table for the newly remodeled dining room.
The kitchen becomes the stylistic star of the reno with its sleek, clean design, open feel and white palette offset with lower cabinets painted in a brilliant ocean blue. The updated and reconfigured kitchen features a new island, also built by Ben, using pine wood repurposed from the kitchen's original wood paneling.
Other highlights in this renovation include an oversized master closet and dressing room for Mia's master suite and a gallery wall in the living room, featuring professionally framed original artwork by Bryce.