9 Teeny-Tiny Kitchens Packed With Character
Interested in downsizing but not ready to compromise on style? These pint-sized cooking spaces do it all. 
The tiny home movement sweeping the nation means something different to everyone: living more economically, going off the grid, being more mobile … But if we've learned anything from shows like Tiny Luxury on HGTV and DIY Network, it's that aspiring tiny home owners may be looking to downsize, but they're not necessarily willing to compromise on feeling at home — especially in their kitchens, the heart of their (tiny) home. Here are a few tiny kitchens that are proof positive that cutting back on square footage doesn't have to mean cutting corners on style and eye-catching design features.
Granite countertops are a must for many homeowners — including tiny home owners. This bite-sized kitchen also boasts a four-burner stove, a subway tile backsplash and a good-sized stainless steel refrigerator.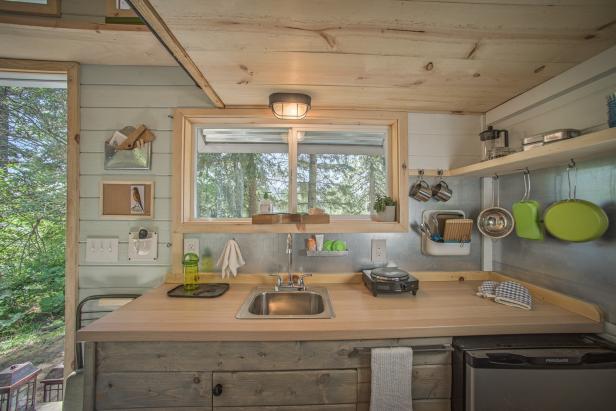 Hard-working Kitchen
Here's a space that has to work hard. This small but well planned kitchen is ready for food prep, cooking, dish washing and, most importantly, coffee-making.
Space is tight in this tiny home with a neutral (and natural) color scheme, but when everything has its place — like the efficient but impossibly charming camping style cups and utensils — the possibilities are endless.
If you're going to splurge on a near-regular-sized refrigerator for your tiny kitchen, it might as well be a unique one. This old-fashioned mint green model perfectly ties this space together to give it a clean, vintage vibe.
Tiny homes don't necessarily call for tiny views. The sizable window over the kitchen sink brings the outside in but leaves plenty of space for complementary (and functional) shelving for dishware.
This kitchen table-slash-workstation with a built-in spice rack would be stylish in any kitchen as is, but in a miniature one, it's made even moreso, as it can fold up vertically to be flush with the wall.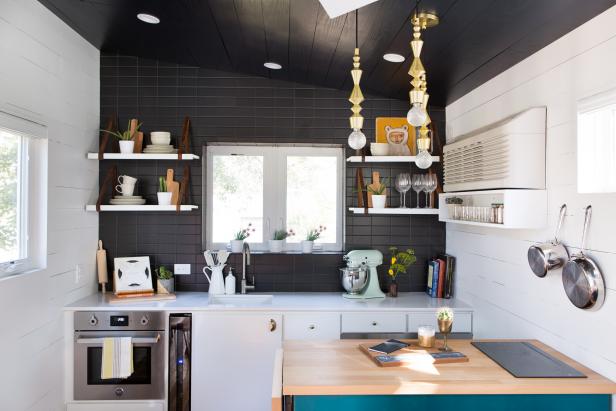 Tiny Eclectic Kitchen
This tiny black and white kitchen designed by Kim Lewis Designs is nine feet wide. The countertops are by Silestone, lights by CB2 and tile by Daltile.
Molly Winters Photography
Just try taking your eyes off of the black subway tile backsplash and shiny white cabinetry and shelving in this 9-foot-wide kitchen.
Speaking of fun backsplashes, the metallic tile here, combined with Edison bulbs and custom wood countertops, give this tiny kitchen an elegantly industrial feel.
When your countertop space is limited, you've got to make every inch count. Check out the contrast between these concrete counters, blue cabinets and bronze farmhouse sink.
Deep purple cabinets and butcher block countertops leave lots of room for customization and fun accents in this light-filled, tiny cooking space.