13 Things You Didn't Know About HGTV's Listed Sisters
Lex and Alana LeBlanc are one of HGTV's newest power duos, renovating old homes while finding clients incredible new homes. But there's a lot you might not know about these talented (and totally entertaining!) women.
We recently had the opportunity to chat with the hilarious Listed Sisters at our office. You won't believe what these ladies had to say.
1: They live within walking distance of each other.
Alana: I live like a mile from her, so I'm always like, "Hey sis, what are you doing? I'm coming over."
2: They've got music in their blood.
Alana: We come from a musical background from our dad. I play the flute. I'm not great, but I played for like 15 years.
Lex: But she just picked up guitar, and she is very good at it already!
Alana: Thanks sis, for saying I'm very good at it, but I am pretty good. I also sing in the car, not great, but I'm practicing.
Lex: Actually she's a pretty good singer and just started writing songs. So it's just a little thing she's doing, but she's good at it!
3: Alana claims she has no style.
Alana: I don't have style. My apartment's literally got a couch in it. And the fact that I call it a couch and not a sofa shows you how much I am not a designer.
4: Lex is an expert whistler!
Lex: I'm a really good whistler. My whistle is so good that I whistle while I work, and people are always like, "Wow!"
5: They weren't popular in high school.
Alana: I used to be the shyest person in the world. I wouldn't have been able to have a conversation with you. And we weren't popular in school.
Lex: We were nerdy and dressed really poorly. We were the most unpopular kids in school.
6: Lex has an aversion to barn doors.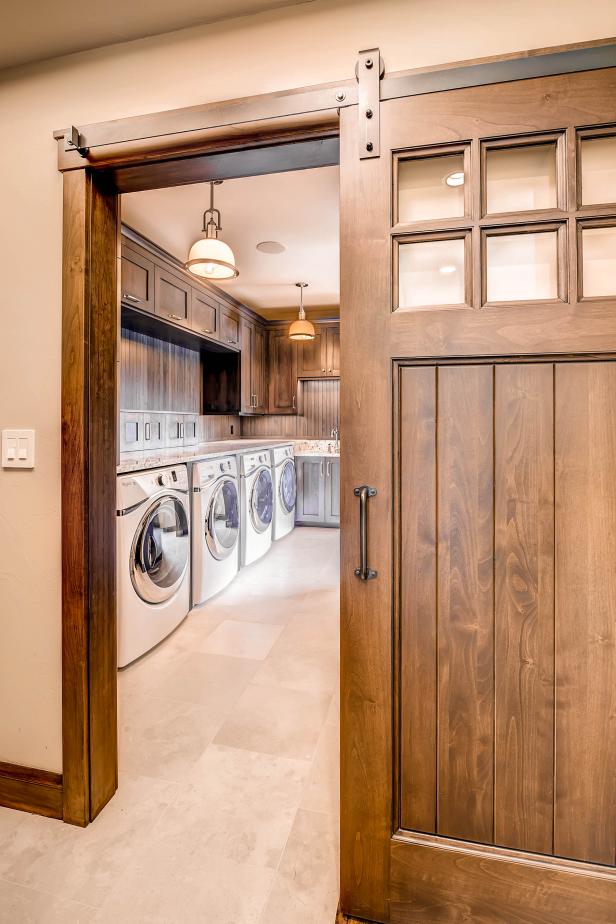 Laundry Room With Barn Door
Dark, stained wood cabinets offer plenty of storage space for detergent and supplies. A sliding barn door makes entering and exiting with a laundry basket full of clothes much easier.
Studio 10 Interior Design
Lex: It's just so trendy. It makes me a little bit crazy.
Alana: She's very city. I'm more country.
Lex: Maybe if they called them sliding doors instead of sliding barn doors…
7: They both have major travel plans.
Lex: I want to go to Paris with my daughter. I need to eat French pastries with her. She's obsessed lately. She's six, and she said she wants to move to Paris to be a ballerina. And she might let her brother visit.
Alana: I want to travel to Peru — Machu Picchu. My son said there are more potatoes there than anywhere in the world!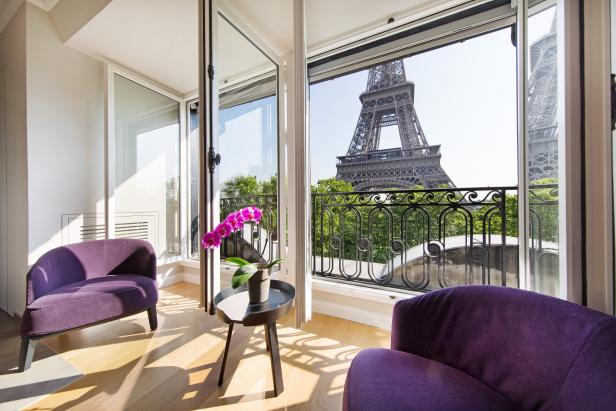 Paris Apartment Bedroom Facing Eiffel Tower
Matching eggplant purple chairs provide a pleasant place to sit and enjoy the view of the Eiffel Tower from the comfort of the bedroom.
Daniel Feau Conseil Immobilier, SA, a member of Luxury Portfolio International
8: They don't mind being compared to the Property Brothers.
Alana: We happen to be born twins, and I guess we're just trying to copy them! But really we love them and their shows. I actually started watching HGTV because of them.
Lex: And they inspired us to think about having a show together.
Alana: Inspired you. The show was her idea.
9: Alana always carries a knife.
Alana: It's like a knife that you flip out to cut things — not people! Everyone's always like, "What are you going to do with that knife?" And I'm like, "Watch."
10: Lex is obsessed with permanent markers.
Lex: I always have to have a Sharpie on me. Always. And they come in handy more often than you would think.
11: Sometimes they argue (they are sisters after all.)
Lex: Alana's always trying to give me design ideas, and I'm like, "No, shhh."
Alana: Well, I have a designer twin sister, and she won't come to my apartment.
Lex: My house is cute. Alana's house is so small. There's only one bathroom!
12: But really, they're best friends.
Alana: We lived apart for 10 years actually, so it's nice now that we live back together, and we get to work together.
Lex: The best part about being a twin is that we got to be born best friends.
13: And last but not least...They're currently casting for season 2!