10 Remodeling Lessons We Learned From the Property Brothers
If you'd rather not learn your lessons the hard way, then listen up. Our favorite brothers have a thing or two to teach us all.
When it comes to remodeling, Jonathan and Drew Scott have seen it all. Whether you're itching to gut your entire house or you'd just like to give your bathroom a facelift, it's always best to grab some advice from the experts. Look no further! We've rounded up some of our favorite lessons from the Scott brothers.
Create a Design That Will Stand the Test of Time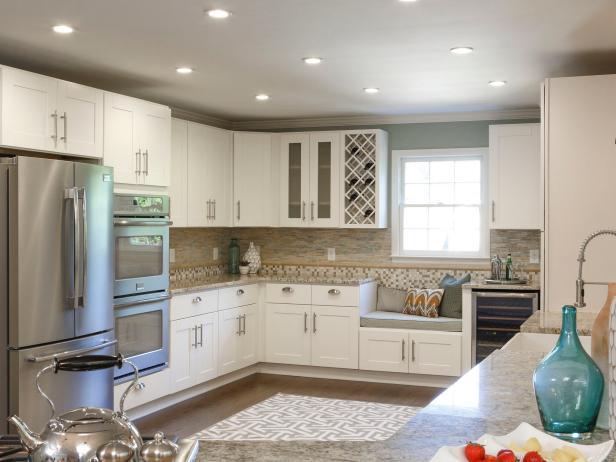 Transitional Kitchen With Built-In Bench
As seen on HGTV's Property Brothers, Jonathan and Drew Scott removed the old cabinets and pantry to create an open gourmet kitchen with modern stainless steel appliances and plenty of storage space. A built-in wine rack, wine cooler and cozy built-in bench are other bonus features in the new kitchen.
While Drew and Jonathan definitely go for a fresh, updated look, they always opt for timeless choices, especially when it comes to the more permanent decisions. For example, these kitchen cabinets are sleek and on-trend, but their crisp, white color will ensure they never look dull or dated.
Make Your Home as Comfy as It is Stylish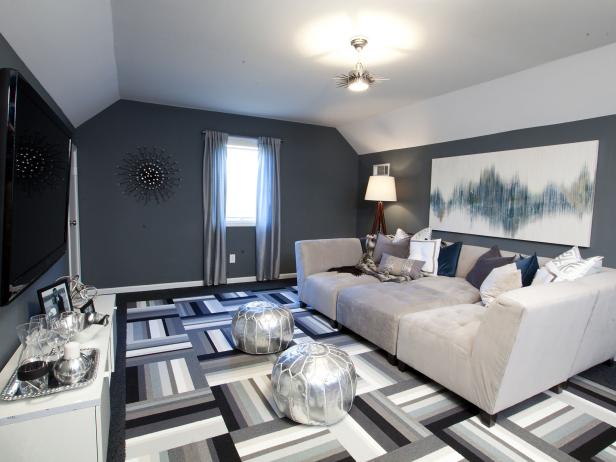 Modern Black, White and Gray Home Theater
This renovated room now houses a stylish home theater with comfortable seating for family and friends. Movie-goers can watch sitting up or lying down on large comfortable couches with enough pillows for all. And the color scheme of black, white and gray works well when the lights go down.
Drew and Jonathan are all about designing livable spaces. Aren't you dying to curl up on that cozy sectional and watch a movie?
Don't Be Afraid to Mix Old With New
Pair antiques with trendy pieces, like the brothers did with this gorgeous wood cabinet and stylish patterned chair. Drew frequently uses this strategy to make a space feel more personalized. The best part? It usually helps keep your budget in check, too.
Work With What You've Got
Yes — even if it's a 70-year-old carport. Can you believe the bros transformed this once critter-infested garage into an ultra-functional workshop?
Jonathan and Drew used these whitewashed barn doors to hide a handy storage area. The bros sure know how to make practicality pretty.
Incorporate Your Lifestyle Into Your Home's Design
The Scott brothers love golf, so they designed their very own backyard putting green at their Las Vegas home. If you're an avid crafter, carve out a crafting space. Have a green thumb? Make sure your backyard leaves plenty of space for gardening.
Accentuate Your Home's Character
Here, Drew chose accent pillows that picked up the hues in the home's gorgeous stained-glass window. The lesson? When you have bones that beautiful, don't mess with them — draw attention to them.
Don't Forget About Your Most Loyal Companion(s)
If your furry friend plays a big role in your life, why leave them out of your renovation? Drew and Jonathan incorporated this genius doggy station into their client's home to keep the pup's feeding area clean and tidy.
Opt for Lighting With Wow Factor
Stephanie Diani / Cineflix
Drew and Jonathan know how to make a space shine, and it's definitely not by using ho-hum light fixtures. Here, a bedazzled chrome chandelier adds some sparkle to a seating area.
Be Selective When Choosing Paint
Stephanie Diani / Getty Images
Choose a paint color that reflects the mood you'd like to achieve. The Scott brothers completely renovated this master bathroom, choosing soft blue walls to create a calm, spa-like atmosphere.
Check out these goofy, behind-the-scenes shots of Drew and Jonathan having fun while they buy, sell and renovate houses.