It's Time to Vote on Your Favorite Outdoor Spaces
Vote for your favorite stunning outdoor spaces in the HGTV Ultimate Outdoor Awards.
April 1 is about the time every year that I start noticing all of the things wrong with my yard ... the weeds in the flower beds, the bare spot in the yard, the holes where my dog has gone foraging for critters. So every April I start bookmarking and pinning inspiration on how I'm going to fix these problems once and for all (never happens).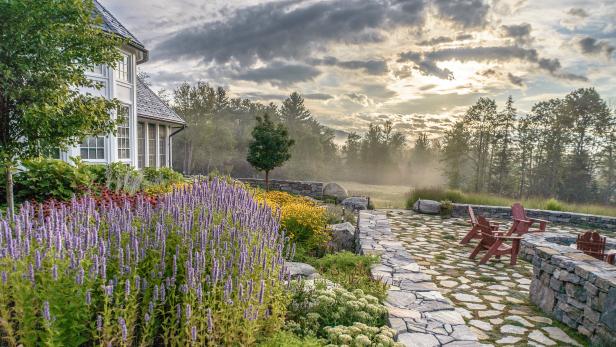 Bucolic Outdoor Space with Masonry and Stone Pavers
Using stone pavers and extending the stone wall into the landscape helps embrace the natural beauty of the landscape.
(Editor's note: this is not my yard; this is what I want my yard to be)
If you have similar landscaping fantasies, I can, at least, help you with the inspiration part. We're hosting the HGTV Ultimate Outdoor Awards featuring 36 stunning outdoor spaces designed by the country's top landscape and outdoor design professionals. Do yourself a favor and go (now!) to the Ultimate Outdoor Awards and drool over the stunning waterfalls, pool decks, gardens and other landscaping and hardscaping features.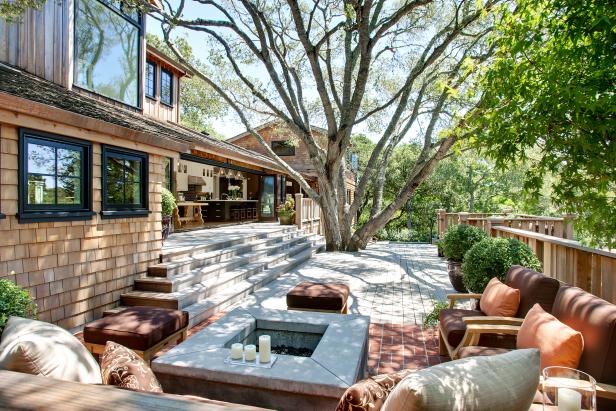 Seating Area on Deck With Fire Pit and Large Shade Tree
The trees in this space provide all the shade needed for this outdoor seating space. The warm tones of the wood and fabric complement the natural greenery of the trees.
Even if you're not looking for inspiration for your own home, there are some stunning spaces that will whet your luxury resort wanderlust. (I'm looking at you, Water, Water Everywhere category.)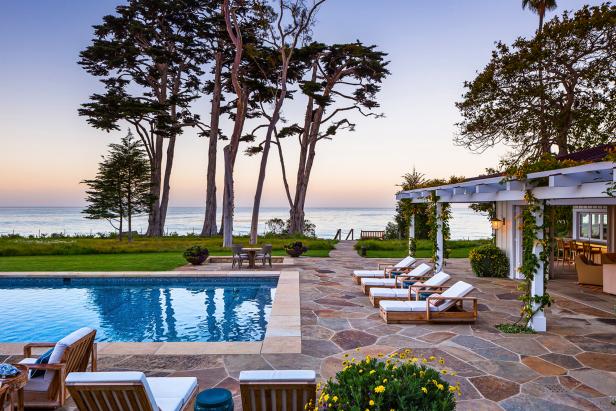 Contemporary Stone Patio With White Cushioned Lounge Chairs and Beach Access
Neutral hues throughout the floor of this swimming pool patio create a beautiful patchwork of tones. The bright blue pool and green grass and trees add instant color to the space. Groupings of wood lounge chairs are padded with white cushions and small throw pillows.
Once you've checked them all out, make sure to vote for your favorite space in each of the six categories. Hurry, the vote closes on Tuesday, April 5. After the vote ends, we'll announce the top picks as well as the judge's choice for overall winner.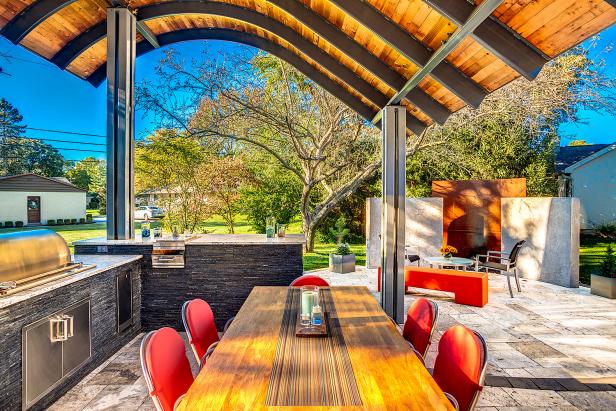 Outdoor Kitchen and Dining Detail View
The natural materials for the outdoor kitchen compliment the silver and dark gray that appear in the travertine floor. The warm oranges of the dining chairs and metal fire place component reflect the warmth of the cedar in the pavilion.