Porch-Sitting Season: How We're Making the Most of It
C'mon over and sit a spell.
I know a thing or two about porch-sitting season. I'm a Southern lady, after all. Here's how to embrace the heat, secure some precious "me" time and gain a reputation as the hostess with the mostess this summer — all without stepping off your stoop.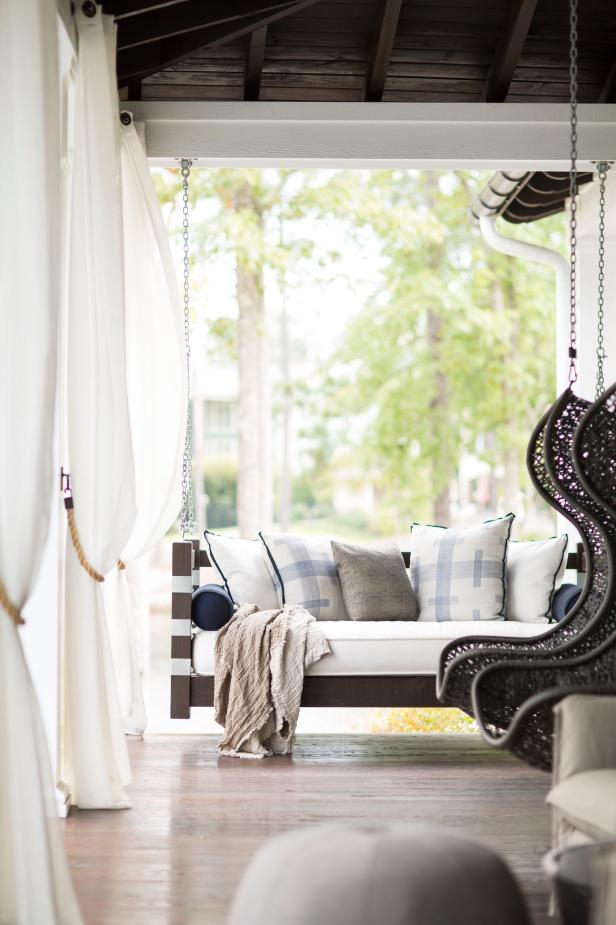 Porch Swings
Outdoor drapery helps blur the lines between indoor spaces and exterior porches filled with upholstery, swings and places for lazy napping next to the saltwater pool, all keeping a fresh, clean and neutral palette. And after the sun goes down, the party moves to the lakeside fire pit. Everything is upholstered in Sunbrella, including the outdoor drapery, which all gets a heavy hose-down in advance of every visit. The couple and their guests can nap, lounge, party and relax there.
Porch sitting is all about slowing down to enjoy good weather and good company. First thing's first: Find something to sit on. No one wants to sit cross-legged on the floor, this I can promise you. I'm obsessed with how designer Heather Garrett incorporated a classic, white porch swing alongside trendy, black chairs. The results look oh-so-comfy, oh-so-stylish and, most importantly, oh-so-inviting.
In the South, first impressions are everything. What's your front porch saying about you? View the porch as an extension of the interior of your home and design it as such. Allow your favorite colors and textures to spill onto the porch, and grant guests and passersby a taste of who you are without even stepping through your front door. Hang airy drapes, add textured throw pillows, string a pair of pendant lights and don't be afraid to nest this space and make it your own.
Start the day with a street view and a fresh cup of cold brew. Summer is synonymous with sweat, but the mornings are mild so why not take advantage? Let the morning serve you as some much-needed "me" time before the start to another hustlin', bustlin' day.
Not Your Average Cup O' Joe
This vegan smoothie will give you the energy you need.
Your cup of joe just went up a notch.
I don't have scientific backup here, but playing catch-up on the porch just feels more personal. What better place to make that long overdue call to your mom? Better yet, what better place to sit across from her and tell her about your week? Call her, invite her over or ask your long-lost BFF over for an afternoon of (sweet) tea. If you had a doozy of a day, go ahead and bring out the rosé. It should go without saying, but the porch is a judgement-free zone. Rosé away, y'all.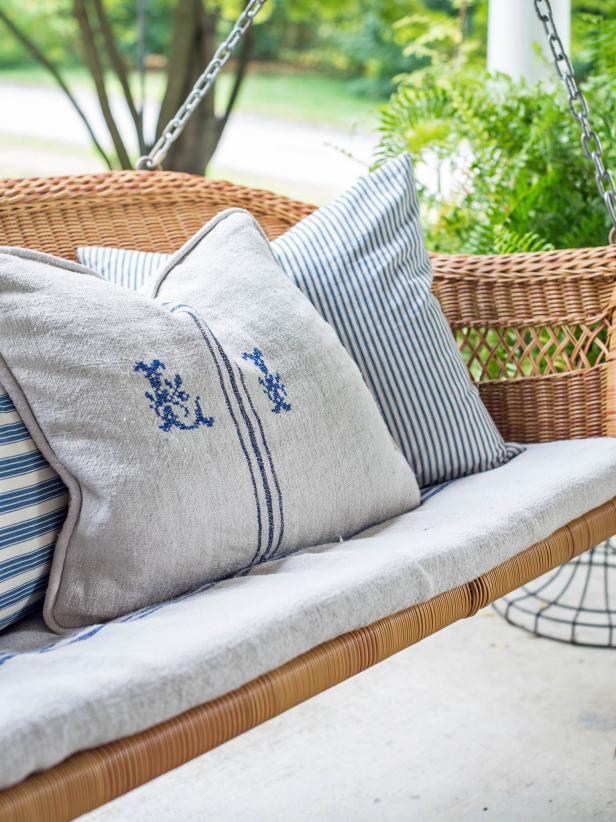 Plump and Pretty Pillows
Pillows are a great way to make a porch feel more like a real room, extending the square footage of your home. Use pillows with quick-drying polyester fillings as well as fabrics that are fade and mildew-resistant.
Marian Parsons, Mustard Seed Interiors
Not off your smartphone, and not off a tablet, either. If it emits some type of light, it's a no-go. Grab a good, old-fashioned hardcover and flip through the pages. Learn something; get inspired. Take the time to reflect on what you're reading. It almost sounds like a foreign concept these days, doesn't it?
Jason Kisner; Styling by H. Camille Smith, Copyright Scripps Networks, 2016
Go ahead and go for something a little stronger than that cold brew from this morning. Bring out a pitcher of our boozy berry patch lemonade, jam-packed with summertime sweetness courtesy of whiskey, blackberries, strawberries and tart lemonade. Grab an extra set of glasses — you'll want to toast your neighbors over small talk, after all.