Refresh Your Yard With Matt Blashaw's Expert Advice
If you ran into the Yard Crashers host at your local store, here's the gardening guidance he'd give you.
Going green at the start of the growing season isn't always as easy as Mother Nature makes it look — which is where Matt Blashaw, licensed contractor, realtor and host of DIY Network's Yard Crashers, comes in. Replant a few of his best ideas in your own outdoor space.
Repeat After Matt: One Project at a Time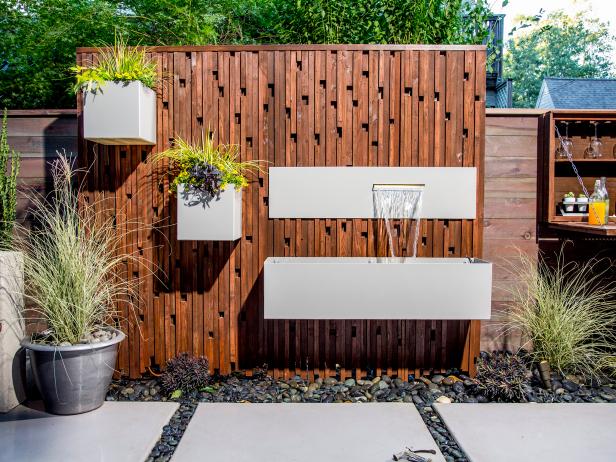 Yard Crashers: Garden Wall With Water Feature
This incredible backyard space is prefect for entertaining. The wood wall offers a great focal point for the space and by adding the garden containers you get added color and dimension but the designer Matt Blashaw from DIY's Yard Crashers didn't just stop there. He added a beautiful floating bench and drop down bar/serving area.
Martin Klimek/Getty Images, 2013, DIY Network/ Scripps Networks, LLC. All Rights Reserved.
Your time slot this season — 10 a.m. on Saturdays — is a particularly good fit for DIYers: That's the time when people wake up to the feeling of, "I planned this DIY project for this weekend, and I have no idea if I can actually handle it!"

A lot of these renovation shows [make viewers think], "Oh wow, that would be amazing — but that would take 50 people and $100,000; it's just so much." I don't want to overwhelm people, and I always say, 'Listen, I want you guys to tackle a project, but I don't want you to tackle a bunch of projects at one time. Cut your yard up into little chunks, and I want you to just do one little project at a time.' I've seen it so many times, when someone starts a project and it just gets tedious because they just bite off way more than they can chew, and then they just don't want to even do it any more. That's when they have to call in the pros.
Pep Up Your Palette With Textiles and Pots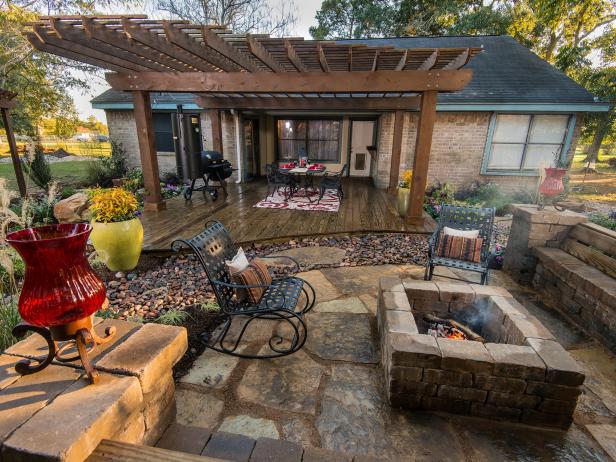 Yard Crashers: Pergola Paradise
With the backyard overhaul complete, a fire crackles in this inviting fire pit of this new back yard featuring a deck and pergola in the background. Black lattice chairs, earthtone pillows, yellow ceramic pots, and red glass hurricane lamps provide multiple accents around the outdoor fire pit and seating area.
Jeff Cotner, 2013, DIY Network/ Scripps Networks, LLC. All Rights Reserved
What's an ideal "chunk" to you, for someone who wants to start small and get their sea legs with a project in their yard?

I like creating raised planter beds, one at a time. I also love reworking a space with an element you already have — say, [taking] a pergola shade structure, sanding it down, staining it, refinishing it. They make some amazing fabrics for the outdoors nowadays that you can turn into curtains or shade louvers that can really bring color to your patio or pergola.
You're doing some killer upcycling in the new season, like the fire pit that you make out of the inside of a washing machine [in "Rock Pond Living Space"]. What's a good upcycling piece for a gardener, for someone who wants to pick something out of their garage or head to the local junk shop and build something?
I bring a lot of metal, because metal, typically, you'll find in a junk yard or at the back of your house and it'll last a long time. Trying to refurbish a table or anything that's wood is really, really hard to do. I've seen people try to refurbish [an indoor table] for the outside, and it just doesn't work, the table's not made for it. In every aspect of a backyard, you've got to think not only about the form but the function. I do that in every design: 'Why am I putting this here? This can't just be for looks, it's gotta be for function, as well.' When [I'm reusing something], I'm always thinking, 'What do I need here, and what resembles it?' The washing machine [part] was one thing that worked for us. There's a whole bunch of things out there that you can reassemble, remake and turn into an element in your backyard. You've just gotta have the imagination.
Container-Garden Outside the Lines
You're very fond of pairing hardscape with plantings. Do you have advice for people who want to get started with container gardening or bringing smaller-scale greenery into their spaces?
I really like container gardening because you're able to control the soil moisture, control the soil elements, and tending to them is a little bit easier because they're raised. I put little containers not even just on the patio, but in the yard itself. Even in planter beds that are just shrubs, instead of putting annuals down, I'll put really colorful urns right in the middle of the shrubs. Not only are you getting color within the urn, you're getting color in whatever it comes in and you're getting [varied heights] in your backyard, as well.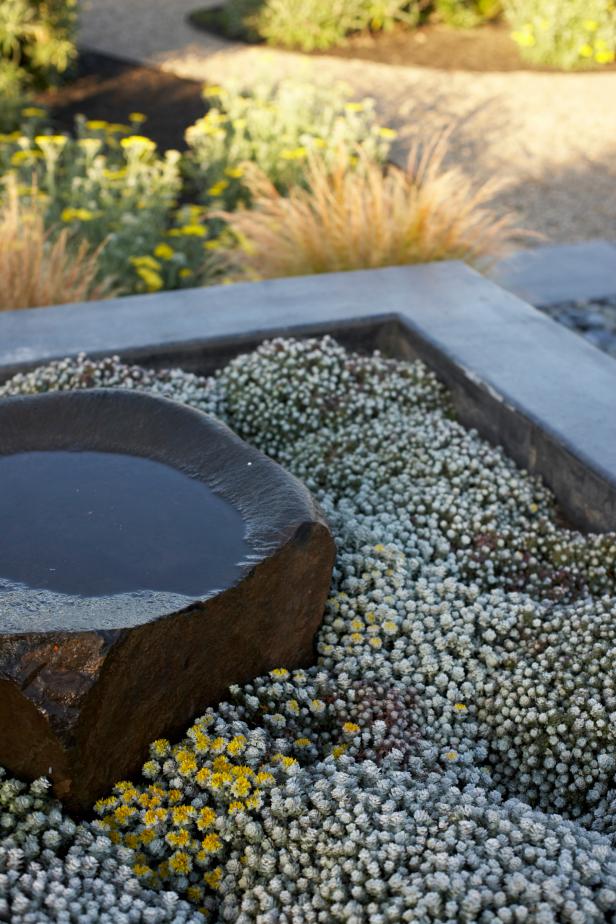 Japanese Garden with Stone Water Feature and Small Flowers
A Japanese garden is defined by its careful attention to detail and balance. Here, a small water feature is surrounded by tiny flowers, highlighting an exploration of shape, scale, color and elements.
When someone wants to bring plants into their yard but doesn't know one zone from another or what xeriscaping is, where would you send them for advice?
[Experts at] the local nursery are the most knowledgeable and the most passionate about their plants, because the real key to making your garden last is getting plants that are meant to be put into it: native plants. Those native plants are not only going to survive longer, but they're gong to drink less water because they're built for the amount of water you get per year.
I also [always] say this, to keep in mind when you go to the nursery: Look at [a plant's] mature height; don't just say, 'Oh, it looks so good! It's flowering right now!' Yeah, but it's going to be a monster! Really pay attention to the mature height, because if you have a space for something that's 4 or 5 feet [tall], make sure you buy something that starts small then gets to 4 or 5 feet. It's going to save you a lot of time and effort on maintenance.
Think Twice about Laying Your Own Pavers
Do you think it's important for landscaping projects to span a single weekend? Should gardeners stick to tasks where they can get that two-day satisfaction?
I would say you don't want to spend more than three weekends on [a project], so plan accordingly. [People] always think they can lay their own pavers — and that's just a bad idea, unless they know what they're doing. Pavers are extremely labor intensive. You've got to dig down about 6 inches; you've got to put in road base to be sure it's got a great foundation; and you've got to use a plate compactor and put a sand setting bed on it. People think, 'Oh, I'll just put it right on top of the grass I have, and it should be good!' No, over time grass is going to grow through it. It's going to look like an earthquake hit it.
Turn a Privacy Screen Into a Living Wall
Many people see a living wall and think, 'It looks so beautiful, but it seems like it would be a terrible amount of work.' What's your experience with them?

I did a living wall in San Francisco for an episode of Yard Crashers ['Backyard Living Wall']. I was at a hotel here in Orange County [Calif.] and saw this massive living wall, and I thought, 'This thing is amazing! Who did this?' It was Scott Hutcheon; he does living walls almost hydroponically. It's something I would never allow homeowners to do unless you really know what you're doing, but it's awesome. He uses this hydroponic system that sucks water up from this little trough below, saturates felt [that] acts as the soil and it continues to water and water and water.

Oh, it was amazing! Scott and I remained friends. We're actually launching an app soon called ShrubHub — it's plants delivered next-day. We're taking all of these throwaways from growers around the area — you know, they throw away about 20 percent of their stock — and we're putting it online so consumers can buy it for a fraction of the price. And it gets delivered to them.
Bonus: Fall in Love Over a Container Garden Wall?
If you look at [one of this season's] Kansas City episodes, I did a living wall, but I did it kind of differently. I made a wall, but then I put some wood in there so you can put the pots inside of the wood [and] they can hang right in there. The pots look great, you can get some color from the pot and you can just change them out. That's how I met my fiancée! She does container gardening, and she had no idea who I was or what the show was. She was just hired by the contractor, we met, I thought she was gorgeous, and I took her out on a date. We didn't want to like each other because she's in the middle of the country and I'm not, but love is love. She planted a garden, we went out on a date later and saw each other the following night and we've been together ever since — I asked her to marry me about a week and a half ago.
Thank you! She's moving out [to southern California] from Kansas City. If you [watch] that episode, you'll see the plant wall that she put up that I built. That's a great way to add a vertical garden to your house.
Are there any trends in gardening or things you see that you just say, 'Oh, the look of that is not for me'?
I'm a firm believer in trying to keep a yard as low-maintenance as I possibly can. Lawn is by far the most labor-intensive plant that you will ever put in your backyard. It takes the most fertilizer, the most care, the most maintenance and it grows the fastest. So, if you don't want to spend a lot of time out there, find the plants and take out the sod and make sure it's going to be really easy and low-maintenance for you.
Don't Be Afraid of Setbacks (or Dead Plants)
This season has a strong spirit of 'Hey, you can DIY if you just sit down and figure it out.'
After every one of my talks, I say, 'A person that makes few mistakes makes little progress.' It's not about doing it perfect the first time, because none of us do. You need to go out there and you need to try something; you're probably not going to do it right, you're probably going to fail, but it's OK — you will learn, and then you'll be able to do it the next time and you'll be able to get more and more confident.
Tune in for an all-new season of Yard Crashers, Saturdays on DIY Network.