Fall Front Porch Decor: 5 Dos + Don'ts
Because a fall front porch should give you all the feels.
With fall upon us, my mind has switched over to sweaters, pumpkins and apple cider. So, I've decided it's about time I start prepping my porch, too. After sifting through way too many fall porches on Instagram (#fallporch), I've come up with some dos and don'ts for decorating your own.
1. How to Achieve Coziness
Do use blankets and pillows to cozy up your porch seating. Think fuzzy and furry for a comfortable, inviting feel. Mix different textures to create interest, and stick with warm tones. Don't overdo it with the cutesy fall signage. A couple fall signs on the porch are totally acceptable, but it just gets dangerous when your guests are trying to read five box signs while walking up your front steps. (Is it fall, ya'll?)
2. How to Pick the Pumpkins
Do think outside the plain, orange pumpkin. Incorporate gilded pumpkins in your porch decor for a trendy, glamorous twist on the classic gourd. The metallic gleam will bring some serious elegance to your porch-scape. Don't box yourself into October by using only Jack-o'-Lanterns. Throw a couple ghoulish gourds into the pumpkin mix if you please; that way, you can simply remove them after Halloween passes without having to redecorate your entire porch.
3. How to Handle the Florals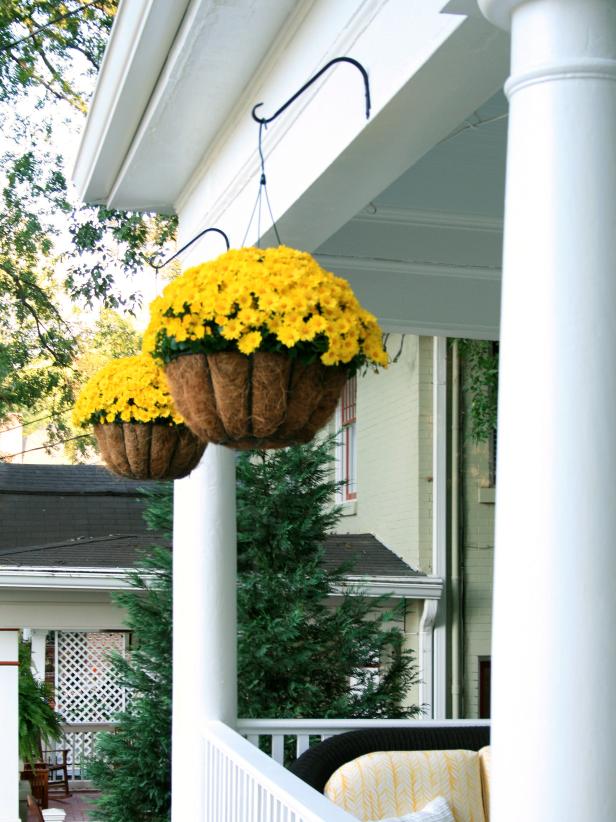 Give Your Front Porch a Cheery Update
Mounds of bright yellow mums bring a happy touch of fall color to any outdoor space. These hanging baskets were created by lining the wire frames with sheets of coco mat, which allows the plants to properly drain between waterings. Mums require plenty of direct sunlight; their location hanging from this front porch provides the minimum three hours a day they need to look their best.
Do take advantage of fall's most gorgeous blooms. Replace your summer annuals with flowers suitable for fall weather. Some of the best varieties are: mums, asters, pansies, ornamental kale, purple fountain grass and million bells. Don't rely on artificial flowers. I'm definitely not hating on all things artificial — I love the felt flower trend — but nothing compares to fresh, fall blooms.
4. How to Design Your Overall Look
Do get creative. Don't limit yourself to a classic fall look or color palette. Make your porch pop with fall decor that matches your personal design style. Love a crisp, modern look? Search for minimalist fall decor. Not crazy about crimson red and burnt orange? Go with an unexpected, all-white color scheme.
5. How to Choose Decor That Transitions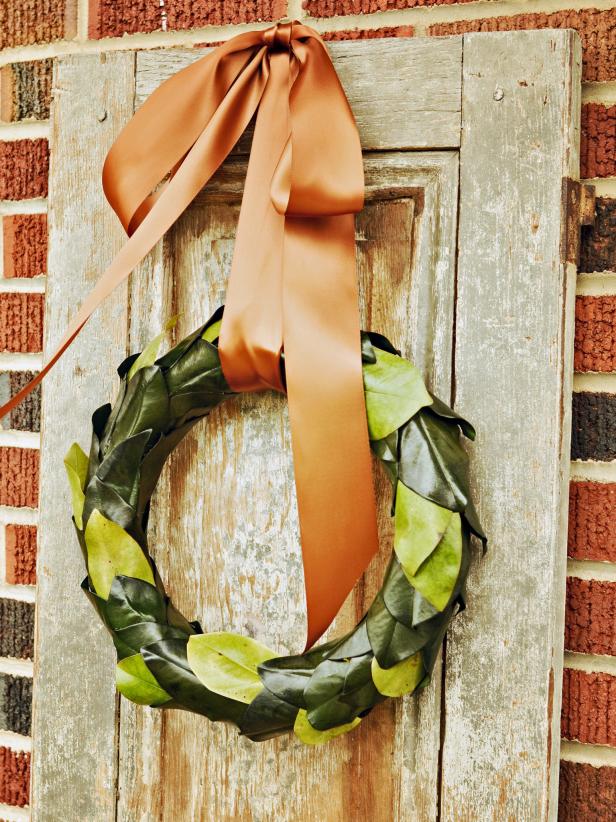 Holiday Magnolia Leaf Wreath
Wreaths don't have to be full and fluffy to be beautiful. Try making this simple, modern take on the traditional holiday wreath with preserved or freshly cut magnolia leaves.
Do choose a wreath that will transition through the season (unless you're a perpetual wreath-changer, in which case, keep doing your thing). For example, this magnolia leaf wreath is gorgeous for fall and Thanksgiving, and you could even add a red ribbon and jingle bells to make it work for Christmas, too. Don't get carried away and try to combine all holiday decor, though. While certain pieces can transition, other pieces can't. As you decorate your fall porch, mentally prepare for the changes you'll need to make when winter comes.
Style a Front Porch Three Ways for Fall
01:32
Brian shows three ways to decorate a front porch different ways for autumn.