23 Signs You're a Complete and Utter #PlantLady
"I can't go out, my plants need me."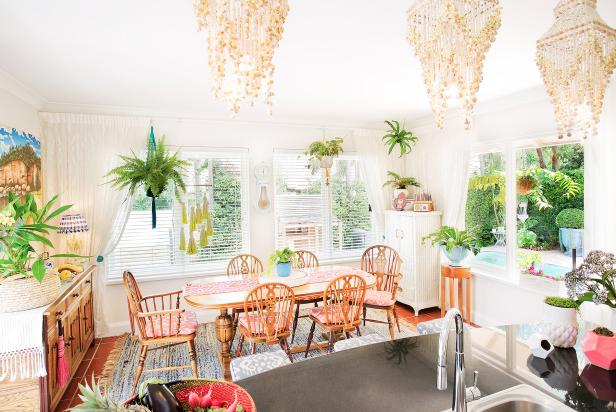 Kitchen Dining Area With Lots of Plants and Wood Table
Plants, plants and more plants! This kitchen comes alive with greenery scattered throughout the space, becoming the room's primary art. A country-inspired kitchen table seats six people, and large windows surrounding the room bring even more of the outdoors in. Three chandeliers bring a touch of elegance to the space.
I've been obsessed with succulents for a while now, but guys? I've gone full #plantlady. I'm dreaming big dreams of a whole room devoted to plant life, I can't get enough of botanical prints and even my wardrobe is starting to look a little...greener. Does this sound familiar? Here are 23 signs you might be just as plant-obsessed.
Your dream living room looks like this:
Artwork? Nah. You've got vines.
You laughed at this card.
You spend quality time with your true loves.
This is what Saturday morning looks like:
You're buying ALL OF THESE THINGS.
Because this is the best club on earth.
Justina Blakeney is your ultimate design icon.
A good vintage pot is basically gold.
But you love a good DIY pot, too.
Too many palm leaves? Impossible.
Your plants are your children...
...and they all have names.
It's a loving home, okay?
Succulent babies? Too cute not to grow.
Plus, you can gift them for literally everything.
You're a ringer for this trophy:
This is your go-to "Sorry, I can't."
Plant lady is the new cat lady, and you're okay with that.