Brace Yourself: The 2017 HGTV Ultimate Outdoor Awards are Here
Prepare to be amazed by the most beautiful landscapes in the country.
Everyone knows that the greatest works of art (e.g., Beyonce's Lemonade and Frank Ocean's Channel Orange) drop overnight. Well, prepare to be in awe: while you were dreaming of warm-weather retreats, we were busy launching the 2017 Ultimate Outdoor Awards!

With thirty-six nominees in six different categories, you'll have your pick of gorgeous gardens, outdoor escapes and seaside getaways to explore and vote for. See some of our favorite competitors from the past below, and then take a look at this year's hottest contenders.
Across Pool View of Ocean and Pergola
This outdoor space offers amazing views of the Gulf of Mexico. The long pool makes use of the narrow space, providing a water element as well as a place to cool off.
We know what you're thinking: Palm trees, pool-topped breezeways and ocean views? It's no wonder why this island estate from architect David Young won the Ultimate Outdoor Awards last year. A private courtyard and deck complete the stunning visual effect.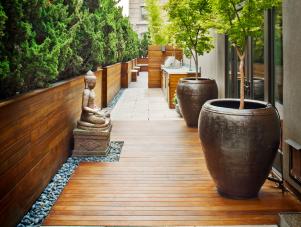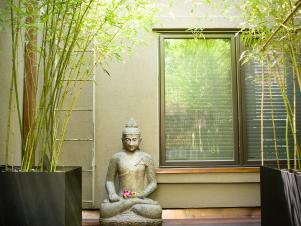 Serene Asian-Inspired Outdoor Space in New York City
A variety of paving materials, including limestone, ipe wood and blue beach stones, were used to fill the ground space in this New York City backyard, adding a sense of serenity and flow to an otherwise small and elongated area.
Asian Outdoor Space With Buddha Statue
A canopy of soothing green bamboo leaves hangs over an outdoor shower area with hardwood ipe flooring. A Buddha sculpture enhances this outdoor area's calming ambiance, creating a tranquil escape from the surrounding bustle of New York City's Soho district.
Serenity comes just as naturally to this Asian-inspired Oasis in New York City's Soho district. Here, the designers at Gunn Landscape Architecture used bamboo leaves and ipe wood to create a beautiful zen space in the middle of the Concrete Jungle.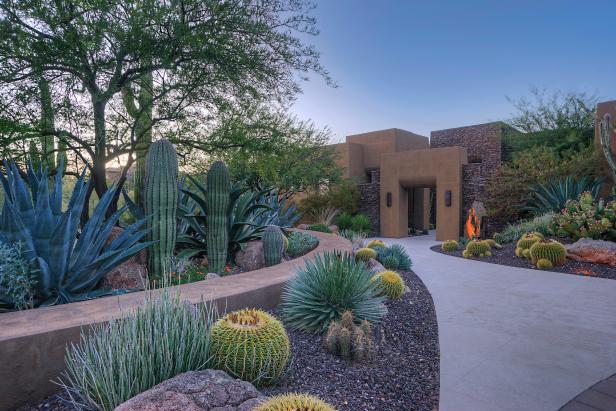 Walkway Lined With Large-Specimen Cactus Plants
The large-specimen cacti line the walkway to the home's front entrance. The cacti add color and texture to the landscape.
Landscape designer Pascale Sucato knows that paradise can be found in the desert as well. We loved how she gave this modern home major Curb Appeal with a low-water landscape layered in succulents.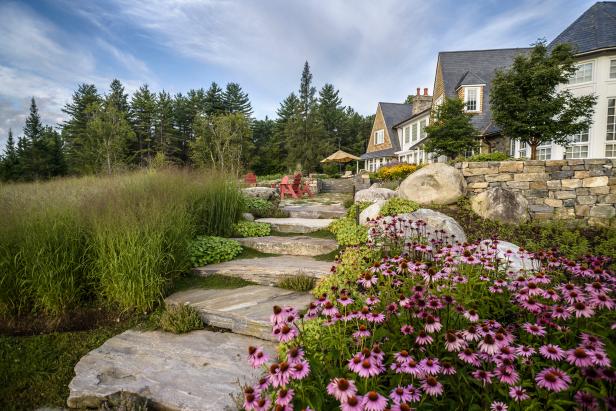 Pastoral Backyard with Stone Stairs and Walls
The landscape design features well-crafted elements, such as the stone paver stairs and masonry walls. The slabs of stone serve as a pathway to a fire pit and a dining area underneath an umbrella.
If you prefer a walk among the wildflowers, then you'll love our Gorgeous Gardens section. Last year, our editors couldn't resist this charming New England home from Clinton & Associates, which boasts a backyard full of blooming perennials.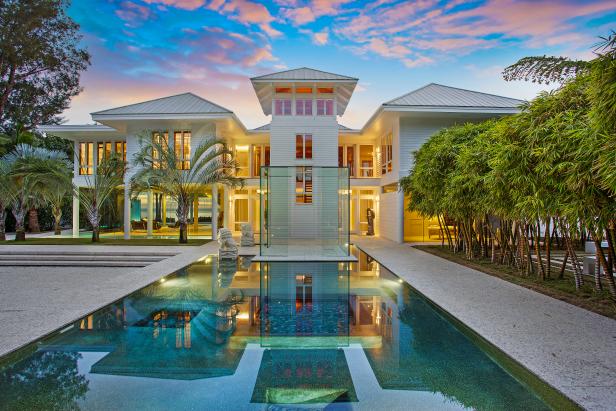 Reflecting Pool and Cube In Front of Modern Oceanfront Estate
The reflecting pool at the entrance of the estate is an attractive, tranquil water feature that matches the clean lines of the home's architecture.
With floating walkways, reflecting pools and endless views of the Gulf of Mexico, water is beautifully integrated into this second home from David Young. We can't wait to see what new spaces will compete in this year's Water + Designs category — and maybe take the spot of Overall Winner.
Award-winning landscape architect David Young uses water gardens and native plants to restore order and create serenity at an estate on the Gulf of Mexico.