5 DIY Ways to Add Shade to Your Deck or Patio
Spend more time enjoying your outdoor spaces this year with these shady solutions you can install yourself.
Confession: I don't get enough use out of my deck. I'd love to spend more time out there, but after an hour or so of squinting, sweating and getting sunburnt, I end up going inside. If you, too, are in serious need of some shelter from the sun, I've rounded up five affordable projects for varying skill levels. Add these to your to-do list, and spend your spring and summer made in the shade.
Installing a shade sail is a low-cost way to create a cooler, comfier outdoor space. We took a basic, store-bought sail and prettied it up with some grosgrain ribbon. Wrap the support posts in sisal rope for a coastal look.
Add Privacy to Your Deck With Freestanding Outdoor Curtains
01:05
Need a little privacy on your deck or patio? HGTV's Brian Patrick Flynn suggests adding freestanding outdoor curtains. You can secure the 2"x4" supports using a bucket filled with concrete, then conceal the bucket with a large planter for an attractive look that can be moved if necessary.
Curtains do double duty in an outdoor space, providing both shade and privacy. But what if I don't have anything to hang curtains from, you ask? Using planters and 2x4s, designer Brian Patrick Flynn came up with a clever way to install curtains without making structural changes to a deck. Watch the video above to see how he did it.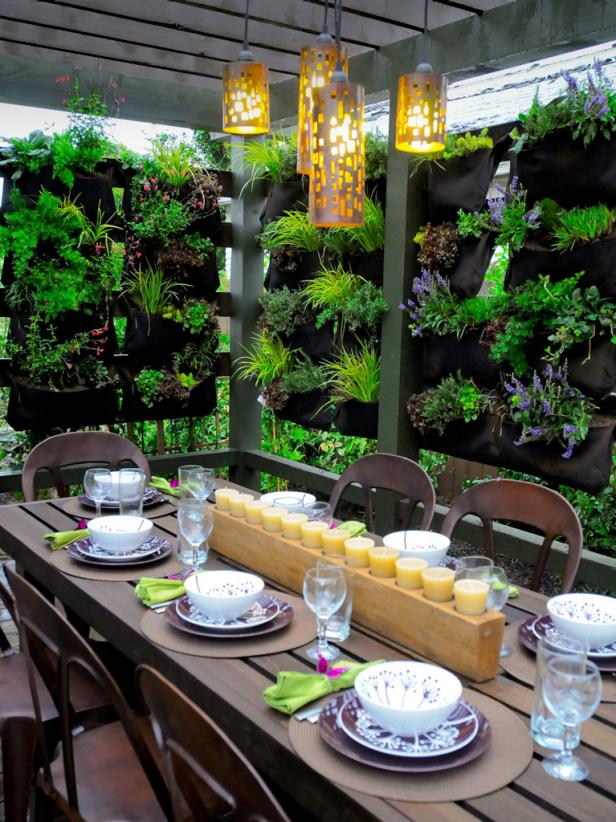 Living Privacy Wall
A small porch becomes a private party space with this imaginative makeover by landscape designer Jamie Durie, who created "pocket gardens" around the perimeter, forming a living wall.
Even if you have a brown thumb, you can create a gorgeous living wall using easy-to-care-for fabric pocket planters. Hang a group of them on a deck or patio, and voila! Your average outdoor space is now a lush, secluded oasis.
Like curtains, a privacy screen can block out light while adding privacy from nosy (or well-meaning) neighbors. Use basic home improvement store materials to make this stylish, herringbone-pattern screen. The secret to the design is laying the boards out at a 22-½ degree angle.
If you're an experienced DIYer, you can even pretty up your patio with a pergola — and it doesn't have to break your budget. Grab a of couple handy friends and make this simple wood structure in just a few days.