10 Must-Try Vertical Planter Ideas For Summer
Things might be looking up in your garden.

One fun plant trend we're loving lately is vertical gardening. Vertical planters free up floor and ground space, allowing you a lot more flexibility with your greenery. Whether you have a large outdoor space or a tiny balcony, there are lots of amazing options for going vertical with your plants.
Here are 10 of our favorite vertical planter ideas for you to steal in your own outdoor space.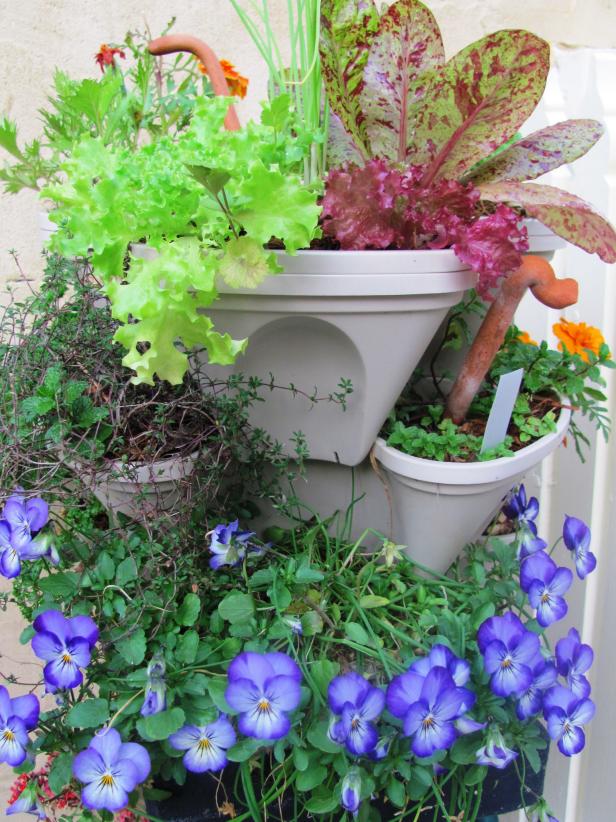 Vertical Stackable Planters
Vertical stackable planters are one way to have a micro garden and it suits shallow-rooted edibles like lettuces, flowers, strawberries and herbs, says Anne Gibson, known as The Micro Gardener. This setup also minimizes moisture loss when watering from the top. Group plants with the same water needs together on each tier and add a saucer at the base to collect any water or nutrients.
Anne Gibson/TheMicroGardener.com
These sturdy plastic planters allow you to create your own plant tower. Depending on how much vertical space you have, you can stack your planters as high as you want. This is also a great way to add different types of plants near one another that need their own pot.
Here's a simple trellis that's equipped with hooks to hang little flower pots. The trellis can easily lean against an exterior wall or dress up a balcony.
3: Wall Pockets = Space Divider
These plant wall pockets serve as a faux outside wall. Each little pouch can be stuffed with a different type of plant, and you can combine pouches to create larger "walls" depending on your needs.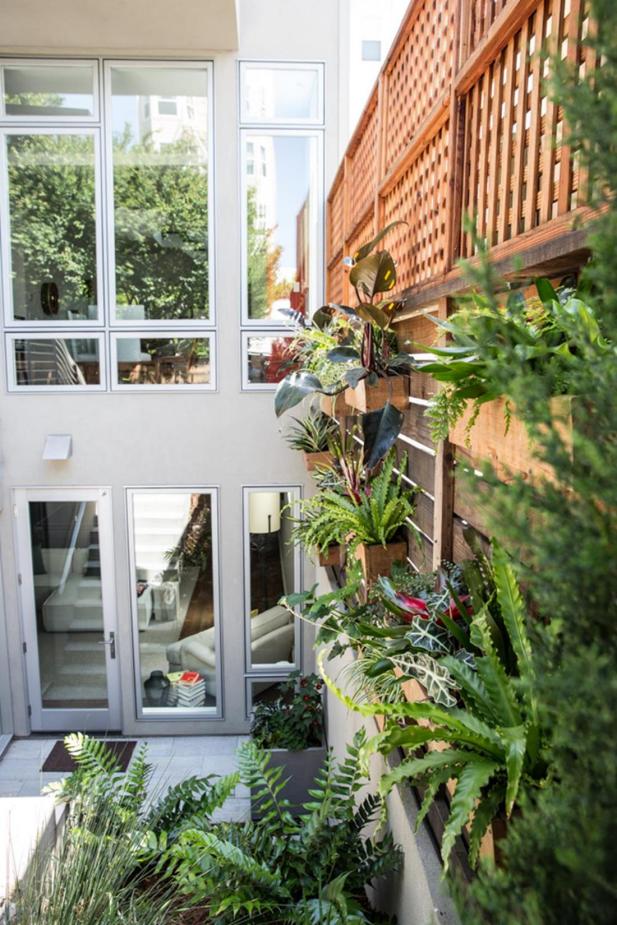 Vertical Garden With Wood Planters
This stylish garden features planters that climb up the wall, immediately drawing the eye upward.
Wood planters are another easy solution for a DIY vertical garden. You can mount the planters directly to a wall or to a piece of outdoor fencing and hang them as high as your space will allow.
Vertical Garden With Magnetic Planters
Rearrange your living wall with these magnetic planter boxes from Urbio. How it works: You purchase as many magnetic blocks as you'd like, then stick on durable polypropylene planters equipped with magnets strong enough to hold everything from succulents to leafy ferns. Once you've set up your blocks, you can move the planters to your heart's content.
Like the plant pouches, these magnetic planters allow you to create a vertical garden as big or small as you want.
If you have a wood fence, you can create a vertical garden by hanging planters directly on your fence. You can try using one or two, like in this example, or opt for a bolder look by hanging planters along the length of your fence.
These vertical hanging plants are a perfect solution on a small balcony. You could try hanging plants all along your balcony railing to create a quasi living "curtain."
You can also create a beautiful vertical garden by using wall pockets for flowers instead of plants. Pockets like these are so flexible that you can choose to keep them up during the summer months and take them down during the cooler months.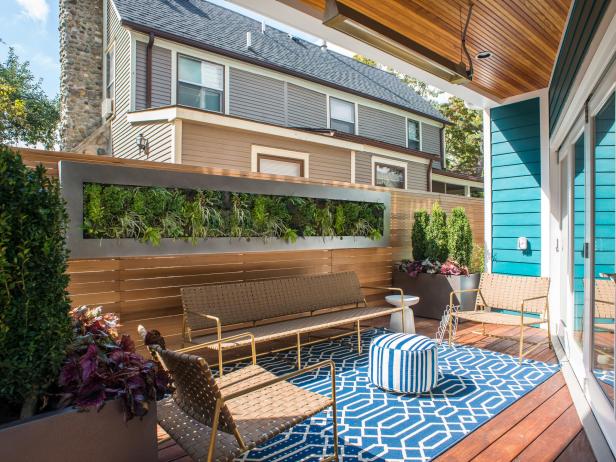 Small Deck With Custom Vertical Garden, Wood Privacy Wall and Bright Blue Accents
When you're dreaming of green acres but living with the reality of a small terrace, consider using vertical spaces like walls or railings for plantings. Here, Guido Keller of Lotus Gardenscape used a custom-made wall planter by Ore to create a vertical garden. The client chose a brightly patterned rug and simple furnishings to complete the inviting effect.
Jeeheon Cho; Design By: Guido Keller, Lotus Gardenscapes
If you have a larger budget, you can also create your own custom vertical garden planter. In this example, the fence-mounted planter is perfectly sized to sit above the long patio bench.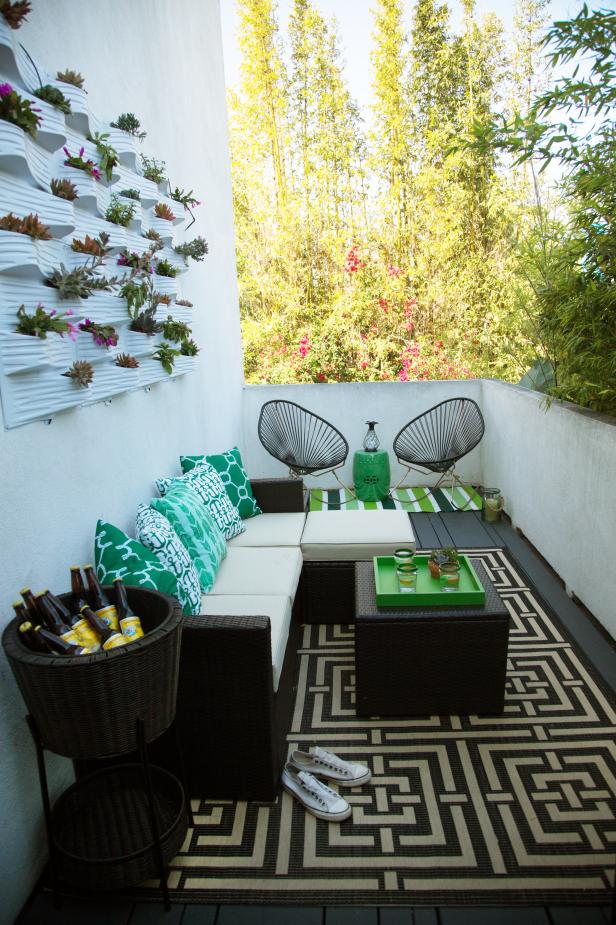 Contemporary Patio With Textured Wall Planter
A black wicker sectional with a matching coffee table sets the tone for relaxation on this stylish patio. Green and white nautical patterned pillows pad the sofa. A textured planter mounted to the wall creates a vertical garden, and a beer basket keeps refreshments readily available.
Nick O'Neill for Laurel & Wolf; Designer: Lucinda Pace
Here's another chic wall pocket setup that's tailor-made for a tiny outdoor balcony space. Without much space on the ground for potted plants, the wall-mounted vertical garden brings much-needed color and texture to the patio.