5 Thanksgiving Projects to Start Now
Ready or not, Thanksgiving will be here before you know it. Get a jump on your Turkey Day prep with these five DIY decorating ideas.
Now that the hubbub of Halloween has passed, you thought you could take it easy and rest on your holiday laurels, right? Sorry, but no — in just a few weeks, friends and family will be ready to celebrate Thanksgiving. So, if you haven't started crafting your Turkey Day decorations yet, now's the time.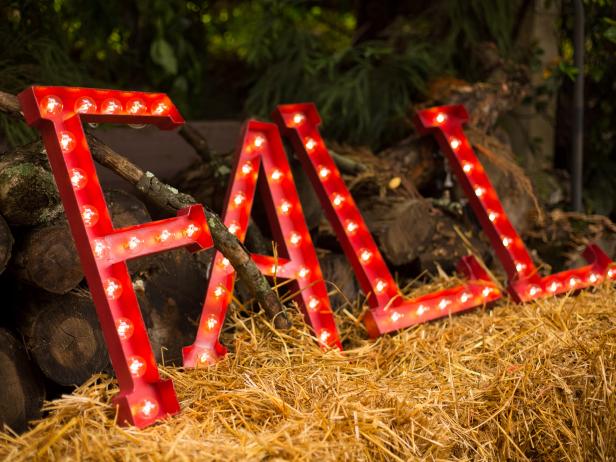 How to Make Marquee Letters
Usher in Fall with the warm glow of these vintage inspired marquee letters.
Flynnside Out Productions
Marquee letters are super trendy (read: super expensive) but with just a few craft-store supplies and globe string lights, you can whip up a set of your own.
Repurpose Halloween Pumpkins
Don't put all your Halloween decorations in storage just yet; turn faux pumpkins into a fashion-forward Thanksgiving centerpiece by covering them with trendy upholstery fabric.
Slipcover Past-Their-Prime Chairs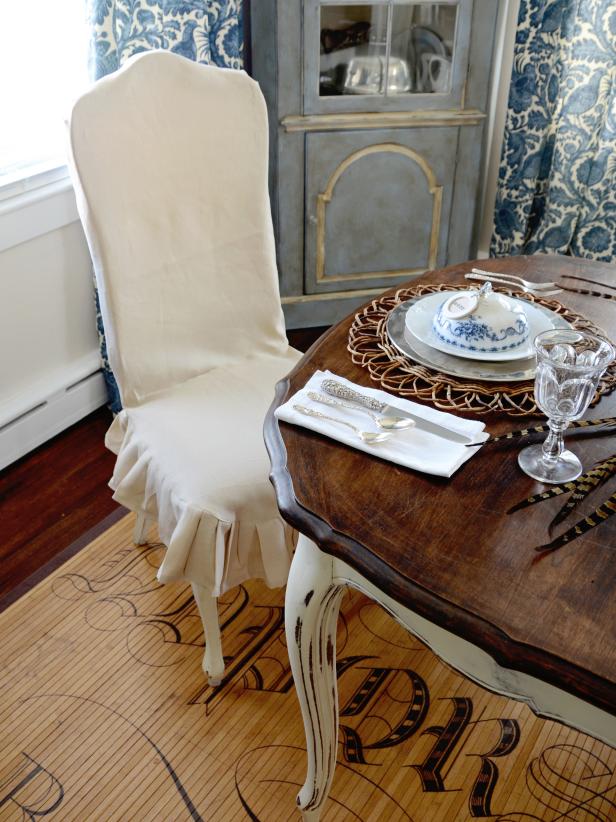 White Slipcovered Chair in Country Dining Room
Slipcovers are a great way to disguise mismatched seating or give dated chairs a quick update. This dining room chair is covered in a white linen slipcover with a flirty ruffled skirt, adding a touch of feminine elegance to this dining room.
If you're handy with a sewing machine, "new" dining chairs could be yours for the cost of a few yards of natural linen. A flirty skirt adds a stylish finishing touch. This project is a great way to unify mismatched chairs or give dated chairs a quick update.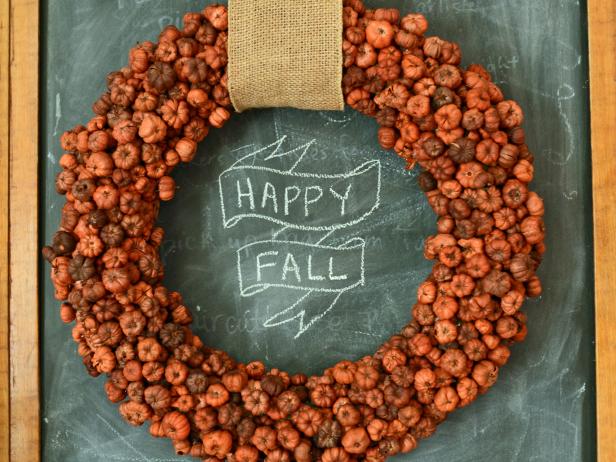 Mini Pumpkin Wreath Over Chalkboard
Instead of making a wreath with bulky plastic gourds, try using putka pods, which are natural dried seed pods that look exactly like tiny pumpkins. This wreath makes an elegant fall statement that can be displayed year after year.
Although the tiny orange shapes covering this wreath look like diminutive pumpkins, they're actually putka pods. A great stand-in for mini pumpkins, the dried organic seed pods don't deteriorate, so your wreath can be displayed year after year.
Make a Bistro-Style Menu Board
Thanksgiving's all about the feast, right? Whet your guests' appetites with an elegant menu board made from an old frame and just a few supplies from the hardware and craft stores.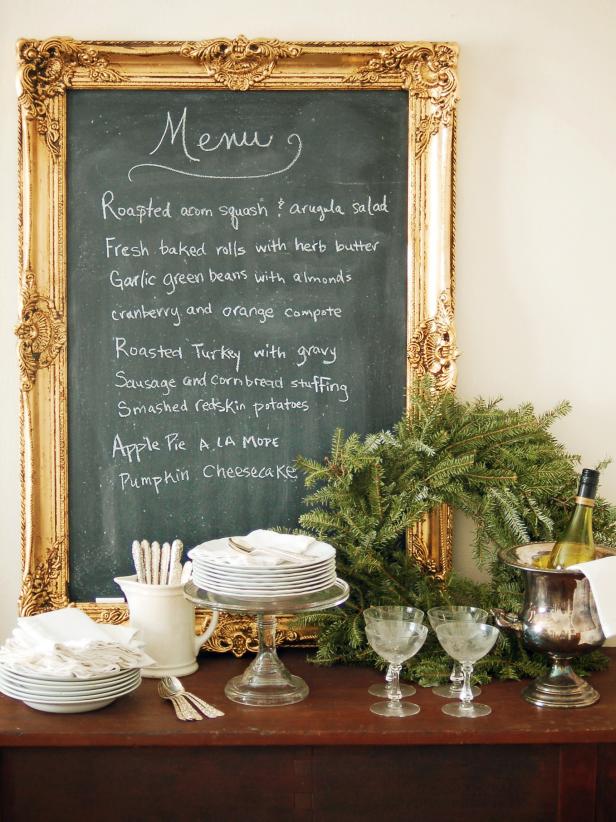 Menu On Gold Framed Chalkboard
Elegant meets humble when a sophisticated gilt frame surrounds an inexpensive DIY chalkboard. Place it in the dining room with a thoughtful greeting for dinner guests, or use it to announce the evening's festivities.