Quick and Easy Thanksgiving Centerpieces You Can Make in Minutes
Creating a show-stopping centerpiece for your Thanksgiving table doesn't have to be time-consuming. We have easy ideas for arrangements you can pull together on the fly.
While Thanksgiving may be a treasured national holiday — a time when farflung family and friends gather together to catch up and create new memories — it's also a lot of work. Shopping, meal prep and getting your home ready for guests can really take a toll — leaving you with no time to create a centerpiece. No worries, these centerpieces are ones you can whip up using items you already have on hand, can pick up at the grocery store or find in your own backyard.
Put a Vintage Piece on Display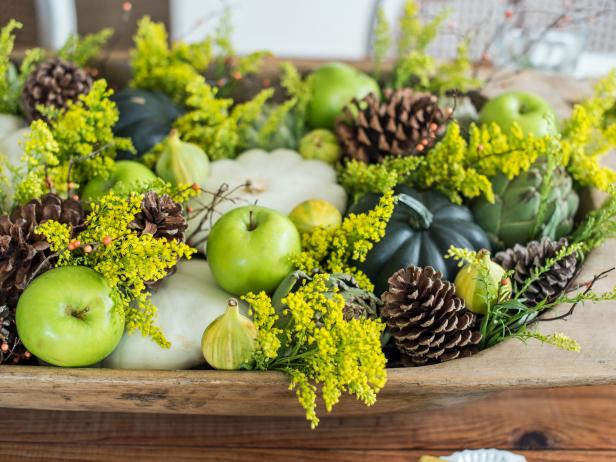 Thanksgiving Table Decor: Beyond the Antique Dough Bowl
If you don't have an antique wooden dough bowl at your disposal, many reproductions can be found at chain home decor stores. This idea would also work with a metal or wood trough, a crate or even a shallow basket. Just find something with the right shape and scale for your table.
An antique dough bowl or wood trencher is just too pretty to keep hidden away; put it to work as a low, rustic centerpiece. Just fill with pumpkins, gourds and fruit from the market and pinecones and sprigs of goldenrod and berries from the backyard.
Be Inspired by the Harvest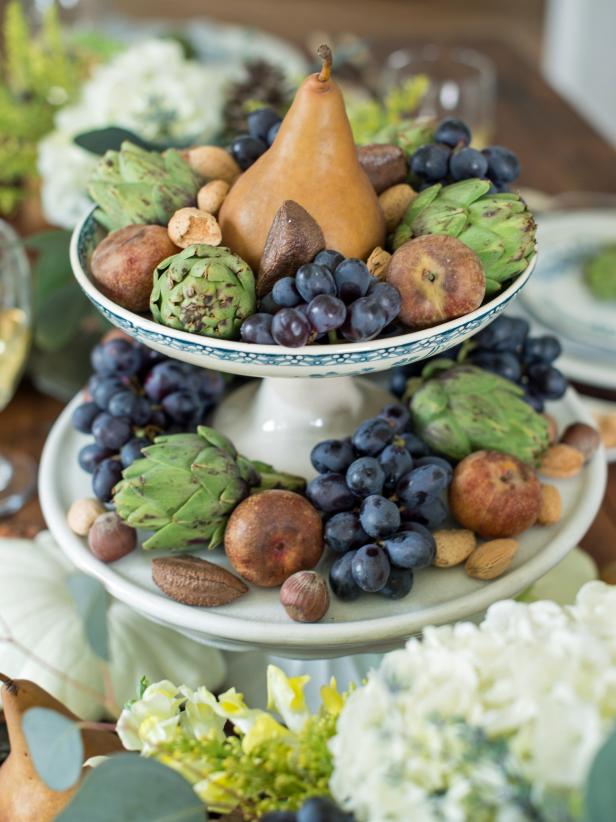 Cake-Stand Centerpiece Full of Fall Fruit
When arranging produce, alternate colors, textures and sizes to create a display that looks as delicious as it tastes. In this centerpiece, artichokes, grapes and plumcots are arranged around a large bosc pear. Try to find produce that is unique and seasonal, although it's OK to mix in some imported, out-of-season fruit as well!
For a fresh twist on a traditional cornucopia, stack a pair of footed dishes or cake stands and pile high with fresh fruit, veggies and nuts in shell.
Get a little help from the kiddos to craft this ship-shape centerpiece that's reminiscent of the vessels that brought colonists to the new world. Filled with crunchy snacks, it'll give guests something to nibble before the big meal.
Soooo pretty, this arrangement gets its punch by contrasting colors. Hit the grocery store floral aisle to select blooms in complementary colors, like dark red and bright green. Here, we used burgundy cockscomb, dahlias and calla lilies paired with chartreuse spider mums and lotus seed pods.
Nuts in shell, moss and trendy pheasant feathers create this earthy centerpiece that, unlike flowers, requires no maintenance to keep its good looks.
Mix Seasonal Greenery With Storebought Blooms
Image courtesy of Kat Flower
Or opt for traditional elegance with a tightly bunched arrangement that mixes ranunculus, roses and sprays of greenery. Tip: Customize a pre-made grocery store bouquet by mixing in fall greenery from your backyard, like 'Autumn Joy' sedum or Scotch Heather.
No flowers needed; head outdoors to gather long bare branches for a sculptural statement.