8 Ways to Transform Fall Pumpkins, No Knife Skills Required
Ever heard the saying "no guts, no glory?" Well, that doesn't apply here, because achieving pumpkin design greatness doesn't always require knifing through a four-inch-thick gourd and reaching into a slimey, stringy, seedy pile of orange goop. If you're ready to create a new spin on a time-honored tradition, try your hand at some of these fun pumpkin designs that have serious style without the messiness of pumpkin carving.
Halloween and scary black cats go hand-in-hand, yet these cute, carve-free kitties are anything but spooky. Basic craft supplies like paint, felt and pipe cleaners are all it takes to make a whole litter of these fun felines.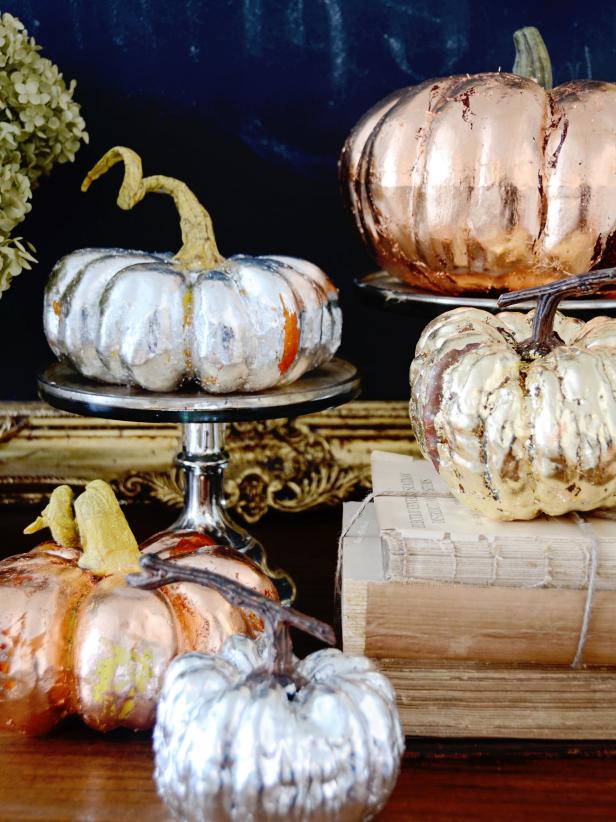 Thanksgiving Metallic Pumpkin Decorations
Add a little glam to your Thanksgiving decorations with these painted pumpkins. Autumn inspired metallic paints will dress up any table for the season.
Don't wait until Christmas to break out the silver and gold. Give faux pumpkins a glamorous makeover by simply brushing on metallic leaf with adhesive for a fall display or centerpiece that will sparkle and shine.
Trick-or-treaters are sure to get a hoot out of this adorable owl pumpkin. With no intricate patterns or pumpkin-carving skills required, you can whip up this easy-to-create, kid-friendly pumpkin in no time.
Break out the Mod Podge and let the memories of your youth commence. To recreate these pretty pumpkins just add some paint and printed napkin cutouts (yes napkins!) and voila! You have a pumpkin transformation that rivals Cinderella's carriage.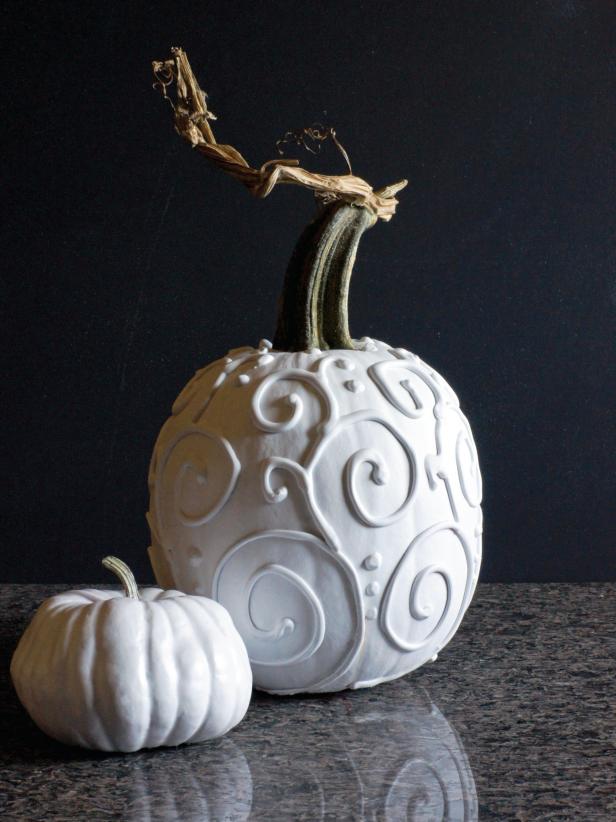 Modern Swirly Pumpkin
Add some modern flair to your Halloween decor with this simple, no-carve pumpkin design involving caulk and spray paint.
If you're a frequent DIYer, you probably have some leftover caulk and spray paint laying around. Good news is that's all it takes to give your pumpkin a modern facelift with a three dimensional design.
Who said carrots were reserved for Frosty? Raid the refrigerator (and your family members' closets) to give fresh pumpkins a personality. Add craft-foam eyelashes or a mustache and a drawn-on smile, plus accessories like glasses, a tie, hat or headphones and cue some family fun.
Break free from the traditional orange exterior and cover a faux pumpkin from stem to base in the fabric of your choice with a decoupage adhesive. Graphic designs and bold colors make a statement in your seasonal arrangement and can be re-used year after year.
Lace, Glitter and Rhinestone Covered Pumpkins

Can't get enough unique, non-carved pumpkin design ideas? Watch these videos for more inspiration!
No-Carve Pumpkin Designs
02:41
Julia shows three ways to decorate your Halloween pumpkin without carving.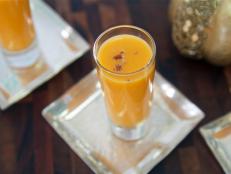 Are you sick of the pumpkin spice latte? We've collected 10 fall-perfect recipes with real pumpkin flavor.