Your Guide to Buying a Mattress Online
If it's time to replace your old, lumpy mattress, then we have some good news — you can now find a fabulous, new mattress without ever leaving your sofa.
Over the past few years, many mattress websites have popped up, and most of them offer great options. Prices online tend to be much better than what you'll find at your local mattress shop. Plus, you simply can't beat the convenience of having your new mattress shipped right to your front door.
But before you take the plunge, we've put together a comprehensive guide to help you figure out what makes the best sense for you, your budget and your family.
Before your click that "order" button, you'll need to spend a bit of time doing some research and figuring out which mattress and company are the best fit for your needs.
If you already know what sort of mattress you prefer (level of firmness, material, etc.), then you're already a step ahead. However, if you're unhappy with your current mattress and unsure of what you might like to have on your bed next, you might want to visit a local mattress shop or two and get a sense of what type of mattress you prefer. (In which case, sorry — you might have to get up from your sofa after all.)
There are a variety of online companies to choose from when ordering your mattress, and many of them offer similar options. It's worth it to spend a bit of time on each website in order to get a sense of what the company is like, what their manufacturing process is and what sort of service you might expect. Most of the sites offer online chat customer service so you can get all of your questions answered. Here's a quick summary of the big players:
I have a Tuft & Needle mattress, and I happen to love it. Their mattresses are often considered to be on the firmer side of the spectrum, and they're made of their own special two-layer foam (that's neither memory foam or latex).
$350/Twin to $750/California King; Free Shipping; 100-Day Trial; 10-Year Warranty
These mattresses are crafted with a combination of latex foam and memory foam, and they generally fall on the medium level of the firmness scale. If you happen to be in New York City or Los Angeles, you can visit a Casper showroom and test your pick out in person before you purchase.
$500/Twin to $950/California King; Free Shipping; 100-Day Trial; 10-Year Warranty
These memory-foam mattresses are also considered to be medium firm. They offer what they call a "universal adaptive feel" which adapts to all body shapes, sizes and sleeping styles. In addition to their mattresses, they offer a soft Leesa blanket that you can order. (Leesa is also now offering a memory foam/spring hybrid luxury mattress called Sapira.)
$525/Twin to $995/California King; Free Shipping; 100-Day Trial; 10-Year Warranty
Helix tries to help you figure out what type of mattress is best for you based on a questionnaire that includes details about your height, weight and sleeping style. They can even create a split-style mattress so that you and your partner can each have the type of mattress you prefer based on each of your sleep profiles.
$600/Twin to $995/California King; Free Shipping; 100-Day Trial; 10-Year Warranty
Saatva mattresses are similar to the typical spring mattresses that you're used to seeing in a mattress store. You can choose different levels of firmness based on your sleeping preferences.
$599/Twin to $1299/California King; Free Shipping; 120-Day Trial; 15-Year Warranty
Most of these companies ship their mattresses in vacuum-packed boxes, making installation quick, easy and hassle-free.
Make the Most of Your Trial Period
One of the best perks of ordering your mattress online is that if you don't love your mattress after the trial period, you can return it. Be sure to keep track of how long your trial period lasts, and make your final decision before your trial ends. I would suggest adding a reminder to your phone as well as an appointment on your calendar to be safe.
If you use additional items on your bed, like a feather bed or egg crate, make sure you have them on hand so you can try out your mattress and experience it like normal. If you have a partner, make sure they're able to sleep on the mattress as much as possible, too, to make sure that you both approve (or disapprove) of it.
Dealing With Returns + Warranties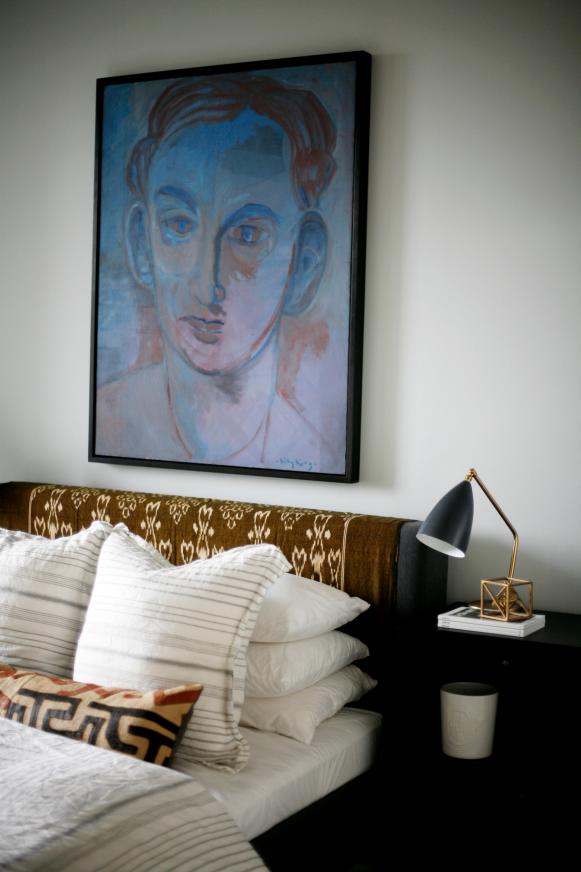 Midcentury Bedroom Features Upholstered Bed & Framed Art
Above the upholstered bed frame, a framed portrait in cool blue tones adds contemporary flair to the midcentury modern bedroom. Several pillows adorn the bed, creating a cozy and inviting feel.
If you order a mattress from any of the online companies above and you realize that you don't like it, you can get a full refund (as long as you're still within your trial period). Check with each company to find out exactly what's involved in processing a return. Several of the companies ask that you donate your mattress as part of your return process, and they'll even help you organize the donation.
With generous 10- to 15-year warranties, you'll most likely be covered should anything happen to your mattress in the future. Just make sure to save all of your documents and receipts.