Make Wedding Planning Easier With Digital Mood Boards
Wedding planning is stressful enough as it is. Make the process easier and more organized with inspired mood boards for every part of your big day.
If you're lucky enough to be planning your wedding, you have a lot of decisions to make before your big day. I actually got married before Pinterest was around (gasp!), so I needed to get creative when it came to keeping track of my inspiration photos. That's when I began to love digital mood boards.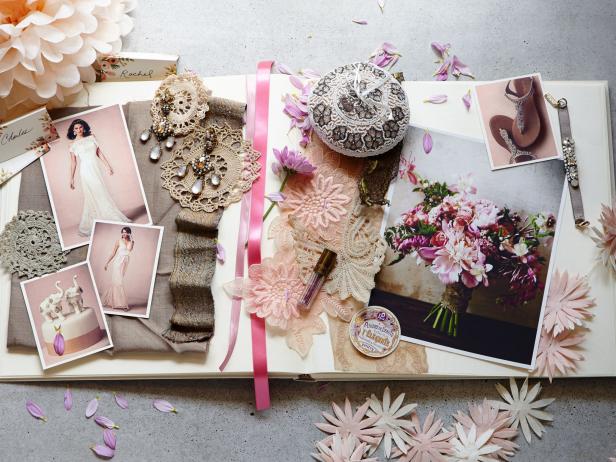 Ombre Palettes Popular Among Blushing Brides
"For this upcoming year, I see ombre as a trend that will continue to pop up in wedding decor — using tonal pieces to accent bridesmaids' ensembles, ombre cakes and monochromatic colors in overall decor," says Sara Murray, BHLDN Stylist
Mood boards are a fantastic way to keep track of all the disorganized color, pattern and photo information you might have floating around in your head. And once you get the hang of them, they're really easy to create.
There are quite a few options when it comes to choosing a tool for creating your mood board, but I always recommend going for whatever source feels most comfortable.
I often go between PowerPoint or Keynote (I made this simple board pictured in Powerpoint) as I find it's easy to move photos around and create templates that I can use over and over again. But there's also a lot of free tools online you could use. Here's a list of some of my favorites
Though you don't need to get super specific with your mood board, I find that it really helps to discover what you're hoping to visually brainstorm. You can tackle some of the finer details with inspiration for things like table decor, wedding cakes or bridesmaid dresses. Or you could work on a general board that includes inspiration and images for your overall wedding as a starting point.
I always love to flip through magazines before I kick off a new mood board project. I specifically like to look for color and pattern inspiration, as well as other images that might help to remind me of the feeling or vibe I'm going for. Of course, you can also get inspired online by visiting sites like Pinterest or Polyvore. If I happen to find any images in magazines that I want to use, I'll cut them out and scan them or snap a photo.
Once I get an idea of where I am in terms of visual inspiration, I'll start looking around online for actual photos to include on my mood board. Again, you can visit sites such as Pinterest, Polyvore, Tumblr or even Google Image search if you know exactly what you're looking for. You can also visit individual wedding magazine sites and look through their photo galleries for inspiration. I often like to bring all the images I saved onto the blank mood board and then make final decisions about what stays and what goes.
Once you edit your saved photos and decide which ones you want to keep for your mood board, you can start arranging them. There is no right or wrong way to do this, so go with whatever method works for you.
You could go for a collage-style board and overlap your photos and text, or you can keep things neater by lining up your images. In this example, I went for a cleaner look.
This example board was all about the wedding dress detail; however, I wanted to make sure to include the wedding color palette so you could keep the decor and color scheme in mind.
Once you've hit upon a style of mood board you like to work with, make sure to save your work as a template.
When starting a new mood board, I like to open up the last one I created and work from there. I can swap out images and update text based on whatever I'm working on. Make sure when you do this to "save as" so you don't overwrite your old file.
You can keep everything online or print color copies. This is helpful when you want to look at several things at once such as mood boards for the cake, table decor and flowers. I usually like to print out copies of all of my mood boards and then tuck them into a notebook or my planner so I have them with me at all times. You never know when inspiration might strike!