How to Turn a Trashed Bedside Table Into a Charming Cottage Nightstand
For less than $20 in materials, turn a sad little table (that was once destined for the dump) into a cottage-style charmer that provides handy bedside storage.
A few years ago, my sister bought a beach cottage. While any beach cottage is a good beach cottage, this one was in particularly rough shape and in need of major (read: serious $$$) updates. The high repair cost left us with very little money for furnishings so it was time to get creative and fill our coastal hideaway with budget-friendly finds.
Enter the solid cherry bedside table my 18-year-old nephew scored for a song at an estate sale. It was quite literally falling apart so he used his charisma and law-school-bound negotiating skills to get the seller to throw it in (for free!) with the rest of our haul. After my dad replaced missing bits and stabilized it, this once shabby little nightstand was ready for a chic makeover.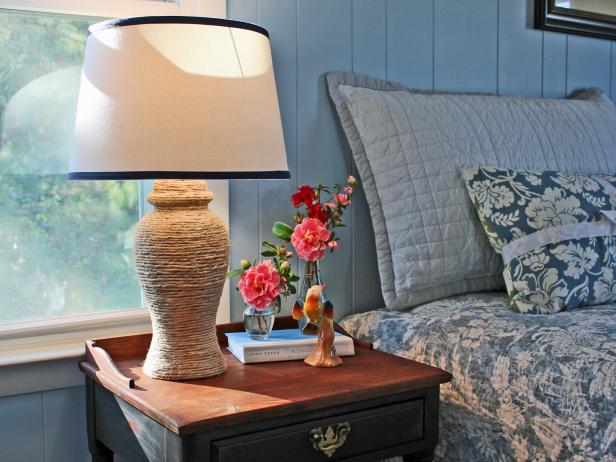 Give your bedroom a beachy vibe by covering an old lamp in budget-friendly sisal rope and displaying fresh-cut camellias in empty soda bottles.
orbital sander and sanding disks (coarse-, medium- and fine-grits)
sandpaper sheets (medium- and fine-grits)
oil-based wood stain
disposable chip brush
black latex paint
angled-sash paint brush
clean, cotton cloth
satin spray polyurethane
Using the orbital sander, thoroughly strip any areas, like the top, that you plan to stain, working from coarse- to medium- to fine-grit (Image 1). Tip: Working through the grits will ensure a smooth surface for staining. Use medium-grit sandpaper sheets to rough up any areas you plan to paint (Image 2).
Apply a coat of paint to the table's legs and any other areas you don't plan to stain. Because the paint will be distressed for a worn-over-time look, just a single, rough coat is sufficient. Allow paint to thoroughly dry.
Using medium-grit sandpaper, rough up paint on furniture's corners, edges and any raised areas. Essentially, the key to an authentically distressed look is to focus your sanding on areas that would have seen the most wear-and-tear over time.
Using a disposable chip brush, apply an even coat of wood stain to the table's top, working with the wood's grain. Tip: Unlike water-based wood stain, oil-based wood stain will self-level as it soaks into the wood, eliminating streaks and creating a rich, even color. If desired, you can achieve a lighter stained effect, that allows more wood grain to show through, by leaving stain to soak in for 2-3 minutes, then removing the excess stain with a clean, cotton cloth.
To highlight the wood peeking through the distressed areas, brush a coat of the same wood stain used on the table's top over the remainder of the nightstand (Image 1). Allow stain to soak in a bit, then wipe off the excess with a cotton cloth (Image 2). Once all stain has thoroughly dried, apply a protective coat of spray polyurethane and allow to dry. Finally, reinstall hardware and enjoy your new, old nightstand (Image 3).