How to Buy a Sofa in 7 Steps
Sooner or later we all have to buy a sofa. Let our how-to guide calm your fears. There, there child.
No matter what size home you have or what style decor you favor, sooner or later we all need to buy a sofa. It's the great equalizer.
And while buying a sofa seems like an easy task, there are actually quite a few things you need to consider before you pull out your credit card.
To help you on your sofa-buying journey, we've put together a step-by-step game plan that will guide you along the way.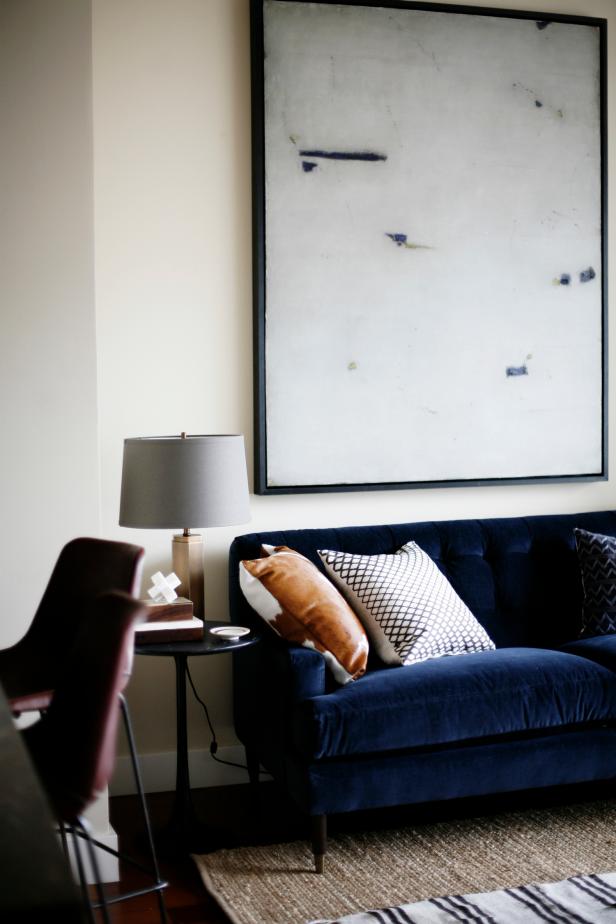 Navy Blue Velvet Sofa & Minimalist Art
This bright living space with contemporary and midcentury modern influence features a navy blue velvet sofa, a mix of throw pillows and minimalist artwork framed above the sofa.
Before you start any of your prep work, you need to get clear about what your budget is. Even if you don't have much to spend, there are lots of options out there, so don't feel bad if you're not a lottery winner.
Remember that a good sofa is definitely an investment. However, if you plan to have it (and use it!) for many years to come, it helps to soften the blow of outlaying a big chunk of change.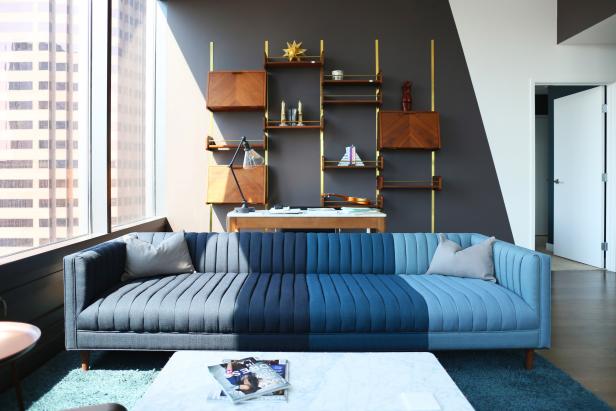 Blue Midcentury Sofa and Wood Shelving
A beautiful midcentury modern shelving unit is all the wall art this living room needs. Its gold and warm wood pairs perfectly with the sky blue sofa.
Next, you'll need to measure your space. I find it's helpful to use some masking tape and actually tape out the footprint of the sofa you're envisioning on the floor. If you already have a sofa there that you need to replace, measure your existing sofa and take note of any additional space you might have to add to the length or width. If your sofa is going up against a wall, it's helpful to measure the wall.
Take note of any irregularities you might need to deal with, such as a narrow door, a narrow staircase or other potential obstacles.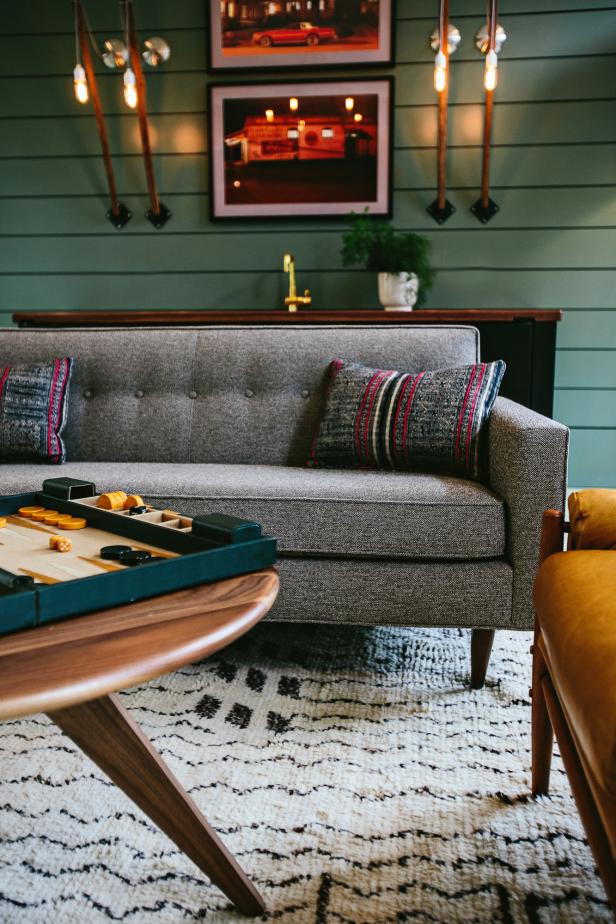 Gathering Room With Retro Gray Sofa
This midcentury modern clubhouse has a retro gray sofa paired with a black & white chevron patterned rug, that give this gathering space a bold look.
If you're deciding on a sofa with a spouse, significant other or even a roommate, make sure you set up a system that lets everyone feel a part of the process. If you're taking the Pinterest board route, make sure you invite the other person to your sofa board so you can both pin together.
Here is some additional reading to help you on your sofa hunt:
Decide What You're Looking For
BPF_original_guest-bedroom-media-room_sleeper-sofa_4x3
In addition to seating three people comfortably for gathering and watching TV, the slipcovered sofa pulls out to reveal a full-size sleeper. When choosing sleeper sofas for small, secondary spaces rather than great rooms, be sure and measure doorways and hallways first since many sleeper sofas are deeper than standard-sized sofas. Additionally, keep in mind that sleeper sofas are much heavier in weight than standard-sized sofas or love seats, and it may take up to three people to move them properly into place.
Now it's time to start making some decisions. As you think through what might work best in your space, here are a few questions to ask yourself:
How many people do you want to seat?
Do you have pets? Kids?
What types of materials do you like?
What type of setup will work best for your home?
Do you need a sofa with a pull-out bed?
Will a sectional or L-shaped sofa work for your space?
What style sofa do you like best?
Will you be mostly sitting on the sofa, or do you plan to lay down and take naps, too?
After you answer these questions and feel a bit more clear on which direction you'd like to go in, start looking around online and researching all of your options.
Try to narrow down your choices to your top three favorites.
Here are some of my favorite sources for sofas online:
Watch Out for Discounts + Sales
Pink Sofa and Gray Graphic Wallpaper
Hello, patterns! This living room has no fear when it comes to mixing bold prints and colors with wild and merry results.
As you look around online, take note of some of your favorite furniture sites, and sign up for their email newsletters. Most of them offer an immediate discount for just signing up, but you will soon start to see additional sales that will pop into your inbox every now and then. You can always cancel your subscription, but for now keep an eye out for any sales!
Go Shopping...Even if You Want to Buy Online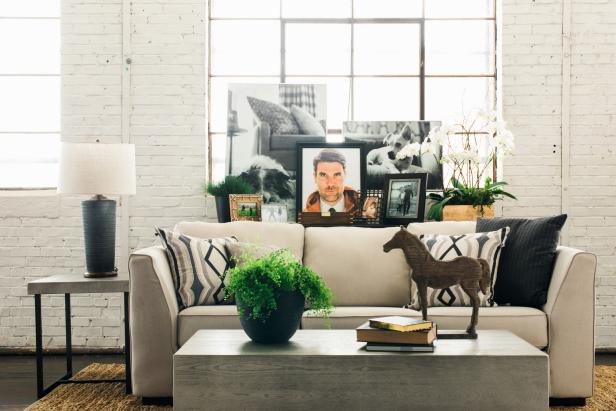 Sofa Table With Assorted Art and Photographs
Here's an excellent idea for renters or homeowners with walls that can't accommodate nails or screws: place a console table behind your sofa to display art in a casual manner.
Rustic White Photography, LLC
Now it's time to go shopping! Even if you think you might ultimately be purchasing your sofa online, you still need to get out there and do some in-person shopping. This will go a long way in helping you understand what you're really looking for.
If you found sofas online that are in your top three, try to visit them if you have a local retail outlet of that store. If not, try to find similar sofas just to get a feel. Department stores sometimes have larger furniture sections where you can test out a variety of different types of sofas.
Take note of how you feel toward different fabrics, cushion styles, arm styles, etc. You might love the look of Chesterfield sofas online, but once you see one in person, you might not feel the same. Or perhaps you were unsure of whether or not you actually liked the look of slipcovered sofas, but once you see one up close, you realize they could be a perfect option for your space.
Guide to Common Sofa Styles
01:55
Can't tell a chaise from a settee? Let our guide to sofa styles help you.
You came, you saw, you seat tested…and now it's time to buy your sofa.
If you decide to purchase your sofa online, make sure to find out what the delivery charges will be, the timeline and what your options are in case you need to return it for any reason (and who will be responsible for the return shipping charges).
For local purchases, try to get the delivery charges waived, and make sure to let them know about any challenging staircases or doorways.
Once your new sofa's in place, then you can focus on the fun stuff, like using pillows and throws to style it.
Style a Sofa Five Ways
01:56
Simply swap out the accessories on a sofa to give it five brand-new looks.