DIY Natural Bath Bombs: The Perfect Gift for a Group
Make these bath bombs in a muffin tin for a quick yet thoughtful holiday gift idea for a group.
It's Handmade Holidays week on I Heart HGTV! All week long, we're sharing our favorite DIY gift ideas for groups, from BFFs to coworkers to extended family. Plus, we'll share our favorite gift-wrap tricks.
Thinking of a group holiday gift can be challenging. What exactly do you get your colleagues or your 50 cousins that's personal, budget-friendly and quick to make? Enter: all-natural bath bombs. These DIY bath bombs take less than 15 minutes to make and only require common household ingredients. Make them in a muffin tin with cupcake liners for a cute, efficient way to make multiples at a time. Want proof? Watch the video below, then follow our step-by-step instructions:
We're sorry, there seems to be an issue playing this video. Please refresh the page or try again in a moment. If you continue to have issues, please contact us here.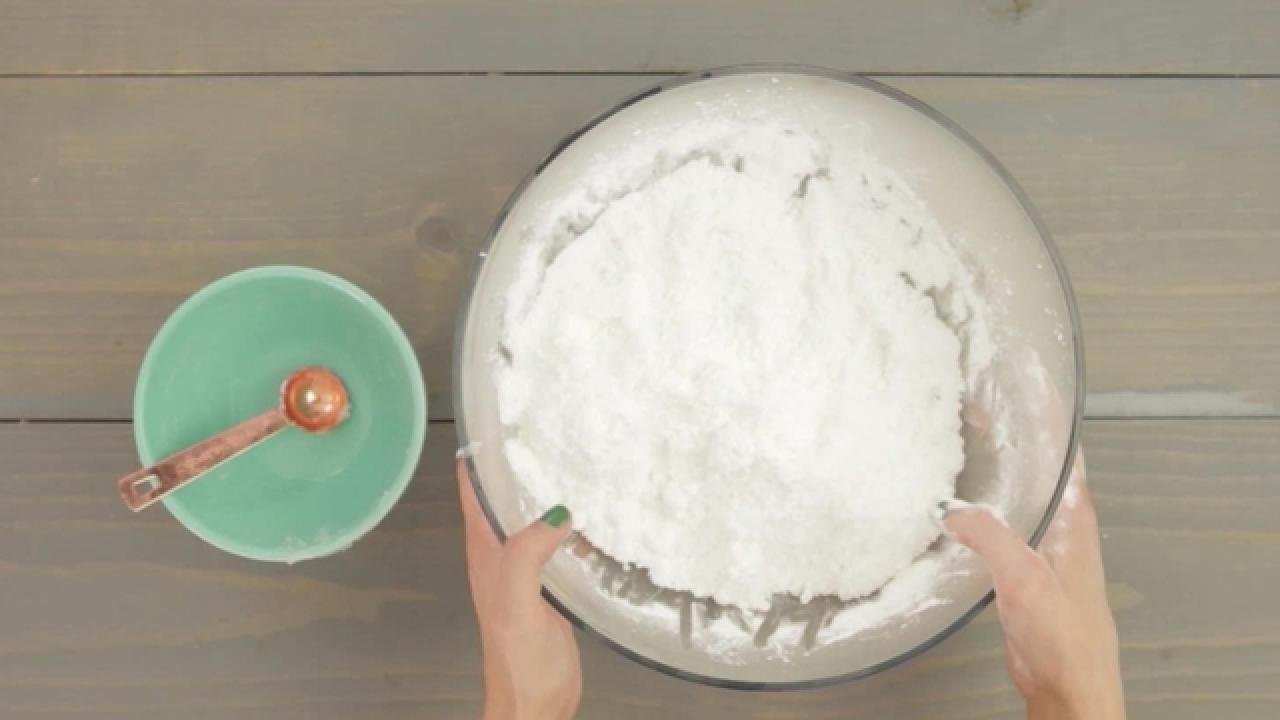 10 oz baking soda
4 oz citric acid
4 oz Epsom salt
4 oz corn starch
2 3/4 Tbsp. coconut oil
1/2 tsp cocoa butter
1 tsp water
10 drops peppermint essential oil
ground cinnamon, lavender, orange peel, flower petals (optional)
Place Glass Bowl on Scale
Place a glass bowl (glass is non-reactive) on a food scale, and use ounces as the measurement. Hit the tare button so the scale reads zero.
Add all dry ingredients (baking soda, citric acid, Epsom salt and corn starch) to the bowl in the exact measurements. Press the tare button to read zero before adding the next ingredient. Slowly mix with a spoon until combined.
Combine all wet ingredients (coconut oil, cocoa butter, water and essential oil) in a separate bowl.
Add Wet Ingredients to Dry Mixture
Add wet ingredients to the dry mixture one teaspoon at a time. Use clean, dry hands to combine until mixture has consistency similar to wet sand.
Add Mixture to Muffin Tin
Place cupcake liners in muffin tin. Fill liners with a heap of the bath bomb mixture. Pack tightly using your fingers. Let sit overnight before removing. Optional: Add flower petals, cinnamon, lavender or orange peel in or on top of the bath bomb mixture.
Cut a small slit in the top of a cupcake box and loop and tie a loofah. Fill the box with tissue paper or crinkle paper, and place one or two bath bombs inside. Tie a gift tag to the loofah loop to complete.