Halloween Pumpkins: Faux Can Be Fabulous
Forget fresh! For crafty Halloween pumpkins you can display year after year, faux is your new best friend.
When it comes to Halloween pumpkins, I think many of you seasoned crafters will agree with me when I say that faux can be fabulous. Oh, I know, there are always pumpkin purists who like the squishy sensation of pumpkin innards oozing through their fingertips (You know who you are!) or prefer the look of a real pumpkin or choose real so they can roast the seeds — tasty recipe here, btw — but my personal choice is faux.
Why, you ask? Because, quite honestly, I am a project-aholic. At any given time, I have too many projects started and not enough time to finish them all, so when I buckle down and take the time to bling out a pumpkin, I want my hard work to be displayable for many years to come. If you're like me, our Halloween feature is hooking you up with lots of creative ideas for faux pumpkins. Here are 5 of my faves: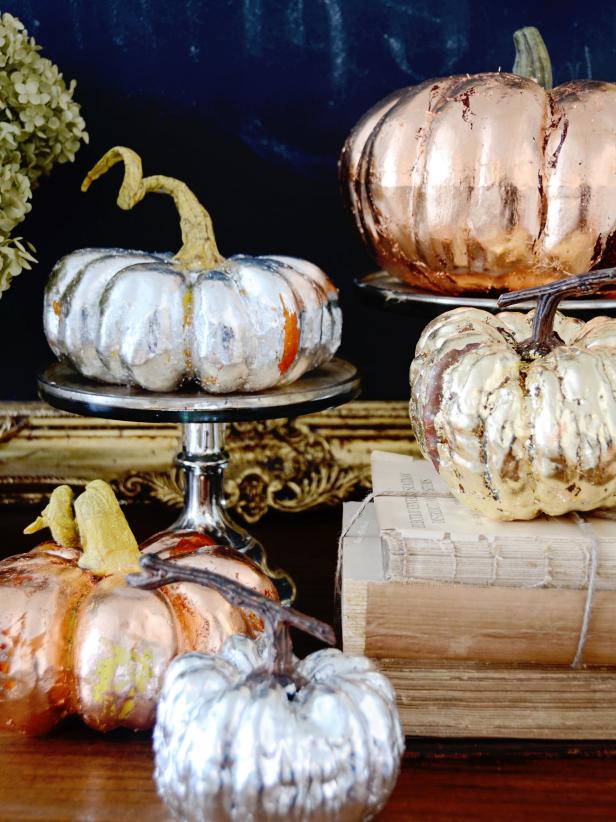 Thanksgiving Metallic Pumpkin Decorations
Add a little glam to your Thanksgiving decorations with these painted pumpkins. Autumn inspired metallic paints will dress up any table for the season.
Give faux pumpkins a glamorous makeover with gold, silver and copper leaf to add just the right amount of sparkle to any indoor fall display or Halloween centerpiece. Bonus: You can later incorporate these glitzy gourds into your Thanksgiving decor.
Use basic craft supplies — like paint, felt and pipe cleaners — to make a whole litter of these lucky black cats. You can use fresh pumpkins, if you prefer, but these friendly felines are so cute that faux pumpkins are a better bet so you can display them year after year.
Cut a faux pumpkin in half to create a lidded container for serving Halloween candy. The waterproof foam interior also makes these a great cooler when filled with ice and beverages.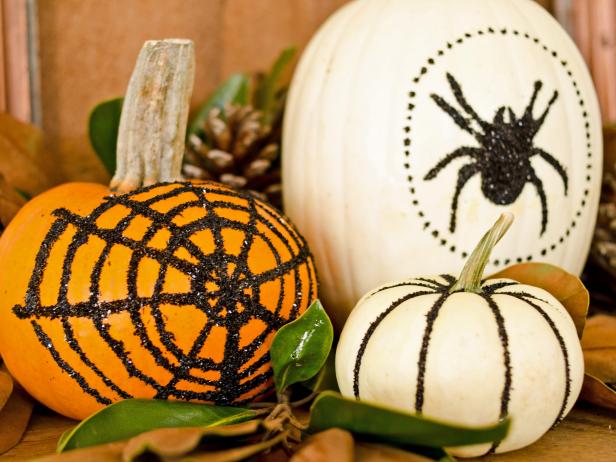 Halloween Glittered Pumpkins
School glue and black glitter are just some simple materials needed to customize pumpkins for Halloween.
Budget-friendly school glue and black glitter are all you need to give natural or faux pumpkins a chic makeover. Choose an easy pattern for crafting with kids or go with a timeless design, like a monogram or graphic pattern, for a sophisticated look.
Stack a Friendly Character
Add some personality to your front porch with a pumpkin topiary in the shape of a totem pole. All you need are a few lightweight faux pumpkins, basic craft supplies and a little imagination.