Give Old Candles a Quick, Coastal Makeover
Get creative to give old pillar candles a coastal makeover in a snap.
If there's one thing my frequent estate/garage sale forays have taught me, it's that no one need ever pay full price for a candle. 10-20 bucks for a pillar candle? What?! I can't remember the last time I shelled out more than $1 for one. The only downside to purchasing secondhand candles is that they're often dented, scratched or are a color that won't work with your decor. No worries, a little hot glue and twine will cover a world of sins.
I recently picked up some bargain candles at an estate sale in Knoxville before heading down to my sister's work-in-progress beach house. I had some jute twine and furniture webbing left over from other projects so I decided to give these 3 thrifted candles a quick beachy makeover — et voila: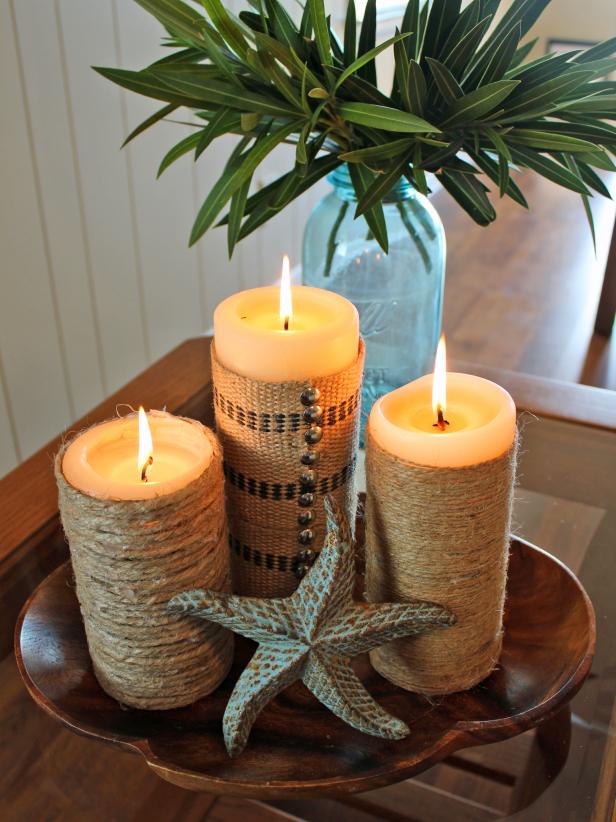 Beachy, Twine-Wrapped Candles
Got ugly candles? Easily disguise them by attaching hemp twine or upholstery webbing with hot glue.
Pretty, huh? I paid $2 for the 3 candles and, as I said, I had the other materials on hand — but, if I had to buy them, this would be a $10-$15 project. After their crafty makeover, the new/old candles fit right in with our other beachy bargains:
I know people will ask about fire safety for obvious reasons — twine and upholstery webbing are flammable. First, as with any candle, you shouldn't leave it burning without supervision — but — I've done variations of this project (covering pillar candles in paper, ribbon, bark and even paint) many times and never had a problem. The key is to choose a pillar candle wide enough that the wick burns down the center leaving an outer wax shell and you limit the crafty covering to the candle's sides. Don't try this technique on a narrow pillar or taper candle.
Covering the candles with twine is easy — just start at the bottom, applying hot glue as you turn the candle and attach the twine in sections. You can cover as much or as little of the candle as you wish. As you can see below, this particular candle had an odd raised gold stripe so I covered it completely.
The upholstery webbing cover was even easier to apply. Just cut a strip large enough to meet in the back, then hot-glue it to the candle along the seam. Disguise the seam by tapping in a few nail heads or brass thumbtacks.
That's all — it's quick, easy and cheap — my favorite kind of project.