Get a Holiday Head Start With 5 DIY Projects You Can Do in a Day (or Less!)
Stay home this Black Friday and get things done, from DIY gifts to guest room upgrades.
This year, many are opting out of Black Friday shopping for quality family time. You may be taking your family on a hike, watching your favorite movies or baking delicious treats. Here at HGTV, we are all about DIY projects we can do around the house with our families. Instead of standing in line at 4 a.m., you can be checking off your holiday to-do list! Here are fun projects you can tackle in a day (or less!)
Get Started on Holiday Gifts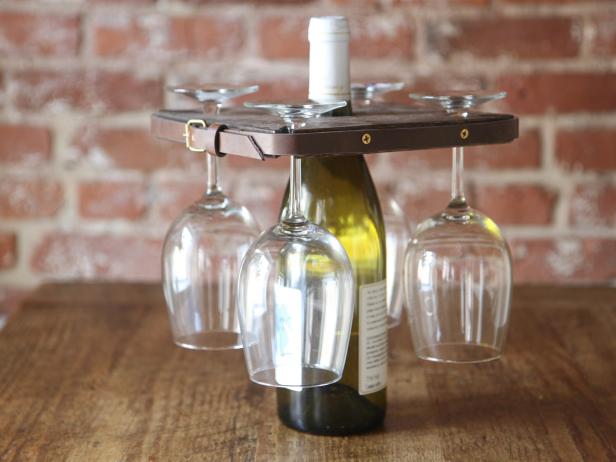 Wine Glass Holder
Make a rustic wine glass holder using an old leather belt and a scrap piece of wood.
Get a head start on your holiday gifts. This wine holder makes a great hostess gift or addition to your bar area. All you need is a scrap piece of wood, stain, an old leather belt and basic tools.
Try a Kitchen Upgrade for the Holidays
Use this day as an opportunity to tackle projects you've been putting off. Update your kitchen by giving cabinets a distressed, antiqued look. This quick, easy project will still give you plenty of time to relax and enjoy the rest of the day.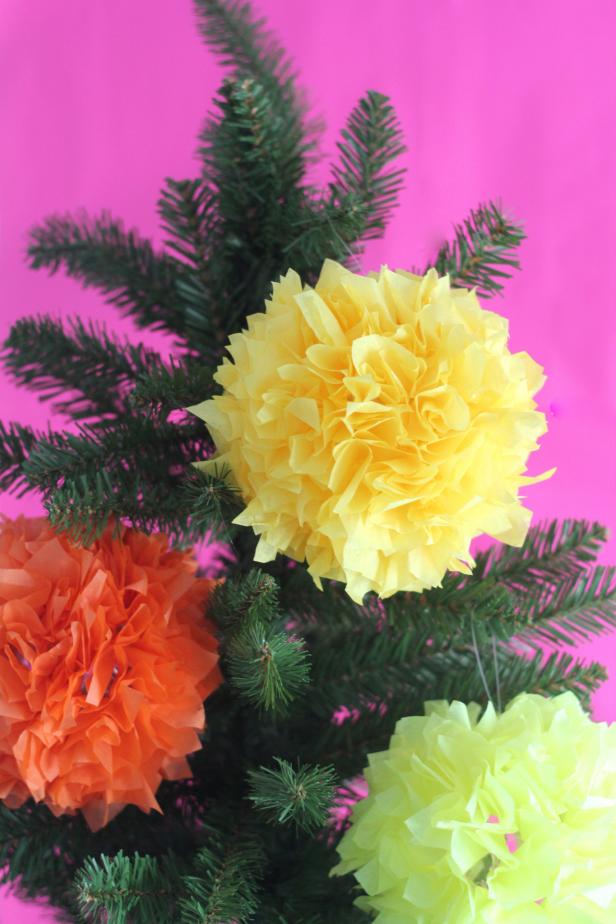 Pouf Balls
Taking inspiration from party decor, I used brightly colored tissue paper on clear glass ornaments to create this pouf ball technique. Cut tissue paper into 2" squares. Pinch each square in the middle and attach to the ornament with hot glue. Continue all the way around the ornament until it's completely covered. These make a dramatic statement on any Christmas tree.
Get the kids involved! Make these pom-poms in any color palette to decorate for the holidays — they'll look great on your Christmas tree, a kid's room or atablescape.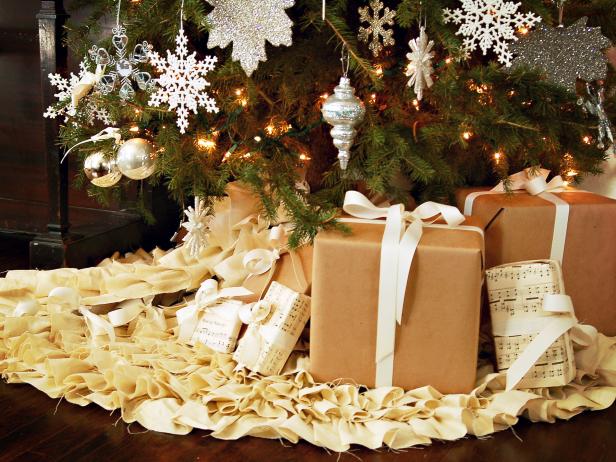 White Christmas Tree Skirt and Presents
No Christmas tree is complete without a skirt to hide its base or stand. Rather than using a traditional store-bought tree skirt, Marian Parsons transforms a piece of canvas into an elegant, ruffled linen skirt using only cuts of linen, scissors and glue. Whip one up with HGTV's step-by-step instructions.
Make your own holiday decor this year. This shabby chic Christmas tree skirt will bring a warm, elegant look to your tree — no sewing required!
Prepare the guest bedroom for holiday guests with custom furnishings. You can make these lined and pleated drapes with any fabric and on a budget.