White Pumpkins Are Your Thanksgiving Table's BFF
Elegant white pumpkins are the perfect accent to a Thanksgiving table. Here are our favorite ways to use these decorative fall gems.
I adore the elegance a white pumpkin brings to the (Thanksgiving) table. Whether you have leftovers from Halloween or are picking up a few just for Thanksgiving, here are seven of my favorite ways to use these fall gems.
Jason Kisner, Copyright 2013, HGTV/Scripps Networks, LLC. All Rights Reserved.
Designer Camille Styles mixed high-end white elements, like a porcelain soup tureen and creamy-hued roses, with rustic ones like pumpkins, gourds and beeswax candlesticks. The result? A classic, high-end centerpiece.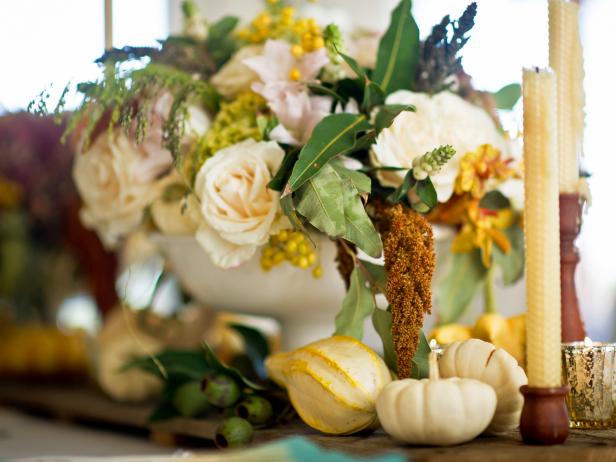 Traditional White and Yellow Floral Centerpiece
Designer Camille Styles pairs rustic elements like beeswax candles, gourds and a salvaged wooden board as a table runner with a porcelain footed dish overflowing with greenhouse blooms. Her arrangement contains roses, hydrangea, dahlias, copper amaranth and ranunculus with a few sprigs of fall greenery, grasses and berries to signify the season.
Give thanks for your guests with a take-home ornament they can use to decorate the Christmas tree. HGTV.com contributor Marian Parsons used white pumpkins to showcase handmade tags atop each place setting.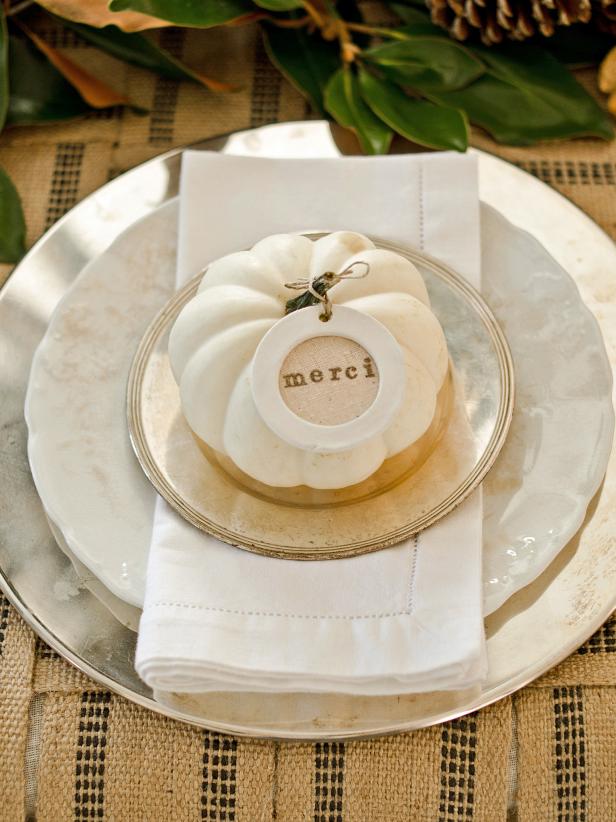 Layered Plates With White Pumpkin
Layering plates in different finishes, colors or textures is an easy trick for setting an elegant table. Start with a charger, followed by a dinner plate, topped by a folded cloth napkin and small bread or dessert plate.
She also used a flat,white Cinderella pumpkin as the base for this non-traditional topiary: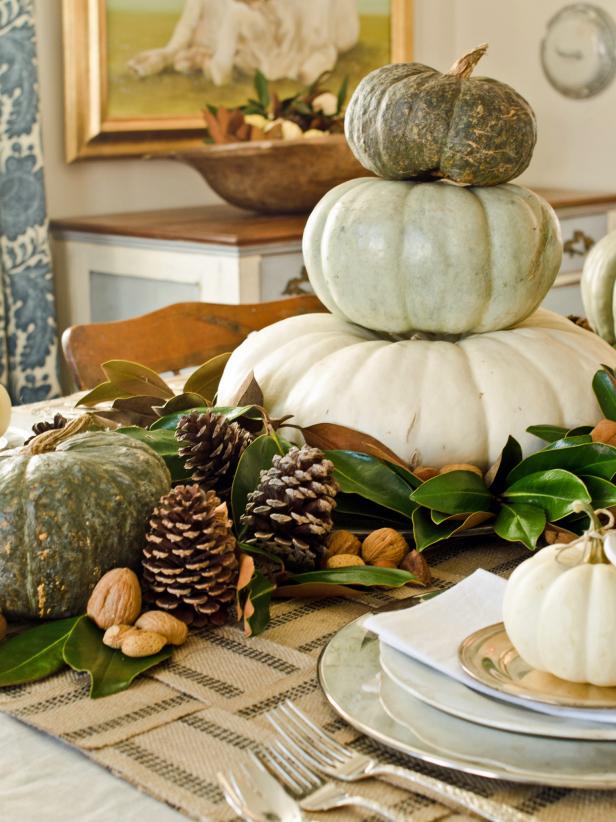 Gourd, White Pumpkin and Pinecone Centerpiece
Many stores and farmers' markets clear out their fall decor and start filling the shelves with Christmas items weeks before Thanksgiving. Ask local shops who sell live pumpkins if you can have them (or buy at a discount) when they make the switch. Most shops are just throwing the still-good pumpkins away and will give them to you for free.
If you can't find a real white pumpkin, go faux. Foam pumpkins are ideal for more intricate designs like this traditional silhouette. Create the design now and use it year after year.
Or, try painting your pumpkin white like Sam Henderson did here. To add the 3-D swirl effect, he piped in silicon caulking, then covered it all in a coat of white spray paint.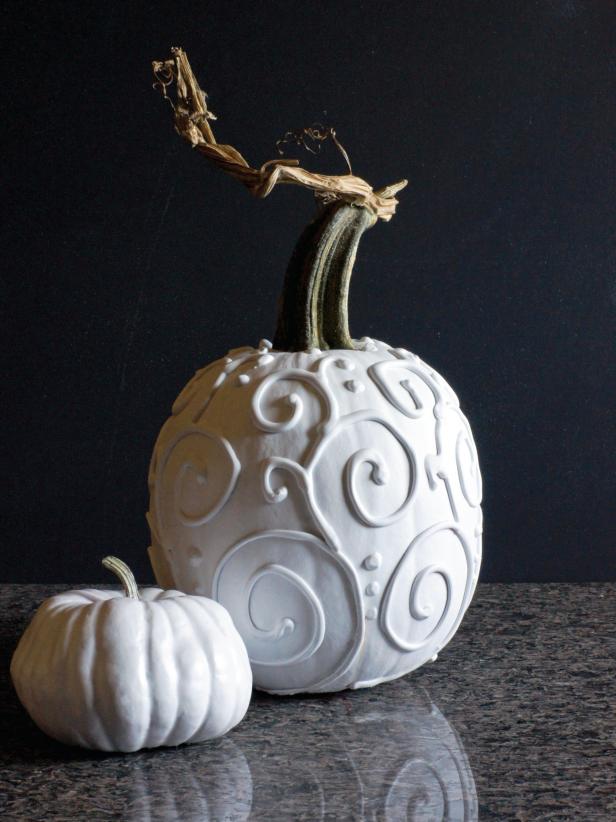 Modern Swirly Pumpkin
Add some modern flair to your Halloween decor with this simple, no-carve pumpkin design involving caulk and spray paint.
Easily turn a faux or fresh pumpkin into a rustic planter for assorted succulents. Surrounded by other fall elements, this garden craft makes a gorgeous living centerpiece for your fall or Thanksgiving table.
Unexpected colors and textures give this centerpiece a fresh look for fall.