What Blooms You Need in Your Bouquet (Based on Your Sign)
Because every bride wants to be petal-perfect on her big day.
Weddings? So fun. The most fun. Wedding-planning? So tedious. The most tedious. Notorious for irrational arguments with your future mother-in-law and an abundance of stress acne for all those involved. Not so fun, not the most fun at all.
Brides are faced with about a million different decisions while they plan their big day. Traditional tiered cake or cupcake smorgasbord? Tulle ball gown or beaded mermaid? Questionable DJ or slightly-over-budget band? Yes, these decisions carry some weight, but when it's all said and done they are easy enough, right?
The perfect floral-scheme for the big day is a different story. An event of this magnitude need a scheme reflective of not only the special couple's personal vibe (so crucial) but one that is also on trend and within the budget.
And this isn't about just centerpieces, either. It's so much bigger than that. We're talking the BOUQUET. You know, just the most iconic accessory in a bride's lifetime. I'm sweating just thinking about it, guys.
You see, there are roughly a trillion different flowers to choose from and with that, one-trillion- zillion ways to arrange said flowers. With power comes responsibility, people. This leaves just as much room for floral success as it does floral failure. I will not stand by and allow a floral fiasco on the biggest day of a bride's life. Not now, not ever.
So how do I propose that our bride-to-be narrow down her bloom selection for the big day?
The answers are written in the stars, of course. As always, I am here as your zodiac guru, ready to guide you (and your thoroughly-vetted florist) down the aisle towards complete floral bliss.
This golden group is in need of a flower just as bold and beautiful as their personalities. The perfect pick (or pluck) for you, my daring Leo bride? Sunflowers, of course. These summertime flowers are quite literally the epitome of happiness, which seems only fitting for the happiest day of your life, no? These pretties will put a smile on everyone's face.
There's no doubt that your day has been planned down to the tiniest, most minute detail to ensure your day is absolute perfection. What flower more appropriate for a perfection-driven Virgo bride than the flawless orchid? Delicate, understated elegance and with a wide range of colors to choose from? This bloom can't be beat.
(September 23- October 22)
A Libra bride seeks balance and calm in the midst of all her wedding day chaos. So, other than the obvious "mimosa-in-each-hand" situation, what better way to achieve a balanced bridal moment than to incorporate some gorgeous succulents into the mix? Not only do these beauts come in a variety of green, grey and purple colors, but they add an unexpected (and totally beautiful) texture to the bouquet. The best part? You can replant them after the wedding… i.e. you can have your day of immense, romantic love live on forever on your window sill. Just as long as you remember to water it, that is.
(October 23 - November 21)
Ah, Scorpios are notorious for their direct, passionate energies. These fiery brides should consider walking down the aisle with a lush bouquet of snapdragon flowers. Cascading bouquets are making a comeback in the bridal world these jaw-dropping field flowers are right on trend. Even better—they come in reds, oranges, yellow and pink. You can even find some that are lavender. Whatever color you choose, a bunch of these beautiful, bold blossoms are guaranteed to be unforgettable as your blazing spirit, Scorpio.
SAGITTARIUS: Hypericum Berries
(November 22 - December 21)
The adventurous Sagittarius bride refuses to be weighed down by anything too traditional, so we probably won't see her walking down the aisle with a bunch of white roses any time soon. Still, this is her bridal bouquet we're talking about and it needs to be beautiful. My choice for a truly unique bouquet? Hypericum berries! They come in bright green and a deep red, making them the perfect addition to spring and winter blossoms alike. Looking to really color outside the lines on the big day? Add length to your bunch with draping eucalyptus leaves and a ruby apple in there to create a truly show-stopping look. It may not be traditional, but there will be no arguing about its beauty.
(December 22 - January 19)
Capricorn brides are diligent in detail and value the traditional affairs. They are sure to organize a soiree that is as efficient as it is elegant. The perfect posy for these lovely ladies? Ranunculus! Their delicate petals grow in many different colors, but we love how graceful these long stemmed white ranunculus look for the wedding day. We know you won't shy away from hard work, Capricorn, but it doesn't take much to make these blooms look absolutely breathtaking.
(January 20 - February 18)
Aquarius, the eclectic and spunky spirit of the zodiac. An Aquarius bride is sure to throw a wedding that is funky, unexpected and completely delightful all at the same time. With all that fun, a girl's got to dress for the occasion, right? She's got her veil, dress and shoes but how to crown off this one-of-a-kind look? A Queen Protea. That's right, a Queen for the queen! This bloom is as big as it is bold and comes in a vivid shade of fuchsia that your guests will not soon forget.
Pisces are always looking after the people they love in life, even on their wedding day. They want their day to be one huge, joint celebration for all the people they love in their life. When thinking of the perfect addition to a Pisces' bouquet, the answer was immediate: Lavender. Lavender is, without question, gorgeous. It offers an understated elegance that is ideal for any Pisces' wedding day. The real reason that a Pisces bride will love this bloom? That beautiful, fragrant aroma it is so renowned for. Tuck these purple-y petals into your posy and centerpieces alike, then sit back and watch. Your guests will be praising the pretty perfumed soiree all evening long. A win-win for you and your treasured loved ones, Pisces!
An Aries bride is confident that she will throw the best wedding day her guests have ever attended. This determined bride is looking to wow her guests with every detail, not excluding her bridal bouquet. The bloom to do just that? Anemones. This flower has a unique, chic look and grows in red, blue and blush. My personal favorite variation for you, Aries? A crisp white anemone with a contrasting black eye. This flower is ultra-stylish and is guaranteed to add that extra wow-factor to our Aries' already spectacular day.
For our ever-traditional tribe of Taureans, I'm going to go ahead and assume that they are throwing a super gorgeous traditional shin-dig. My floral suggestion? The classic rose. These babies have been wedding staples for forever and their exquisite beauty and romantic aroma are available to brides all year long. This creamy, wintry white rose bouquet a-la Lynn Coulter? To die.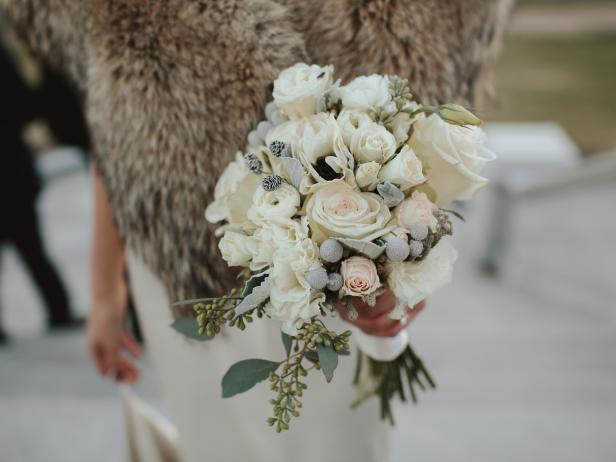 Winter Florals and Faux Fur
"Instead of fighting the season, find ways to embrace it," says planner Kate Franzen, of Glint Events. "Yes, it's cold and dark (outside), but it's also romantic. Simple and neutral florals mix beautifully with other details and textures that play off of the season – think faux fur, greenery, and candlelight." Florist: Petals + Twigs.
I mean… Hey. If it isn't broke, don't fix it. That's what they always say, right? (Judging by that statement I think we can all agree that whoever "they" are, they're probably Taureans. Right?)
When a Gemini bride is planning her wedding there will be, without a doubt, hours of back and forth and indecisiveness. This uncertainty will seep into every minute detail surrounding her day. She's looking for a fun, flirty and over-the-top day that will wow her many friends. The only problem is that there's about a million ways to do that. So what's the perfect petal to pick, that's capable of working with her ever-evolving vision? Well folks, it's not a petal at all. Instead, this trendy bride should stick some flowy and fragrant Eucalyptus leaves in the mix for her bouquet. This green foliage compliments just about any flower our Gem can dream up but looks just as pretty on its own. Not to mention Eucalyptus is all the rave in the bridal world right now which is a total must-have for It-Bride-Gemini.
Cancer houses the most sensitive and caring brides-to-be in the zodiac world. I would not be surprised if a Cancer bride opted to incorporated vintage family heirlooms in her bouquet, such as a family pin or broach. This group of genuine ladies deserve a bouquet that is just as lovely and endearing as they are. My pick for the prettiest petals to complement their special family touches? The intricate-blooming Dahlia flower. Their petals bloom in saturated colors and create spectacular, ornate blooms that are full of texture. Our Cancer crew are sure to feel extra nostalgic (and beautiful) while walking down the aisle with these outstanding blossoms.