Unique Ways to Celebrate Expectant Moms This Mother's Day
Make sure her very first Mother's Day is one to remember.
Cue the confetti! It's about to be your special someone's first Mother's Day as an expecting mommy! What better time to shower her with love and show her just how amazing you think she is? With pickle jars and prego t-shirts aside, here are a few ways to make sure her very first Mother's Day is one for the books.
Pregnancy brings a sweet bundle of joy into the world — but with it comes aches, pains and swelling for the mama-to-be. Pamper her and relieve some of her discomforts with a prenatal massage. It will reduce stress, relax any tension and stimulate the release of serotonin. In other words — she's going to feel amazing. (As she should!)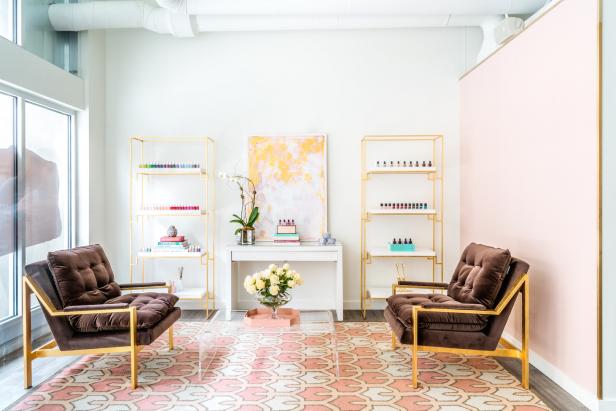 Elegant Midcentury Modern Reception Area at Paintbar
The Midcentury Modern design in the reception area makes the space feel lush and elegant. Two over-sized, plush velvet, brown and gold chairs give customers a comfortable place to sit while they wait for their appointments. The pink and white patterned rug ties the space together, while gold accents add glamour to the space.
We all know that pregnancy is a beautiful thing, but sometimes expecting mommies don't feel particularly beautiful. Remedy this by gifting mom-to-be with a salon appointment, complete with a manicure, pedicure and blow-out. A little pampering goes a long way to boost her self-confidence and leave her feeling extra-special. (And extra-beautiful, too!)
A maternity photo shoot with the expecting mother's favorite photographer is guaranteed to be a golden gift idea. It's a touching way to both celebrate and capture these fleeting but fantastic moments in her life. Pro tip: Combine the photography session with the salon appointment mentioned above to ensure she's feeling like the superstar she is before going into the shoot.
Rally her besties and serve up some fizzy mock-mosas for a mother-to-be brunch. She'll appreciate the much-needed face time with friends, and when she realizes you included her all-time favorite, giant, sticky cinnamon rolls on the menu? She'll love you more than ever. Just be sure to have a spread of healthy snacks in the mix, too.
Gift her some cozy jammies or fleece-lined leggings for a full day of snuggles on the couch. Warm up Netflix and give her full rein of the remote.
Handwritten + Home-cooked
Take the time to write how you much you love her, how proud you are of her and how you know that she's going to be the best mom ever. Throw in her favorite home-cooked meal, and you're sure to move her to happy tears. (Who hasn't shed tears over a spectacular baked potato, right?)
Whisk her away for one last romantic weekend trip before the family expands. Use this time to reconnect and remember the special love responsible for bringing this new life into the world in the first place. Celebrate the bond you have with each other, and take in the scenic spring views while you're at it. That said, it's crucial to consult her doctor and ensure that traveling is safe for her pregnancy before you book any flights. If flying is out of the question, consider booking a local Airbnb for a sweet staycation instead.