8 Vintage Pieces for Your Perfectly Collected Thanksgiving Table
We're not only dreaming about that Thanksgiving turkey, we can't stop thinking about that perfect holiday tablescape, either.
As we get closer and closer to Thanksgiving, I'll admit: I've got nothing but gorgeous table settings on my mind.
One of my favorite things to do for a holiday meal is mix in as many pieces of vintage decor as my tiny old table can fit. But if you're new to the vintage decorating game, you might not know exactly where to start.
Friends, I've put together my top tips for items you can look for at thrift stores and flea markets to help get you going with your own vintage tablescapes. You've got plenty of time to dress up your dining room for this year's festive soirees. Ready? Take a look.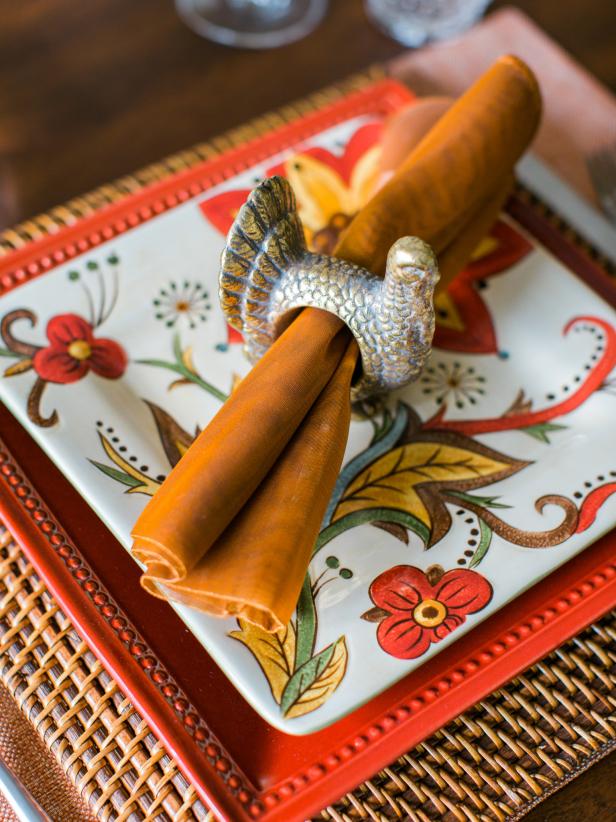 Fun and Traditional Fall Table Setting
Traditional table settings don't have to be overly formal or lacking in individuality. Put a modern twist on traditional style with highly contrasted colors and classic patterns, such as botanicals or florals, in a larger scale.
One of the easiest items to find and jumpstart your vintage table collection are old napkin rings. You'll often come across metal napkin rings in various shapes and sizes, like animals or other objects. If you get really lucky, you might even find an entire collection with your monogram.
Even if you can't find a full set of napkin rings, consider purchasing some different ones and creating your own collection. You could stick to a silver color scheme, use the same linen napkins and mix up each place setting with a different napkin ring to create some visual interest.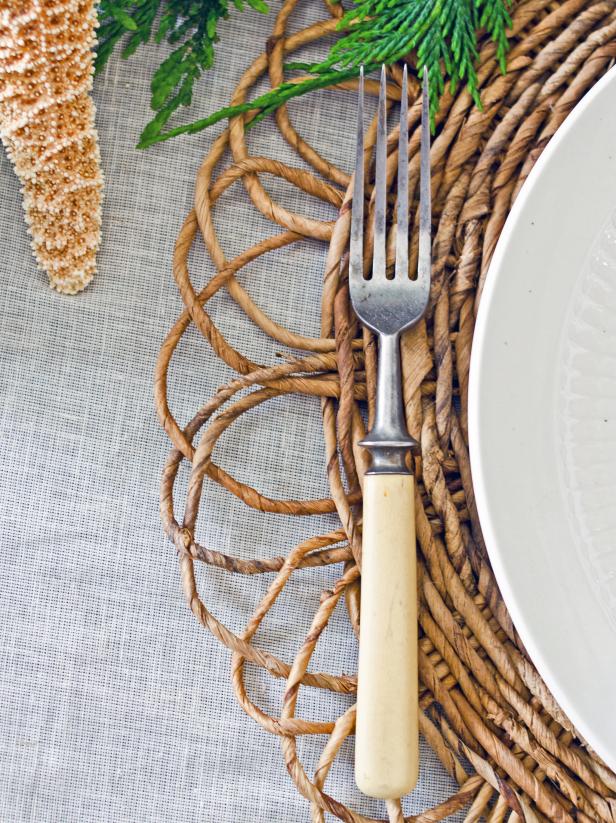 Rattan Place Mat on Coastal Christmas Table
Rattan place mats and a grass cloth tablecloth lend a casual, beachy feel to this coastal Christmas table setting.
Another favorite vintage table find is old placemats. Oftentimes I find rattan or wicker mats that, though mismatched, always work well together. If you find mats that are larger than what you might use for a typical place setting, consider purchasing them anyway and using them in the middle of the table underneath your serving pieces for the holiday meal.
You can also use vintage mats on buffet tables or cocktail tables to bring some variety and texture to your space.
One of the easiest ways to get super creative on your table is with vintage vases. But think beyond a typical vase. This old lantern would work beautifully on a holiday table with leaves or dried flowers. You can use items such as vintage bowls for flower arrangements or even pieces such as creamers (without the top) for a small arrangement. For a fun touch, try using old shot glasses as a bud vase at each place setting.
Outside-the-Box Accessories
When it comes to centerpieces and objects of interest, look toward your own collections for ideas. These obelisks make a wonderful focal point on a side bar table. I have a collection of animal bookends that I've used on a holiday table (without the books!) and some 70's wooden fruit that I've spread on top of a buffet table to mix up the dishes I was serving.
No matter what you collect, you can likely find a fun way to incorporate it into your holiday table.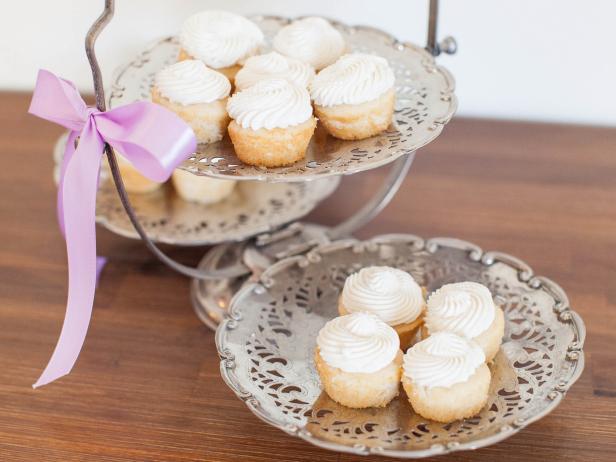 Simple Spring Sweets
Save yourself some time and serve a few store-bought treats in addition to your favorite family recipe. Sweets get dressed up when displayed on pretty serving pieces such as vintage cake stands or saucers.
Cheyenne Mojica Photography
Another easy entry point for those of you who are just starting out with vintage decor is serving pieces. If you're a baker, old cake plates and dessert plates are a fun way to dip your toes into the world of vintage. In addition to desserts, you can use these pieces for many other things such as hors d'oeuvres, rolls or side dishes such as potatoes or little cups of cranberry sauce.
You can also use a group of vintage items to set up a themed bar at your holiday gathering. These apothecary jars work beautifully for this popcorn bar, but could also be used for a candy bar, a toppings bar or even a nut bar.
Long Bread Baskets
Keep your breads contained in long bread baskets lined with linen napkins that will help catch crumbs and make clean-up easy. It's best to keep the bread toward the front of the table along with butter and butter knives to keep guests from reaching over taller items.
Flynnside Out Productions
You can often find sets of vintage linen napkins that can bring color to your holiday table. If you need eight or 12 napkins and are only finding sets of four, consider combining two colors together for your table. Or, if you're only finding individual napkins that you're loving, consider mixing up the table and using different napkins for each place setting.
You can also use napkins in your serving dishes such as a bread basket. I've even found some beautiful, old handkerchiefs that I've loved so much I've used them as cocktail napkins. Even if the color is not quite right, I tend to snap up vintage napkins when I find a good set in exceptional condition. You never know what color scheme you might be using on your next holiday table!
Mini Salt and Pepper Shakers
RX-HGMAG022_Flea-Market-Flips-120-c-4x3
Learn how to dress up vintage salt and pepper shakers with this how-to from HGTV Magazine.
Marko Metzinger/Studio D
Learn how to dress up vintage salt and pepper shakers with this how-to from
HGTV Magazine
.
If you're itching to get into the world of vintage table decor and are looking to start a collection, you might consider mini salt and pepper shakers. While modern tables typically have only one salt and pepper shaker, at one time these would typically be found at each place setting. You really can find some unique mini shakers at thrift stores or on eBay.
As with the napkin rings, you can either choose to stick to one type of metal, material, or theme, or you can mix things up and use a different shaker for each place setting.