8 Cocktails Every Moscow Mule Lover Needs to Try
These variations on the classic cocktail are perfect for summertime sipping.
There are so many cocktails that just scream summer, but for me, nothing beats a Moscow Mule. The delectable combination of vodka, ginger beer and lime is hard to beat, thanks to its refreshing flavor. And the frosty, copper mugs are just an added bonus.
But more and more bars are starting to offer variations on this classic drink — either made with a different liquor or with added flavors — and I have to say, they're just as delicious as the original. Of course, I'm not turning my back on a traditional Moscow Mule forever, but these new takes have definitely become a part of my regular cocktail rotation. Read on for our top Moscow Mule variations you need to try this summer.
2 oz tequila (we used Patrón Reposado)
3 oz ginger beer
.5 oz lime juice
lime twist, for garnish
candied ginger, for garnish
Combine tequila and lime juice in a chilled copper mug filled with crushed ice. Top with ginger beer and stir. Garnish with a lime wedge and candied ginger.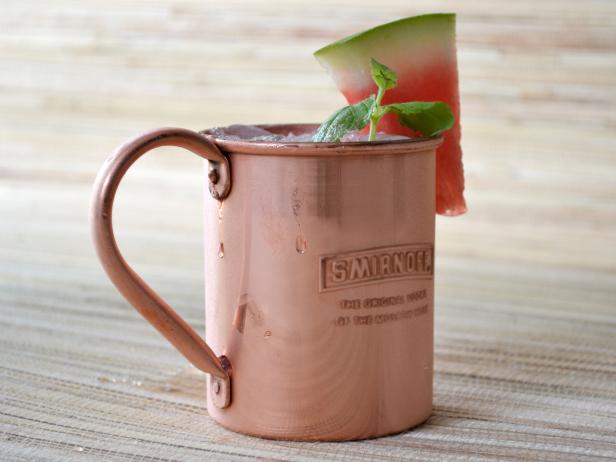 Watermelon Mule Cocktail
Enjoy the flavors of summer with this cool and refreshing watermelon mule, a twist on the classic Moscow mule.
The addition of watermelon and mint makes this cocktail a sweet, refreshing option that's perfect for summer.
1.5 oz bourbon (we used Knob Creek)
4 oz ginger beer
.5 oz fresh lime juice
lime, for garnish
Fill a glass with ice, fresh lime juice and bourbon. Top with ginger beer, then garnish with a lime wedge.
2 oz gin (we used Hendrick's)
.66 oz fresh lime juice
.5 oz elderflower cordial
8 mint leaves
1 inch cucumber
ginger beer
Add cucumber to a glass, and break with a muddler. Add other ingredients and build together over cracked ice. Top with ginger beer. Garnish.
Muddled cherries add a tart twist to this cocktail from A Beautiful Mess.
1 oz spiced rum (we used Sailor Jerry)
3 oz ginger beer
Fill a glass with ice and squeeze in two lime wedges. Add rum and top with ginger beer.
7: Chipotle, Cilantro + Tequila Mule
2 oz tequila (we used 1800 Silver Tequila)
1 tsp chipotle peppers or chipotle powder
pinch of cilantro
.5 oz cane sugar
.75 oz lime
1 oz ginger beer
Add all ingredients except ginger beer into a shaker. Shake and double strain into an iced Collins glass. Top with ginger beer. Garnish with cilantro.
2 oz melon liqueur (we used Midori)
1 oz fresh lime juice
3 oz ginger ale
6-8 fresh mint leaves
Combine all ingredients but the ginger ale in a shaker with ice and shake well. Pour into a tall glass over fresh ice, add ginger ale and stir. Garnish with fresh mint.