Score Big With These Game-Winning Party Ideas
Skip the chip and dips on Sunday, and score big with these football-inspired party ideas.
I usually find that some people's inner entertainer (ahem, my fiance) comes out the day of the Big Game. He's like, "I'm good using extra Starbucks napkins" instead of picking up some at the store. But when the NFL championship game rolls around? We need to hit up Party City. I'm all about a good party, so I can't complain!
Event designer Anthony Taccetta is party ready, too. Anthony is known for creating over-the-top events all over the country. I got some of his top tips for making Sunday's Big Game casual, food-filled and totally crowd pleasing.
Create a beer-tasting bar with mini glasses featuring your favorite brews.
Our Favorite Beer Cocktails:
Football-Themed Centerpieces
Use beautiful outdoor elements to create fun party decor inspired by the Big Game. Wheat grass is perfect for an artificial turf look, and chalk markers can instantly add the look of football laces to a terra cotta pot.
"Kickoff" your salad bowl with decorated deviled egg footballs by simply adding sliced chives.
Make the Perfect Deviled Eggs: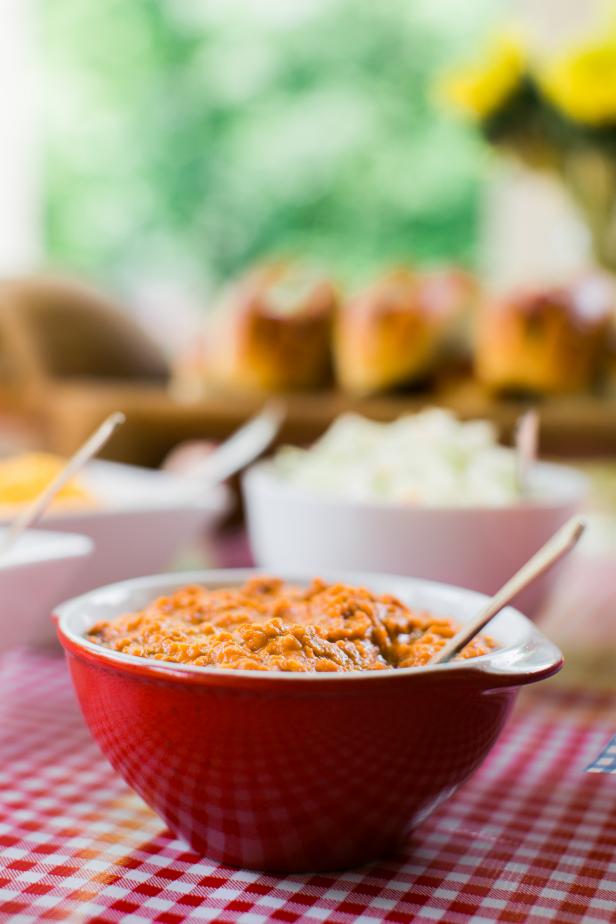 CHILI BOWLS
Keep your chili easily accessible towards the front of the table. Since it's messy, you can avoid any spills by keeping it away from other vessels which the chili could drop into. It's also wise to consider replacing or reheating the chili every 15 to 20 minutes to avoid guests placing cold chili on top of their hot dogs.
Flynnside Out Productions
Cook up your favorite chili recipes and create a hearty chili bar with a variety of toppings and accompaniments like corn chips, hot dogs, potato buns, potatoes, fries and cheese.
Hearst Communications Inc., 2013
Print out football-themed bingo with images relating to the game. Keep the snacks going, and use pretzels for game pieces.
Create fun football-themed photo booth props to capture the beginning of the afternoon...and the end of the evening. (Check out these stickers, pennants and signs from HGTV Magazine that are perfect as props, toppers and more.)
Cookie Butter Football Dip
Whip up a game-winning dessert made from cream cheese, cinnamon cookies and cookie butter. And it's shaped like a football. It doesn't get much cuter than that.