The Zodiac Report: Scorpio
Scorpio-born are a force of nature.
These fierce water signs use a scorpion as their symbol and are ruled by Pluto, the planet of power and regeneration. Scorpios are renowned for their intensity, their combative tongues and a mystery unmatched by any other sign in the Zodiac.
Tight-lipped, trendsetting, passionate, unwavering and completely unapologetic — a Scorpio's prowess of intrigue is all-consuming and definitely worth celebrating.
Chip Gaines, Anna Wintour, Julia Roberts, Kendall Jenner, Leonardo DiCaprio, Emma Stone, Hillary Clinton, Chris Noth, Aubrey Drake Graham, Georgia O'Keeffe, Bethenny Frankel, Ryan Gosling, Kris Jenner, Goldie Hawn, Calvin Klein, Sally Field, Whoopi Goldberg, Ryan Reynolds, Michael Strahan, Anne Hathaway, Rachel McAdams, Pablo Picasso
Location, location, location. It has an immense influence on a Scorpio's daily moods, so it needs to be considered when selecting a home. Keep in mind that Scorpio are water signs. Living by the water allows them to become more centered, connected and alleviates them from their stressful or negative thoughts.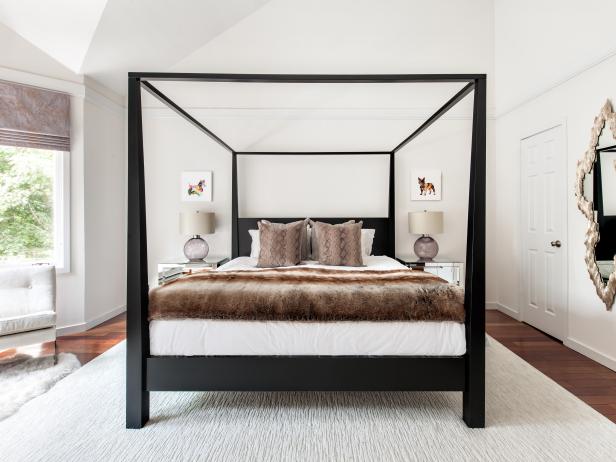 Transitional Master Bedroom With Black Canopy Bed
A modern black canopy bed grounds this all-white space with a lofted ceiling. The faux fur throw, snakeskin printed pillows and a textured area rug bring tactile warmth and dimension. Symmetrical bedside vignettes look clean, classic and sophisticated.
Interior design for this powerhouse pack should be executed with an equally careful thought. Scorpios have an innate desire to be in total control of every aspect of their lives, but this is especially true with their physical surroundings.
Scorpios will find happiness in clean, minimalistic designs that allow them complete mastery over their dwellings. Minimal, but far from boring, this fierce flock will treasure decorative accents that are fearless, sultry and even a bit taboo. Inky abstract paintings, nude sculptures and matte animal skulls will offer a high-impact effect that mirrors our Scorpio's daring personalities.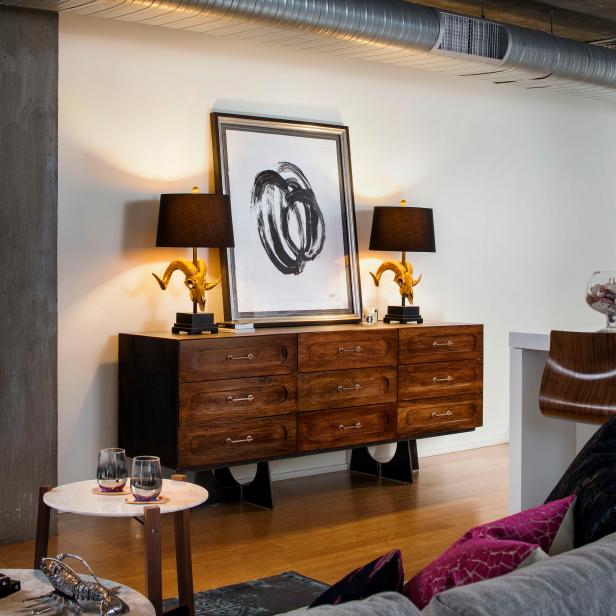 Wood Dresser and Gold Skull Lamps
A beautiful wood dresser is turned into a work of art thanks to sculptural pedestals lifting it up off the floor and unique lamps made out of ram skulls placed on top.
Chipper Hatter Photography
Sultry reds and muted violet hues will enliven a Scorpio's spirit.
The scorpion-sign should fill their home with spicy, sexy scents. Our picks: amber, blackcurrant, dark chocolate, cinnamon, musk, iris and/or plum.
Pinot Noir. With flavors and aromas of roses, currant and black cherry, Scorpios are sure to savor each and every sip.
Scorpios revel in the physical reaction felt when munching on spicy-hot snacks. The spicier, the better.
Whiskey on the rocks. It's a no-fuss-no-muss cocktail that delivers a burn on the way down that any Scorpio will appreciate.
Celebrate a Scorpio birthday by the water with an intimate, candlelit dinner that's filled with candid conversations.
We've turned to the skies to determine which of 2016's trendiest hues needs to be incorporated in your home — like, right now.