The Zodiac Report: Gemini
Gemini have a way with words.
They reign supreme as the zodiac's natural-born charmers and are ruled by Mercury, the planet of wit and expression. Mercurial influence is evident, reflective in a Gem's knack (and visceral need) for communication. Whether it be texting, typing, tweeting or talking with their hands, animated and smiling across the room — Gems always have something to say, and they always find a way to say it well.
Symbolized by The Twins, Gemini thrive in both professional and personal partnerships and are unmatched in creative collaborations. As for relationships? Gems crave a kindred spirit (their "other half") — a partner that can keep up with their clever conversation and join in on a never-ending adventure.

Getty Images/Alo Ceballos
Kanye and North West are a fashionable father-daughter duo and share the same sun sign, both June-born Gemini. Pictured here, Kanye pays tribute to the late Tupac Shakur, a fellow Gemini born on June 16, 1971. 
The Twin energy is a gift in some ways and in others a curse. The Twins reflect the Gemini ability to see both sides of the coin in all situations. The positive? Gemini bring objectivity, empathy, inventiveness and open-mindedness to otherwise lacking dynamics. The downside? Gemini are notorious for their indecisive nature, and seeing both sides of the coin occasionally leads Gems to talking out of both sides of their mouth. Good thing they've got all that charm, right?
Mary-Kate + Ashley Olsen, Marilyn Monroe, Angelina Jolie, Morgan Freeman, Courteney Cox, Bob Dylan, Kanye West, North West, Walt Whitman, Amy Schumer, Kate Upton, John F. Kennedy, Kendrick Lamar, Neil Patrick Harris, Anderson Cooper, Stevie Nicks, Brooke Shields, Venus Williams, Natalie Portman, Nicole Kidman, Andy Cohen, Paul McCartney, Anne Frank, Joan Rivers, Patti LaBelle, Eileen Davidson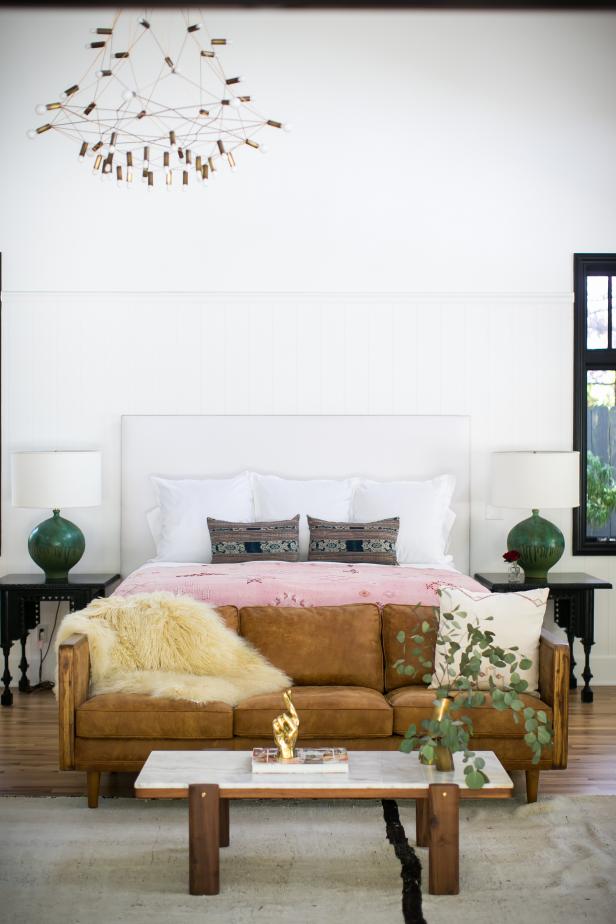 Neutral Southwestern Bedroom With Brown Sofa
This bedroom uses Southwestern-style and a mix of textures to create a space that comfortable and stylish. The neutral base gets pops of color from the blue-green lamps and pale pink bedspread.
Gemini love a trend. They live for the fresh, the new, the revamped and the reimagined. When they're not setting the trends (Yeezy, anyone?), Gems are going all-in with impulsive — trendy — purchases.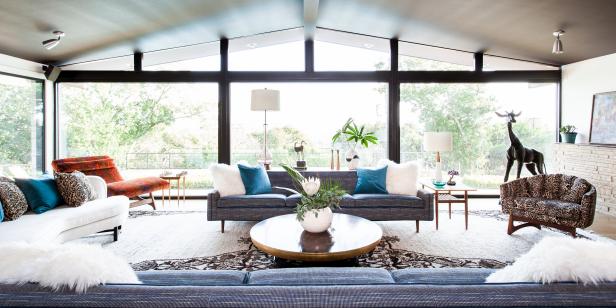 Spacious and Intimate Midcentury Modern Living Room
Purchases that our indecisive Gemini will, undoubtedly, come to regret (nay, detest) in about six months' time. The result? A home stripped to the bare basics, has-been trinkets pushed aside as the determined Gem heads out on hunt for the season's latest and greatest looks. A vicious cycle, really.

Reel it in, Twins! To ensure a space that stands the test of time, boundary-pushing Gems should select a bright, airy space with timeless architecture. Think neutral walls, classic white trim and handsome hardwoods. In doing so, Gemini will anchor their space and gift themselves a blank canvas to serve their ever-evolving, eclectic design.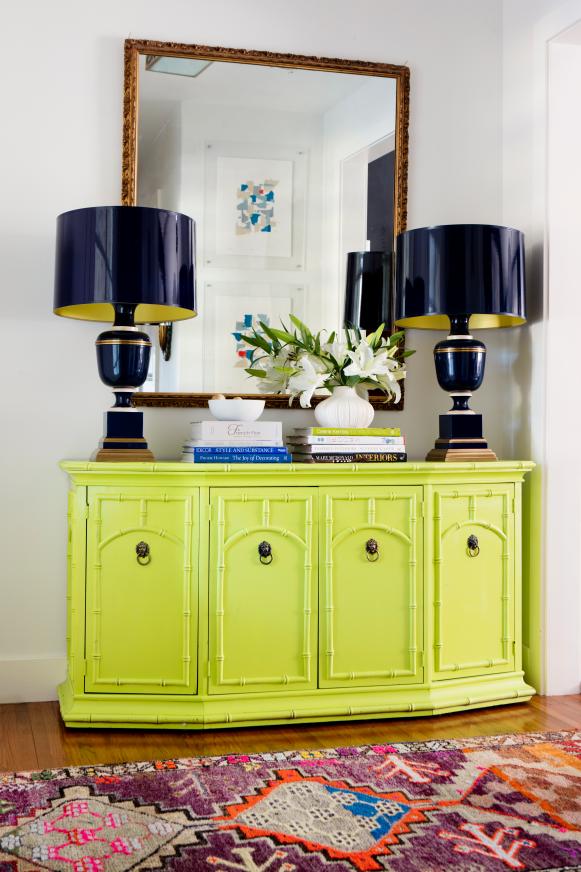 Entry Features Chartreuse Buffet
Two of a kind table lamps atop a shocking chartreuse credenza, courtesy of designer Sarah Wittenbraker.
Mia Baxter Smail
Two of a kind table lamps atop a shocking chartreuse credenza, courtesy of designer Sarah Wittenbraker.
Gemini design should revolve around the living room. It is paramount to create a space that is equal parts stylish and unique, while catering to easy, breezy gossip swaps between guests. A fully-stocked bar cart in the corner and twin facing sofas are a safe place to start.

Add pops of unexpected, saturated hues throughout, Gemini! Incorporate shocking chartreuse, smoky amethyst or soft shades of periwinkle for a space as fresh and vivacious as your personality. Accessorize with over-dyed Persians, gilded tchotchkes and funky flea-market folding screens. Large mirrors leaning against walls or hung opposite of windows reflect natural light, creating the illusion of a large, airy space.

Gardenia, sandalwood + sweet pea
Twins never turn down tacos.

Say happy birthday the twin way. Gear up with vibrant blooms, fresh food and an endless, ever-flowing supply of chilled cocktails and wine. Don't be surprised if the all-day affair turns into an all-night celebration. You might start out in the sun, but you're sure to end under the stars on a roof-top bar. Are the Twins double the trouble or twice the fun? That's for you to decide.