Get in the Summer Games Spirit By Hosting a Legendary Potluck
You don't have to be in Rio de Janeiro to celebrate the Summer Games.
So far, my favorite thing about watching the Summer Games in Rio is seeing how the world's top athletes band together. Swimmers congratulate each other after a big race, gymnasts from opposing countries take selfies — every event is an opportunity to share cultures and build friendships.
In the spirit of bringing people together, why not host a sporty soiree of your own? We've got a few tips that will help you throw a legendary Summer Games-inspired potluck.
Set the Table With Your Team's Colors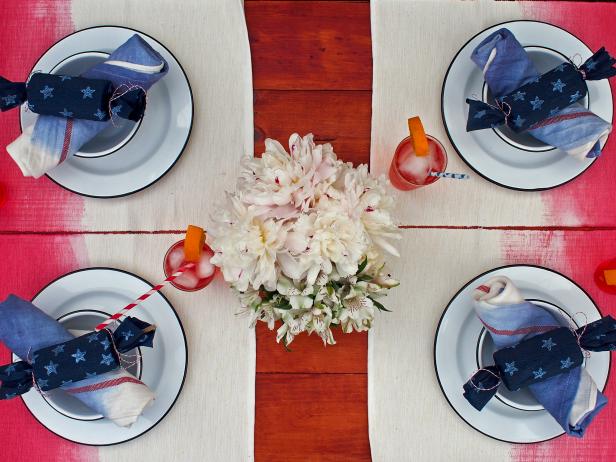 Ombre Party Tablescape
Give your plain white placemats and napkins a modern and patriotic update. Dip-dye using red- and blue-colored dye for a stylish look that can be used all summer long.
What would dinner be without an eye-catching table setting? To keep spirits high, layer the table with dip-dyed linens in hues of red, white and blue for Team USA or gorgeous greens and yellows in honor of this year's host country.
Choose an International Menu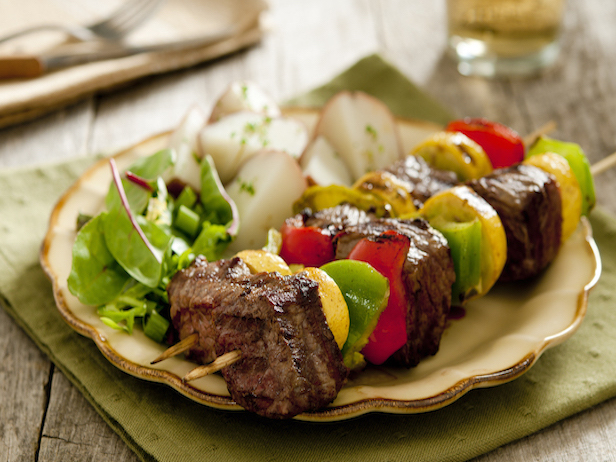 ©iStockphoto.com/nicolebranan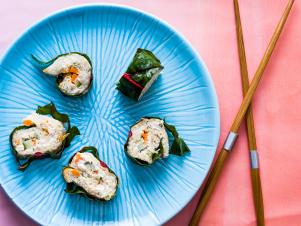 Jacob Blount; Styling By: Callie Blount
Healthy Snack for Kids: Chicken Salad Sushi
No special equipment or ingredients required to make these fun chicken salad sushi roll ups at home. Simply press out a piece of soft white bread (or let the kids smash it with their hands) on a large Swiss chard leaf, then top the bread with chicken salad, cucumber sticks and carrot sticks. Roll the "sushi" and slice into 1-inch pieces. These little sushi rolls are adorable for snack time, a picnic or packed in a lunchbox.
Before the big event, ask guests to sign up as a participating country and bring a corresponding dish. We're thinking pretzels for Germany, sushi for Japan and grilled beef kebabs for Brazil. Not only will you have a sizeable spread, but you'll also avoid any overlaps in the menu. (Seriously, no one needs two salads.)
Variety is the spice of life, am I right? Give your guests a wealth of drink options by purchasing different brews from around the world. They can show off their team spirit with a beer from their country of choice or try something new. As a specialty drink, make a big batch of red, white and blue sangria to sip while cheering on Team USA.
Pick a Triumphant Playlist
For an event as highly anticipated as the Summer Games, a killer playlist is a must. To put your dinner guests in the right mood, skip the T-Swift and go straight to classic anthems like "Eye Of The Tiger" and "We Are The Champions."
Encourage Friendly Competition
How to Make a Corn Hole Game From Pallets
Liven up your next backyard bash with this vintage inspired corn hole game made from old wooden pallets.
Flynnside Out Productions
If you're waiting for a particular sport to air, keep guests entertained with a few good-natured games. We recommend volleyball, table tennis or a classic bean-bag toss in the backyard.
Honestly, there's nothing sweeter than seeing your country bring home a gold medal. Well, maybe just one thing: this decadent lemon curd tart. Celebrate your team's victory and serve this baby up for dessert.
The Big Games wouldn't be possible without the participating countries, and neither would your party without the attendees. Thank your guests for coming, and send them home with a prize pack of medals, sunglasses and beaded necklaces. In this house, everyone's a winner.
Sit back, turn on the Summer Games and sip on one of these internationally-inspired cocktails.