Hilary Duff's Top Stress-Free Summer Hosting Tips
Why stress when you could be drinking wine in the sunshine?
I think we can all agree there are few things better than summer nights drinking wine with your BFFs. And it's even better when a fun gathering comes together without a hitch. Not everything has to be complicated and planned weeks in advance, we say.
For easy, stress-free party prep, actress and singer Hilary Duff has tips for making summer entertaining a breeze. From wine flight pairings and self-serve bars to DIY decor and super simple recipes, Hilary has you covered.
"My go-to drink to pour when my friends come over is wine. I usually always offer a red and a white wine option to please all palates. I love to serve a side-by-side assortment so everyone can try a few in a small wine flight. My new favorite wine, Callie Collection, offers a great selection including a Pinot Grigio, Chardonnay and fresh red blend, which together create the prefect wine flight."
"To spice up the tasting, sometimes I like to serve a small plate alongside the wine flight and pair a cheese, honeycomb or nut with each wine. With the Pinot Grigio, try a manchego alongside marcona almonds. Chardonnay pairs well with a nice gruyere and pistachios, and the fresh red blend is perfect with a few slices of prosciutto."
Beautify Your Self-Serve Bar
"Create your own beautiful self-serve bar. Having a self-serve bar area is an entertaining win-win. Not only does it add some design pizazz (hello, Instagram!), it's a fully functional decor piece that keeps your guests' glasses full. Stock with glassware, cute napkins, coasters and ice buckets."
"I love making pretty ice cubes to include at my self-serve bar. I like to use fruits that are appropriate for the wine being iced. I'll sometimes make a bunch and toss into a big acrylic bucket to serve as the bottle chiller. If you're serving water, infuse your ice tray with fresh berries and display them in a pretty silver ice bucket with tongs for guests to put in their glasses. If you have extra, try putting them in your wine chiller for a floral touch."
"Put a new spin on an old standard and use a beautiful planter as a wine bottle cooler. If you don't have one handy, an acrylic or metal beverage container large enough for three to four bottles will do the trick."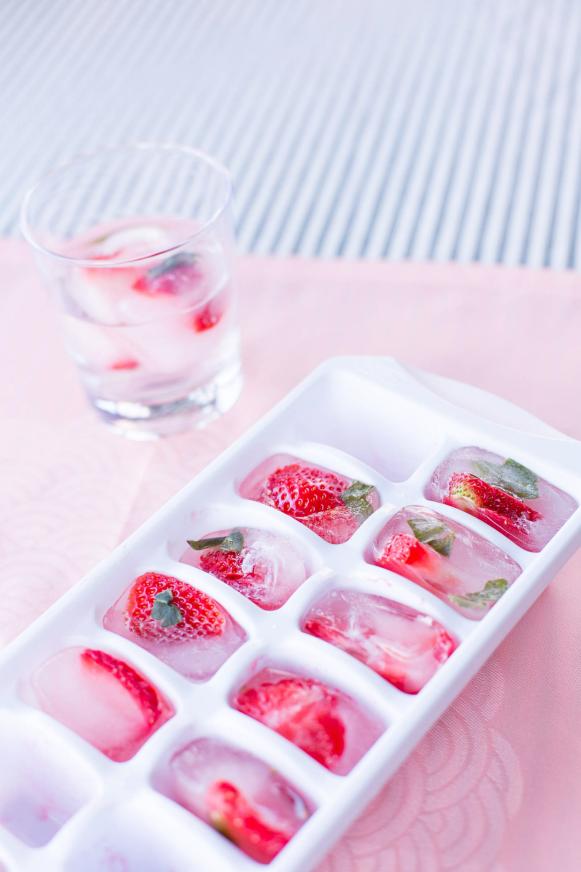 Strawberry Ice
Add a sweet element of surprise to water or lemonade by freezing strawberry halves in water. Once frozen, the cubes' flavor adds a kick to your drinks and also brings another decorative layer to your tablescape.
"You want to make your cubes in layers. Start with a tray filled about 1/4 of the way with water. (I like the larger cube molds you can buy for liquor drinks; they melt more slowly and show better.) Add your fruit and freeze. After this layer is frozen, add another layer of water on top and freeze again. Allow to freeze overnight, or at least 8 hours, for best results. The fruit and herbs I like to use are blueberries, raspberries, blackberries or mint."
"To keep track of your wine glass when your friends come over, I love these unique and easy wine charms. I typically include a basket of ribbons or fabric strips to offer to my guests. It's easy, pretty and the ultimate way to recycle."
"Whenever I have friends over, I always have a Polaroid camera or two available and encourage people to take photos throughout the night and commemorate their shots on a cute string and clothing pin display. Guests can take their favorite photo home at the end of the night, and the strung-up printouts make a cute Instagram moment, too! Customize by creating or purchasing colorful clothespins and use a ribbon or string that matches your color scheme to help set the mood and match your other party decor."
Bonus: Quick Appetizer + Wine Pairing
Eat: Sing Bite Shrimp Scampi Spiadino
1/4 cup olive oil | 5 basil leaves, chopped | 1 large lemon | grated peel + juice of 1 large lemon | 6 cloves garlic | 15 large prawns | 1/4 cup fresh parsley, chopped | lemon pepper
1: In a medium-size bowl using a fork or wire whisk, beat together oil, lemon peel, lemon juice and roasted garlic.
2: Remove 2 tablespoons of the marinade to a small bowl, and set aside. Place the prawns in a medium-size bowl, tossing in the marinade.
3: Scatter the lemon wedges and shrimp in a saucepan. Cook the shrimp for about 3 minutes or until opaque on each side, turning once.
4: Brush the shrimp with the remaining marinade. Garnish with whole parsley and/or basil leaves to add a seasonal touch.
Pulling together a stylish and entertaining party for both kids and adults doesn't have to be a headache. With these clever hacks, everyone can relax.