Set the Table for an Elegant Sunday Brunch
You don't need a large dining room or 12 place settings of china to host brunch for friends. See how designer Caitlin McCarthy sets her table for an elegant brunch using the space, dishes and furniture she already has.
If there's one thing I need more of in my life, it's definitely brunch. While hitting the town for some boozy beverages and carb-loaded comfort food is always a good time, sometimes it's nice to change things up by hosting your own brunch. I was looking for some tablescape inspiration (because like any true Southern gal who entertains, I take my table settings seriously), when I remembered a beautiful yet casual brunch setting created by the 2015 HGTV Fresh Faces of Design winner, Caitlin McCarthy.
The best part of this setup is that it's elegant while managing to be casual and easy to pull together at the last minute. Let's take a look at how she does it!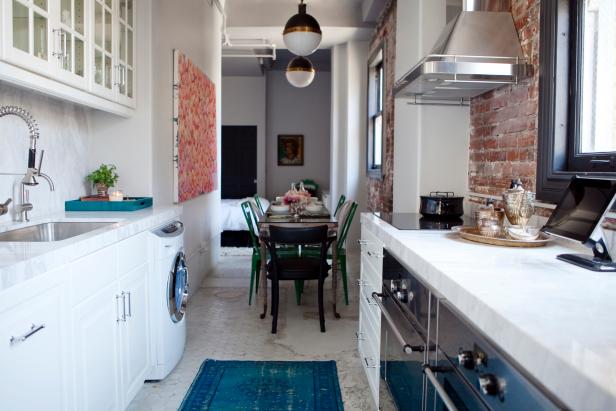 Galley Kitchen With Pendant Lights and Exposed Brick
This galley kitchen connects two ends of the apartment, and in doing so, remains flawlessly neutral and unadorned. A small patch of exposed brick adds character and texture to the small space.
Caitlin's "dining area" is located in a pass-through between the kitchen and bedroom of her 725-square-foot loft, proving you can put a dining table just about anywhere! The loft is located in a 100-year-old former office building, and the dining spot was once a bathroom. (The original tile floor still in tact!)
Caitlin set a garden trellis on a table base and topped it with glass to create her dining table. Rather than opting for perfectly matched chairs, she collected a variety of chairs she loved in various styles and colors. This look can work whether the mismatched look is intentional or not, which means it's easy to accommodate as many friends at brunch as you can given your space and number of chairs.
I absolutely love this table setting. It's another example of how items don't have to match one another, as long as they complement each other. The brassy flatwear adds a touch of bling to the setup.
Apart from the existing elements of the space, the decor for this brunch spread is simple: A few in-season blooms and carafes with colorful grapefruit cocktails that add a simple punch of spring-like color in addition to flavor.
Rather taking up space with a fully stocked bar, Caitlin keeps the makings of her favorite beverages and a dish with candies in colors that match the decor on a small bar cart near her entryway.
An antique silver tea service is sentimental and adds a touch of classic elegance, and you can use it to serve non-alcoholic options to your guests.
Who's ready for brunch? Cheers!